Wednesday, May 30, 2007

Random yapping

1) Since I've been on Lexapro I haven't really felt the need to bitch as much.
Good for me and my family, but not so much for my blog, lol

2) Rosie O'Donnel is really fucking annoying. Now see she'll probably read that sentance and go on another rampage about how she's a lesbian.
And that, my dear Ms. O'Donnel is why I can't stand you. Not because you're a lesbian but because NO MATTER what anyone says- whether it's directed at you or not- you a) make it all about YOU, and b) make it about how you're a lesbian and therefore EVERYONE on the planet who sits slightly to the right of the political fence hates you.
Uh, no I think people hate you because you're ignorant and just run your mouth about shit you know NOTHING of. You accuse people of being insensitive and judgmental because you're gay- and though I agree some people are like that- but you assume everyone is. Can you just shut the fuck up?

3) Ooh, I'm sooo going to buy my own island and tell our kids we have our own country.... Just to see their reactions when they grow up and go out into the "real world" for the first time... hehe jk.

4) Oh my god! Do NOT eat a bunch of Salt and Vinegar chips when you're on your period!

5) I'm signing Hulk-Man up for swimming classes at the YMCA soon... well you know. Not swimming classes, that baby and me water thing. I don't know how that's going to work as I'm absolutely terrified of water but I don't want my kids to be....

Today's post brought to you by the letter K....

This week's Wild Card Wednesday letter is K....

As I mentioned last post I've been baby proofing the apartment. It took forever to think of what to do with the kitty litter because we have one of those litter boxes that scoops itself. It's big and needs to be plugged in and out apartment is small with limited plug space.

So I ran to Babies R Us (which I'm pretty sure is just PetSmart but with babies) to see what sort of options they had and found this:




Sort of "put your own gated room together" deal. Perfect! Well... let's hope so.

In other news, Stink-Butt and I talk every now and then about what song we want played at our funerals (I know, we're disturbing).
I couldn't decide but then it hit me like a bolt of lightning yesterday.
At my funeral I want Stink-Butt to get up in front of everyone, in a tuxedo, and seranade my urn with this:



LMAO

did you play?

Tuesday, May 29, 2007

The Good the Bad and the Monkey

I completely forgot about what I was going to post about, so I'm just going to start yapping and hope I remember.

1) I am in the process of baby proofing the apartment. I did the living room last night. Put a gate around the kitty litter. Put together this drawer with shelves thing for the computer desk to get all my crap off the floor. He isn't crawling just yet- almost. He's scooting around like a racing snail.

2) It's crazy how advanced Hulk-Man is in the ways of movement and physical things. I mean he had perfect head control at 1 1/2 months. Our next child is going to seem like a weak little dumbass in comparison. Hahaha!

3) Our cats are retarded. Samwise will get on the kitchen sink and call for Hermione thinking we can't hear him and then gets all surprised when I yell at him to get down.

4) OH! I remember what I was going to say and yack about. Ok... as some of you know Stink-Butt (along with everyone else in the Military) had been extended and wasn't going to come home until December. BUT it turns out they're not being extended! AND they're coming home in September!!!!!!!!!!!!!!!!!!!!
Woot!

Now... I admit that my complete and utter joy is mixed with nervous anticipation.
I don't know why I'm nervous. This deployment has brought us closer together than we've ever been. We communicate better. We're more honest with each other, etc. But even though 3 months at times seems forever and a day away- on the other hand it's sooo close. And sometimes it seems too close. That might sound horrible- and it's not that I don't want him home, because omg it's what I wanted since the second he left.
I don't know why I'm nervous- I just am.

Friday, May 25, 2007

2 in the pink 1 in the stink

I know- I'm disgusting, lol.

This week's Stuff Portrat Friday theme is something pink and small.

So I went around and snapped photos of random things that are small and pink.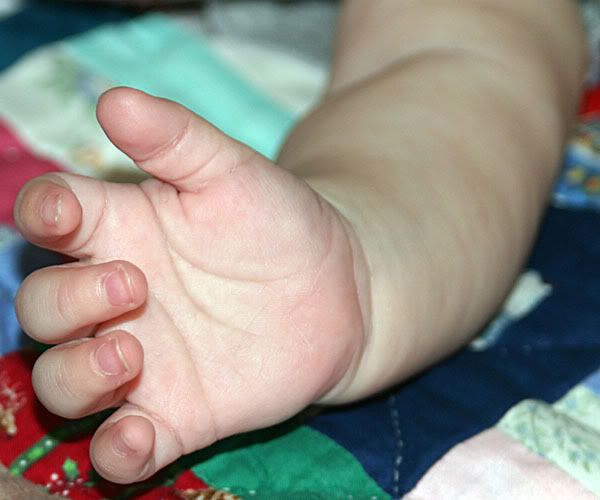 -Little pink fingers. Pretty rare they're not grabbing at anything....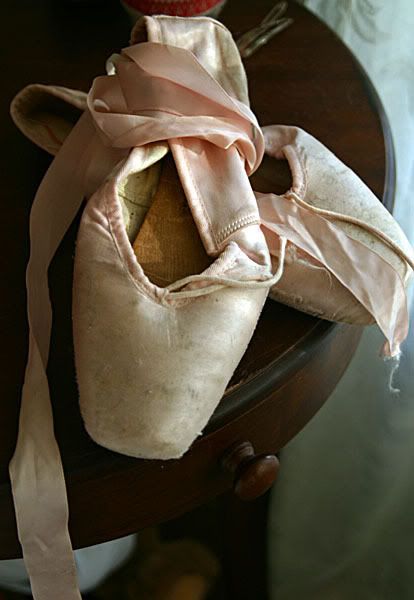 -Dirty old shoes. Eww!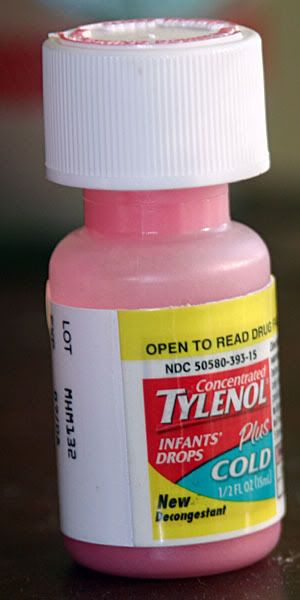 -A staple in most parents' medicine cabinet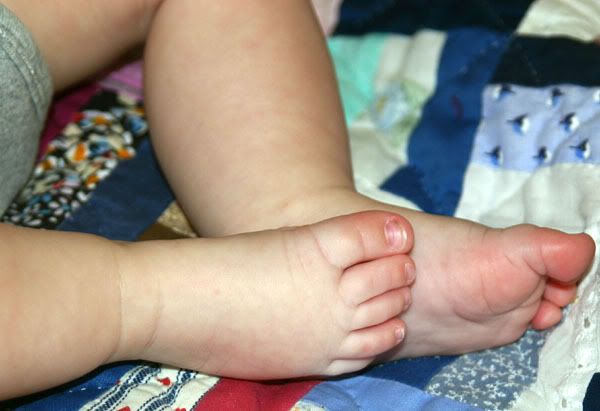 -Toesy-woesies! This kid has some long ole feet and toes, just like his mama!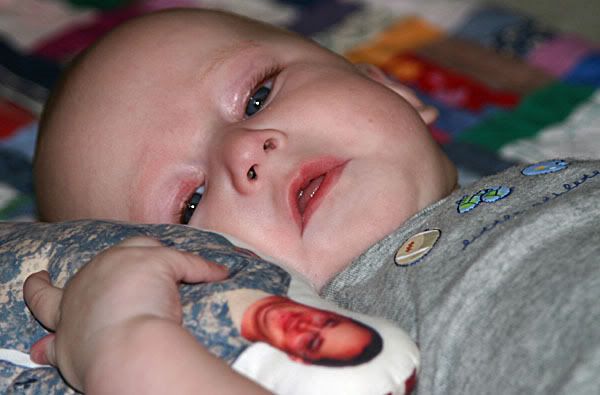 -Hulk-Man with his Daddy Doll. That's just adorable. Don't lie- you know it is. Hehe.

Did you play?

In other news- I'm off of Paxil and am now on Lexapro. Orgasms for MEH!!!!!

Thursday, May 24, 2007

sigh

I am so going through the "anticipation of grief" stage of deployment and am uber depressed.

Sigh.

Wednesday, May 23, 2007

One lazy-ass WCW

I do not feel like writing a long ass post about anything.
These passed couple of days have been aggrivating- all I'll say is that it's humid as fuck here (which makes me annoyed and itchy) and I'm ready to beat some kids damnit.

Anyhoo. lol- here's this week's Wild Card Wednesday



This is Ian and his girlfriend, Britney. Ian is 3rd generation of my Legacy family.



Awww, aren't they cute together? I have no clue why Britney chooses to wear her work clothes all day every day. She could at least take the apron off. Damn. But I guess that's what you get with townies.
Ian and Britney are at a salon here on a date. I have no idea why they went to a salon for a date.
Maybe Ian is secretly gay...? I mean, he does know how to sew and makes all his own clothes.
But he's also a teenager and confused about his sexuality.
We'll have to see what develops.

Monday, May 21, 2007

The difference between the Holy Spirit and a crystal ball plus I need HTML help

Yesterday in the mail I got some junk mail a letter. On the envelope was this note:
it was bold on the envelope too

God's Holy Spirit instructed us to loan you this to start turning things around for you you. So here it is.
USE IT and be blessed.

And the first thing that came to mind was- wow. That was rude. I guess being a good person, raising our son pretty much on my own right now to the best of my ability, being a loving dedicated wife to my husband who's deployed but not believing in YOUR God means I need to turn my life around.
You want me to turn my life around and be a judgemental asshole? No thanks.

The next thing that popped into my head was- Hmm, that's interesting. What exactly is the difference (to these people) between the Holy Spirit at a crystal ball/chicken bones/tea leaves/etc?
To me they all sound like a bunch of hibbity-hobbity-hooey.

I haven't opened the envelope yet- I'm about to...
the suspence is killing you isn't it?

Oooh it's a Bible Faith Hankerchief!
What the FUCK is a bible faith hankerchief?! And why are you giving it to me in Jesus' holy name? Who knew blowing snot on a bit of cloth was sooo holy? If only I'd known sooner....

Man- what the fuck? This is just peice of paper with a design on it! Who the hell can blow their nose on this shit?
I was hoping to find the meaning of my life through the ever holy act of blowing my nose and reading the future in my snot- but I can't blow my nose on this!
You've ruined my life! Thanks a lot shit heads!

I'm now gonna give my soul to the Devil.

Anyway... I need some HTML help.
Can anybody give me the code to hide my blogroll / list of links / whatever and then be able to click on a little plus sign (or button) and have them be there?

Did that make sense at all?

Update because Stink-Butt made me
-I wasn't comparing Christianity itself to gypsies, etc. I was comparing those people who sent the junk mail to the people who show you smoke and mirrors.

-I wasn't badmouthing the Holy Spirit.

-I wasn't comparing the Holy Spirit to a crystal ball. I compare that "handkerchief" to one.

Saturday, May 19, 2007

Shitty pacifier and teething ring and omg! Shut the fuck up!

So today I decided to finally clean out my car. Holy fuck it was a whirlwind of diapers (not yet used) for babies 4-8 pounds. Hulk-Man is up to 12 pounds now (it's all muscle... hehe). Baby blankets, sweaters, trash from I don't know how long ago... you get the picture.
So Hulk-Man is sitting in his car seat while I'm cleaning out the car. I've got the radio on and he's fine. But (cause, y'know- he's a baby and all) he starts fussing, so I look back and notice he dropped his pacifier.
It's in his seat under his leg. His thigh and pacifier both have shit smeared all over them.
The lovely kind that like soft serve icecream- sticky yet smooth.
Great... so I wash off his pacifier with the car washing hose type thing and put it in the bag of crap I need to take up into the apartment. I then grab his teething ring (which is shaped like a fish- you know you were dying to know) and hand it to him.
Five minutes later I glance at him again- now his teething ring is covered in shit.

What the fuck is wrong with my child? Is this something all boys do? Rub their shit all over everything?

And then we get home, I take off his diaper and onesy and he proceeds to grab his penis and get more shit all over his hands. So after like the billionth wipe I said "ah fuck it" and grabbed him up and stuck him in the kitchen sink and hosed him down with that little sprayer thing.

He wasn't too fond of that.... He thinks it's hilarious when he takes a shower with me and I put him under the water... but a direct spray on his little baby-balls he didn't like so much.
Anyhoo- he's finally cleaned up, fed and in bed. Sheesh!
Well, at least he didn't poop in the bathtub (I am so not looking foward to that day and hope he saves it for when Stink-Butt comes home).

Ok- on to the Shut the fuck up! portion.
As you all know we live in an apartment. We don't have assigned parking. No big deal. There's usually enough spots.
btw the fact that we don't have assigned parking has nothing to do with what I'm about to bitch about.

Last night my sister, her daughter, Hulk-Man and I all went to go see Shrek 3 (which was really funny btw).
I got home and parked. I was perfectly in between the lines. I'll admit that I'm not the world's best parker. The front liscence plate looks like Jaws ate it because I've moved the car too foward too many times and it scrapes the curb.
But I don't park taking up like 2 spaces like some jackasses do.
I had to park slightly more to the left because there was an SUV on my right who parked a little bit too close to the line. No big deal.
So today when I'm going to the car to clean it out I notice a note on my windshield.
of course I immedietly thought it was a secret admirer love note as I'm so hot... lmao.

The shit fuck who was parked on my left (not the SUV) left me a note saying how I shouldn't park so close to other people's cars and how dangerous it is.

cough Excuse just one moment... um... crazy shit fuck with a stick up your fucking ass? Yes dear, you.
Yes um... shut the fuck up!!!!!
What a dildo.

Friday, May 18, 2007

I've been framed! So I'm going to live my life out as a boy....

first off- this week's Stuff Portrait Friday theme is:
framed

So what did I do? Well this morning I groggily grabbed the camera and snapped a photo of the framed picture that's on the wall next to the bed.
I like to take a really active roll in spf....

So here is our framed sketch by the most awesome comic book artist ever, Alex Ross: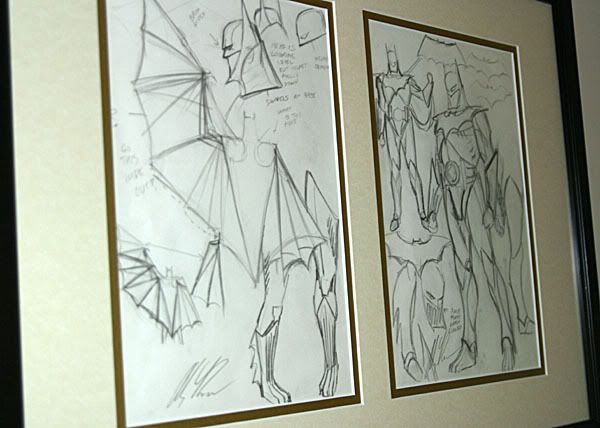 did you play?

Ok- now... I went to this rinky-dink salon the other day to get my hair trimmed. I get it cut and styled at Regis salon in the mall and get it trimmed and hokey-pokey places. Well... my hair kind of grew out a little bit too much and lost its shape. I explained to the hokey-pokey "stylist" how they cut it at Regis.... so what does she do? She pretty much gives me a backwards / upside down mullet. And cut off so much in the back that there was no way it could've been fixed with the style I wanted.
So... I go back to Regis salon and tell them the situation and tell them I want to start over and to chop it all off.
So she did.
I'm still getting used to it.
I'm still not sure if I like it or not.
Fuck- it's better than a fucking backwards mullet.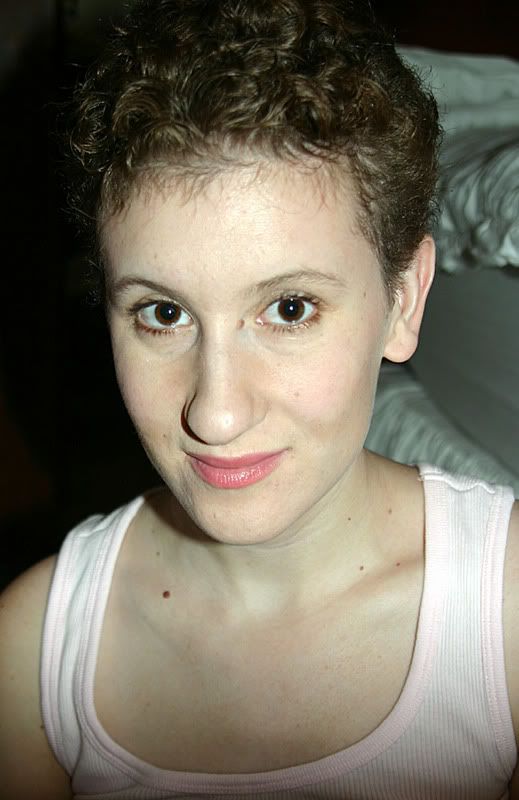 Thursday, May 17, 2007

What's the big deal?

I don't get the appeal of / big deal with Coach purses and shit.

Is it that these are the best made purses, wallets and luggage in the world? Guaranteed to never break, tear, or get dirty and they'll cook you breakfast?

Or is it the name?

I don't get it.

But there are sooo many "fashionable" things I just do not understand.

Fanny packs were always pretty dorky right? Hmmm- that's funny because last year I was flipping through InStyle in the checkout line and the new hottest "must have" were basically fanny packs. Of course they called them belt-bags. Versace made one, Calvin Klein made one, etc....
Why are people SO fucking into shit just because some one tells them to be?

This is exactly I don't follow trends.

This country is already filled with celebrities and gossipers entertainment "news"reporters thinking it the biggest crime EVER to wear the same thing twice- do we really need to feed into that?

Update

I was flipping through blogs today (looking at other's peoples' blogroll, and their blogroll, etc).
People- let me explain something to you.

A link like THIS would go in a blogroll
A link like THIS would go in a links section.

I don't want to be flipping through your blogroll to come across a non-blog. It's annoying.

Stop it

Wednesday, May 16, 2007

New superhero/villain name, orgasms, and WCW

1) I've come up with a new superhero / villain name- Radioactive Pee-Pee Head!
I came up with it after a few days of drinking this vitamin C water (which is orange) that I got from Target. When I peed it was like this neon yellow color.
Who doesn't want neon pee?
I'm not sure what my super power will be... maybe I'll just be like the Hulk. Not really a hero or villain just a character lol.

2) I talked to my crazy-bitch doctor yesterday and said to her "I need orgasms! I NEED THEM!" Ok so it was more like "I don't like Paxil, is there something else you can give me?"
So she lowered my dose of Paxil (to get me off it)- if I find a lower dose works for me I'll continue with Paxil. If not- she gave me a prescription for Lexipro.
But when/if I'm on Lexipro I'll still have some Paxil left over. My want to be Karen Walker is almost complete! hehe

3) What the fuck... that's just wrong.
This is one of my Sims characters.


A little Michael Jackson-esque don't you think?
And I think it a little odd that her head is as big as one of her boobs. But that's not my fault- it's her skintone. Comes with serious great hooters.

Did you play?

Tuesday, May 15, 2007

Random crap

warning, this may be the most boring post ever as I can't think of what to write about....

1) Paxil makes my mouth dry.
don't say I didn't warn you

2) Paul won't hold his own bottles. The lazy little thing has been mooching off me for too long! But I don't know how to get him to put his hands on the bottle and hold it himself.

3) I finally made a werewolf in the Sims. It wasn't as exciting as I thought it'd be.

4) Paul is almost crawling. He gets up on his hands and knees and rocks back forth and can move one hand foward, but after that anything he does he topples over.
I told you this was the most boring post ever

5) Yeah... I can't think of anything else....

Friday, May 11, 2007

Me love you long really fucking short time

Ok, so for those of you who don't know I was recently put on Paxil- because, let's face it, I'm a fucking lune.
no seriously, I have issues with "depression, OCD, anxiety, and a few anger issues."

So, with Paxil, I can either be (somewhat) sane and not fly off the handle every 2 seconds and want to kill people and punch holes through walls and never have an orgasm again. Ever.
OR I can be a total fucking lunatic, yell at everyone get so crazy that I throw an adult sized fit if my kitchen isn't perfect and be able to have an orgasm.

Tough choice.

One of the side effects of Paxil is like NOOO sex drive and a reduced number of orgasms (compared to what you were having before).
Well guess what's totally suxxor. I still have the drive (and the fact that Stink-Butt isn't here makes me want to do the deed even more) but it quickly fizzles and I get nowhere. And I'll try really hard (am I amusing you yet with my tales of flying solo?) but no matter what- there just isn't an end in sight. At least an end I can be somewhat satisfied with.

So Tuesday I have an appointment with my crazy-bitch doctor (a doctor for crazy bitches such as myself- she is not a crazy bitch) to see if I can switch to another medication. Because I'm not even 30 yet and I'll be damned if the last orgasm I ever have is in my fucking 20s.

SPF

This weeks Stuff Portrait Friday theme is
a handful of something

I thought about doing something like "hands full" but I am way too out of it and lazy this morning to do anything witty or clever.

So I grabbed some jewerly from my jewerly box and snapped a photo.

side note- I don't know why I keep this crap in a jewerly box, I got most of it at Claire's.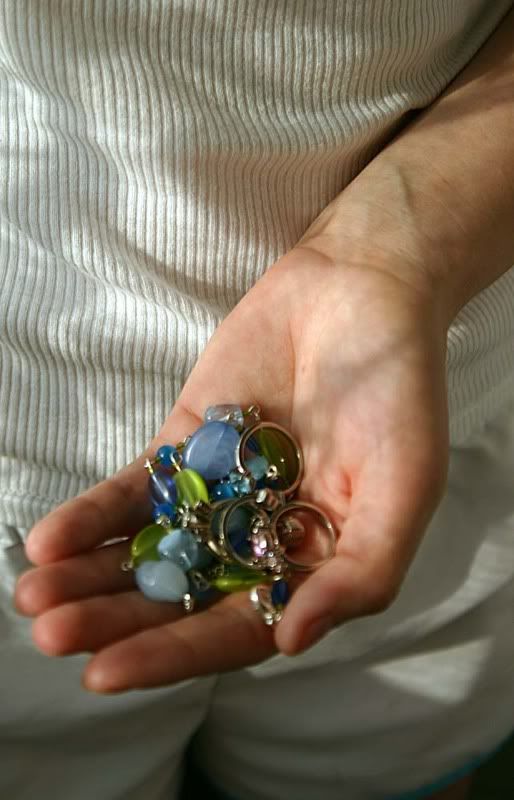 did you play?

Thursday, May 10, 2007

my blogroll

I'm recycling through my blogroll again and I need to put some new blogs up into my rotation.

Any suggestions / lurkers / etc?

Tuesday, May 08, 2007

Yeehaw fuckers (and wcw)

I am so sick of letting toothless fucktards into my apartment complex.
Stink-Butt and I chose the apartments we live in now for several reasons- one of them being the security of a front gate.
But we didn't take into consideration that people are selfish lazy fucktards.
Several people have broken the gate ramming through because they are, again, lazy selfish fucktards.
And so someone finally did a one-up and rammed through, breaking off the bar that goes up and down.
Usually I go extra slow so people can't squeeze in behind me- so I don't feel like I'm letting in rapists, murderers, and generally annoying people into where I live. But the bar is broken now so I can't do that (I will explain, keep your nipple clamps on).

The other day I go around the little round-a-bout that leads to my apartment complex gate- sitting on the side was this SUV. I go around, up to the little machine where you swipe your gate card- and the SUV starts up (obviously waiting for someone to let them in).
Now I'm going and slow as I possibley can, but if I don't move the gate is going to hit my car first (see what I mean?). So I had no choice but to let them in.
I look in the rearview mirror and see this toothless fucktard grinning at me like "haha! I got in!"

Seriously- he looked like every other tooth was missing and the teeth he did have were a disgusting orangey-brown.

And again today pretty much the same thing happened again- only with a different toothless fucktard.

Ok, I'm sorry... I know I'm prejudice against people who don't have a lot of teeth. I can't help it. I automatically assume that if you're missing quite a few (noticible) teeth you're just a bit less intelligent.

Ok, spare me the hate mail. I know it's completely irrational and ignorant of me. I don't need to read about how your grandpa is toothless and the smartest man you know. Besides, old people don't count- they're supposed to be toothless.

Anyhoo- Speaking of teeth, Paul cut his third one. He is officially a snaggle-toothed, drooling, crying ball of baby goo.

side note and tmi- baby goo is what Stink-Butt and I called his jizz when we were trying to get pregnant. I know we aren't the only ones... hehe

I don't have a picture because he just barely cut it and he moves a lot. So I drew a picture of what he looks like now:




That, by the way, was my WCW.
did you play?

Sunday, May 06, 2007

Missing: one pair of boobies

I've never been one to really care about the changes my body goes through. I'm getting older- I'm getting wrinkles, no big deal. I've had a kid, my skin has stretched, etc. That's fine. I never wanted people to not know that I'm the age I am or that I have kids.
I want to be healthy and look good for my husband and for myself, etc...
but when I was pregnant I grew some boobies. Stink-Butt actually had something to grab
as opposed to something to pinch, lol
And now my boobies are back to being eensy-weensy. Which is fine. But I admit- the extra jiggle was nice. Hehe.

In other news- man, Screech is fucking annoying and an immature fucktard.
I've been watching Celebrity Fit Club on VH1, and omg! He is like some really fucking annoying 11 year old boy who is trying desperately to show the world he's a "man," and a grown up and thinking he knows everything. I really don't think his brain developed all the way. I honestly think he's stunted.

Anyhoo- I saw Spiderman last night. It was aww-thom!

Update because I'm slow
I completely forgot about this tag





1. Write a short paragraph at the beginning of your post and link back to the blog that put you on the list in the paragraph. This isn't a suggestion. You need to break up the duplicate content. Someone took the time to add you so the least you can do is give them an extra link back.

2. Copy the list of originals below COMPLETELY and add it to your blog. If you would like a different keyword for your blog then change it when you do your post and it should pass to most blogs with that keyword.

3. Take the adds from the blog that added you and place them in the "Originals" list.

4. Add at least 1 new blog that you KNOW is using the DO FOLLOW plugin to the list in the "My Adds" section. (Add no more than 5!) Let the people you've added know, so that they can keep the list going!

My Adds:

Celebrating Women

Dixie

The Originals:

Mom is Nutz

Oh Mommy Dearest

Wander's World

Midlife Musings

Utterly Geek

Whatever I Feel Like

3 Day Mom

The Hockey Dad

My Single Mom Life

Thought Prints

Just Julie

I Miei Pensieri

Tuesday, May 01, 2007

And the winners are...

While the RFS blog awards are going on all regular posts (including all weekly memes) will be found HERE

On to the winners!

1) Best "Coffee" blogger:
-Hot Coffee Girl!

2) Blogger most likely to shoot up a 7/11:
It's a 3-way tie!
-Southern Fried Girl
-Mist1
-and Mike

3) Blog that makes you think- Geez, have enough photos of your fucking kids??!:
-Patti-Cake Land

4) Blogger mostly likely to smoke crack:
-Kami

5) Blogger most likely to appear on Jerry Springer.:
-Memphis Steve

6) Blog you check obsessively/religiously:
It's a tie!
-Random and Odd
-Mist1

7) Blog most likely to benefit from the (small ammount) of traffic from being being nominated:
-Jane

8) Blogger most likely to suck dick for money:
-Avitable

9) Blogger most likely to dress up as the Easter bunny and harrass children and little old ladies:
-Avitable

10) Blogger of the month:
-Jane





Congrats to all the winners

Didn't win? Go kiss more ass!








<