Saturday, June 27, 2009

Damn you WalMart! Don't make me like you!

I've discovered how to tolerate WalMart.


Keep your head down and focus on what you're doing. This way you won't be disgusted at cellulite stuffed into spandex with butt cracks hanging out topped off with hunting camo caps.
shudder


Go early. Like first thing in the morning. I mean no later than 8:30am.


If you're alone take headphones and your Mp3 player to block out the noise of screeching kids, other music, people talking about which gun to buy, etc.


When it's all over- marvel for days about how you cut your grocery bill in half.

before you (yeah you ask- why YES! This post is about you!

Monday, June 22, 2009

Rules for marriage

1) If your spouse doesn't do what you say exactly when you say- he/she doesn't love you. So crack that whip and hard.

2) Give lots and lots of ultimatums.

3) Be so caught up in yourself that you have no clue to the feelings of your spouse.

4) Learn the art of manipulation

5) Remember- having kids fixes everything!
(This is especially true if you have low self esteem- have a kid who will love you!)

6) Be super clingy. I suggest even following your spouse to the bathroom.

7) Never, I repeat NEVER, trust your spouse.

8) Follow Avi's Guide to when it's okay to Abuse Your Wife.

9) You are always in the right so it is never necessary to apologize.

10) Withhold sex to get your way.

11) Wedding rings are easy on and easy off. This rule comes in handy when remembering rule #2, and when you need some extra sex (especially if #10 is a factor).

12) It is always about you. Every comment, look and breath can be interalized. No need to see anything outside yourself.

Follow these rules and your marriage is sure to last forever!
;-)

:)








for Dawg

If I were on What Not to Wear

I DVR the newest episodes of What Not to Wear

and every episode they talk about why these people dress like crap. And every episode I play in my head what I would say if I were ever on that show.

I'd tell them how I used to dress nicely.

How I used to be super skinny with still an ass that wouldn't quit. No matter how sinny I got I always had the ass.

An ass to make gay men look. An ass that made men say "I don't care if you might be in a relationship." and married men take their rings off.

And then I wanted to have kids and I realized I was too skinny and needed to gain some weight. So I gained about 15 lbs and I looked good. And I still cared.

And people still looked at me like I was worth looking at.

And I got knocked up and all my bad eating habits caught up with me and couldn't handle the food I was putting in my body. So I got gestational diabetes and in a matter of 2 weeks I gained 20 lbs.

And then another 20. And so on.

And the weight never went away really.

And for awhile people would tell me I looked great.

But it's been over 2 years since someone's looked at me like they used to. That I was the one being jealous of.

Since anyone has told me "wow, that looks great on you."

So when I feel fat and blubbery- it's not a new insecurity. I feel bad about the way I look because no one else thinks I look good- so why should I?

And Stacey and Clinton would help me dress for this body now- and look good.

But I don't have the 500$ it takes for them to help out. So I somehow have to find a way to do it on my own.

Saturday, June 20, 2009

Wha...? Huh...?

So yeah- some one has been stealing the flowers out of our yard.

At least, we think they were stolen.

I'm stopping myself here. I would go on but I just realized how fucking boring this post is already.

I need to get out of this house and do more shit.

Speaking of which- I joined one of those "meet up" groups- you know, from Meet Up.com?

We're going to dinner at Olive Garden (I know I know, but I didn't pick the place!) on the 30th.

Maybe something exciting will happen then. God I hope so before someone shoots my blog and puts it out of it's misery.

But- I haven't put up a new photo of me an kiddos in a while so- as though I could get any more cliche and annoyingly boring- here it is:


Friday, June 19, 2009

What ever happened to good old fashioned drug deals and rapings?

Since I have a toddler and a baby I watch more kid shows than regular shows.

I know the daily line up of Playhouse Disney like the back of my hand, but couldn't tell you the line up of... well any other channel really.

I've noticed something though while watching all these shows.

Everything is apparently all sunshine and flowers in a kid's world.

When I was growing up we had those Care Bear movies- right? Ok, sappy and fluffy peices of shit right?

But the kids they helped out had problems like - they were getting into drugs, and bad crap like that.

The "problems" kids have now are like "I don't know how to hula hoop. Boohoo."

I don't want my kids to go through all the crap I went through growing up- no child needs to deal with the shit we did.

Do I want my kids to live in a neighborhood where the gossip of the day is who died from a drug deal gone wrong? No. Not at all. And Stephen and I work hard to live in a safe neighborhood.

However do I want them to be so sheltered that they're dumbasses and not know there' sufferin in the world? Of course not.

I miss the old Sesame Street- where the kids' clothes never matched, their hair was never really brushed, and things were just a bit dirtier. I miss the Sesame Street that was aimed towards the ghetto brats like myself.

However on the other hand- kids watching these shows today who live in bad neighborhoods can see these shows and maybe think "there's niceness in the world... I want that...."

Or maybe they'll do what kids do and just be excited that the Imagination Movers are singing a song they can dance to.

Thursday, June 18, 2009

It's a sad day for us all here at Castle de Dorkface....

Things were going normally in the Sims house...

Stephen and Scott were playing video games...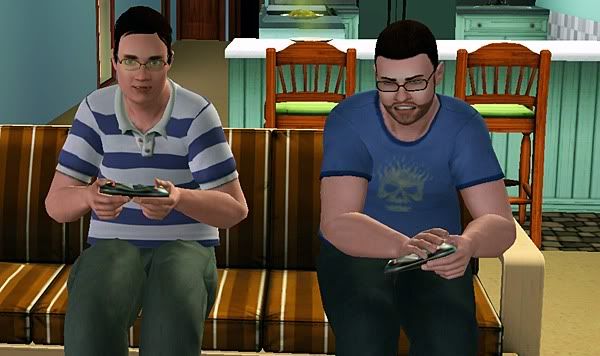 but then then the TV broke. Again.
Scott starting crying about it while Stephen and I flirted and gossiped.. teehee


Scott really, did you need to cry about it? lol

So Scott figured he'd go and fix the TV. No big deal right? I mean if Stephen can shove a screw driver in the TV why not him?

Um.. ok... bad idea.
Scott sort of got electrocuted. Twice.*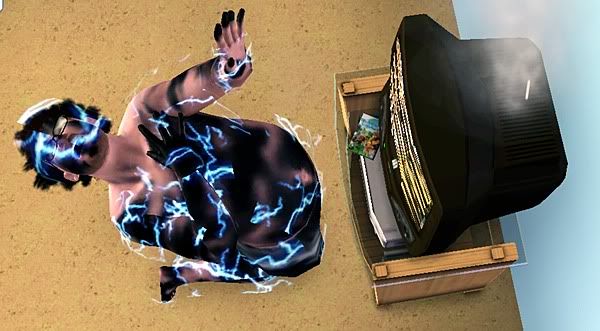 And fell dead after the second blow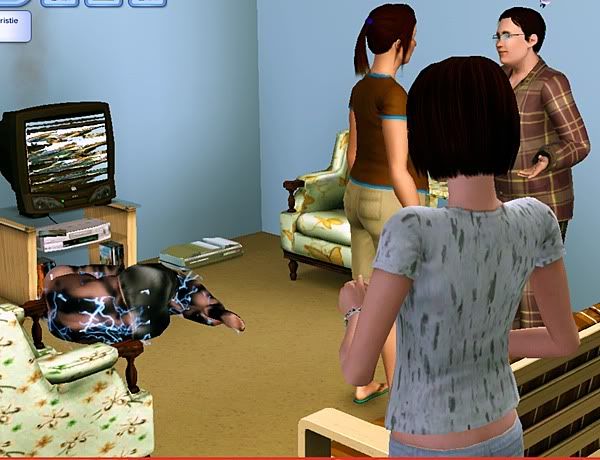 OMG!




Ok, I'm looking at me like I planned this!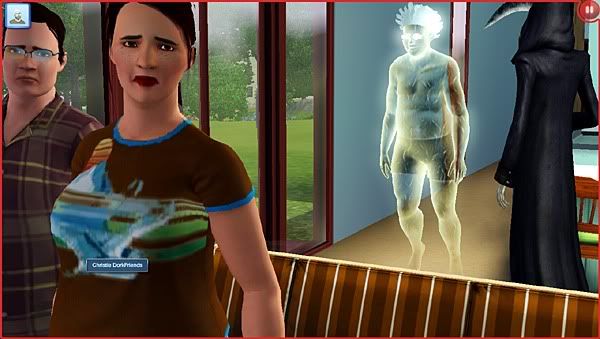 All the girls mourn Scott while the guys.. hell if I know. I think David was at work or something...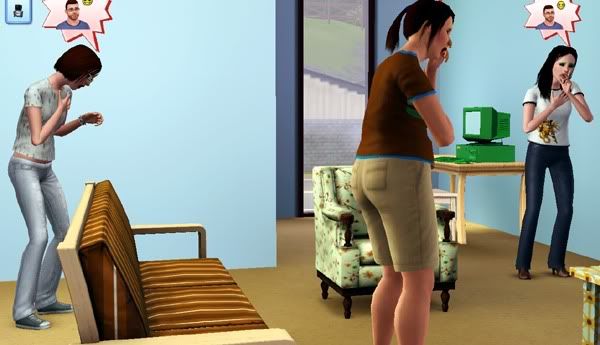 Teressa needs a hug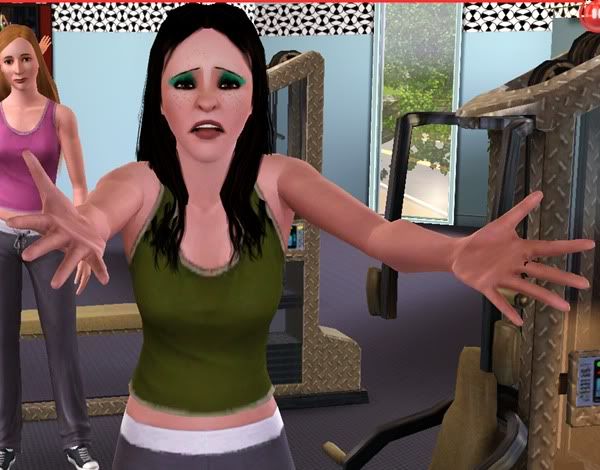 Roxi calls a repair service to fix the TV. Maybe we should've done that in the first place?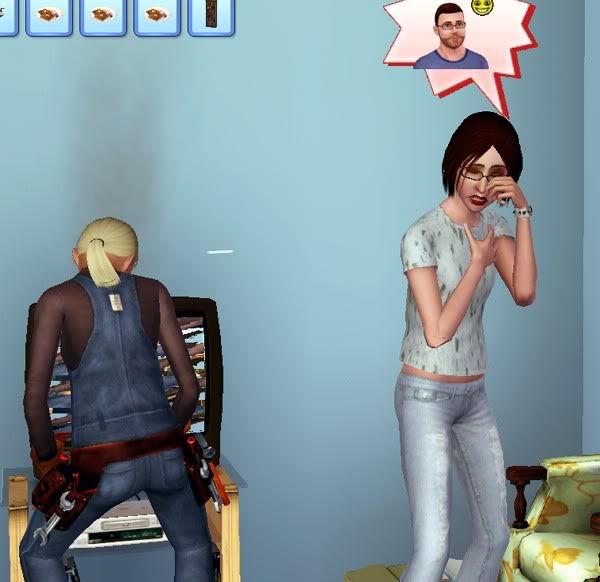 We burried him in the back yard, under a cherry tree.



Poor Scott.

*side note- I swear! I did not plan to kill Scott!

Tuesday, June 16, 2009

Let the fun begin!

So when I had Sims 2 I did the whole blogging bitches household thing.

But now with the Sims 3, and Twitter and Facebook and all that other crap that connects me with all sorts of losers people I decided to not limit myself to only bloggers.

Which is why in this new household we have:

Me (uh, duh- It's MY game!)
Stephen
my sister, Mara
my sister Roxi (trust me, having Roxi in a household in the Sims is WELL worth it)
our friend Scott
our friend David
and our friend Teressa

I should point out that in the game I didn't make Stephen and I married, I didn't make Mara, Roxi and I sisters, I didn't make Scott and David brothers. We'll just let the relationships fall where they may... teehee.

So.. we all live in a 2 bedroom, 1 bathroom house.
Side note- I didn't really *want* to put us in such small of a house, but 7 people in one house only get 20,000 to start which is friggin retarded

Of course what's the first thing we do upon moving in...?


...invited people over and play video games of course!

Until the TV broke and Stephen tried to fix it by ramming a screw driver into it. Smart honey... really.



Things were going great. We were all getting along.

I mean, aside from the fact that Roxi was chasing Stephen...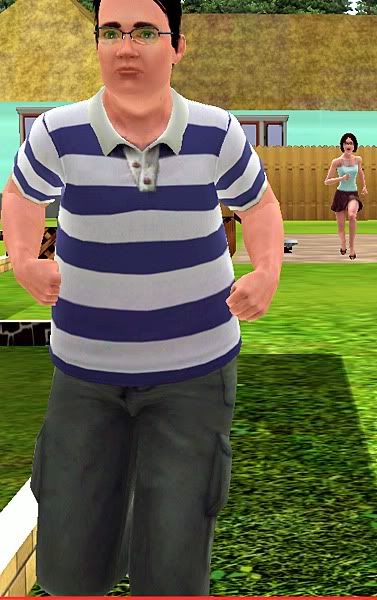 and was stalking him- even watching him pee (seriously Roxi...)



That is of course until Stephen wanted to make some Mac and Cheese and started a kitchen fire...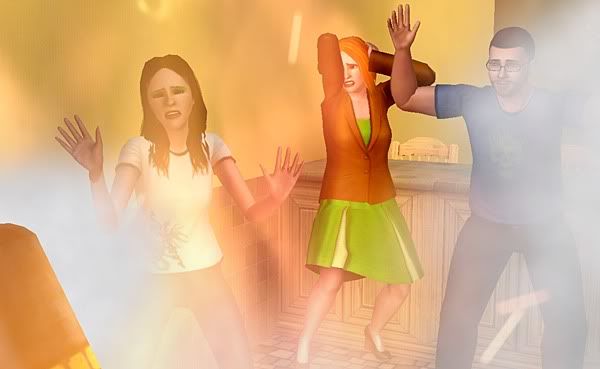 David had the right idea and tried running out of the house...



Buuuut fainted instead...



It's been pretty normal though.

I cook, Mara reads, Stephen naps, etc...



Of course, it can't stay all nice and normal forever... mwahahaha

Friday, June 12, 2009

We all knew it was coming....

So Sims 3 came out a while ago and I, of course, got it first day (pre-ordered, duh. Even got a plumbob thumbdrive which is hanging off my rearview mirror lol).

Anyhoo- so it took a little while to get used to all the new stuff. Especially switching from one house to the next. But once you get used to all the new little tweaks and the lack of certain things you've gotten used to in Sims 2 it's awesome!

Ok, so let's start with CAS (create a Sim for you losers who don't play). The character traits are awesome. Not everyone has the exact same facial exressions now. Not everyone has the same chatting option either. An insane Sim can just yap madness while those not crazy can't. Love it! I made an inappropriate, evil, kleptomaniac, insane, flirty Sim. She's stolen 2 benches and a Grim Reaper statue from the graveyard. They're in her front yard. Sure, one day someone might see them and put 2 and 2 together but no one has yet.

You can also change the tone and pitch of your voice. AND you can choose what you want your lifetime want to be.

However, I've found it, so far, insanely hard to fall in love and get married in Sims 3.

But in Sims 2 (I can't speak for the Sims since I never played it) you would meet someone and the more you got to know them you'd just fall in love with them- it'd only b ea matter of time. So if you were married and didn't want your spouse to get pissed and leave you didn't really talk to anyone else.

In the Sims 3 you can have a best friend who's not a "romantic interest."

I found that out the hard way when one of my Sims wasted a crap load of time befriending this one guy (the local weather man) only to meet another guy and within like 2 seconds of meeting *that* guy have him be labeled as a "romantic interest," whereas the weather man was just labeled as "best friend" after like weeks of "dating."

I thought we were dating... haha!

And now adopting a child is free. Yeah... free. Who ever heard of such nonesense! :)

In the Sims 2 one person had 20,000 to start out with. Now we only have 16,000. And the prices of furniture and such is the same, so it's a little difficut to buy and furnish a house.
It seems, too, that it's harder to make money. Makes it a *bit* more realistic- then again it's still new and I remember not having any money (or time) when I first started playing Sims 2.

So, soon I will be making the "blogging bitches" household for the Sims 3. Not secluded to just bloggers of course.

Let me put it this way- there are people I know that I think will be interesting to stick in a house together, so I'm making them. It's either people send me their traits, or I pick them for you!
mwahahahaha.

I can't wait to see who hates who. Auto fights are the best!

Monday, June 08, 2009

Hate is not nearly a strong enough word

I HATE WalMart.

I don't just hate it like you know, a kid hates peas. I hate it in the loathing, foaming, eye-twitching, "I'm gonna go fucking postal on this place" sense of hate.

The layout HAD to have been designed by a retarded and blind 5 year old.

The same child must hire people too.

"you're slow, unwilling to work hard and help- you're perfect!"

Let me back up before I go further.

This morning my dresser fell on top of Paul (he's ok, some bruising and scrapes but nothing seriously, thankfully). So we were like "uhh we need to get those furniture anchors like we should've done forever ago."

So I go to Lowes first (I had looked at Babies R Us long ago but they didn't know what I was talking about- seriously...)

I ask "do you sell furniture anchors?"

So the cranky old man takes me and shows me one of those screws you put in the ground to tie a dog to. So I blink and kindly say "no, I need something to anchor furniture down."

So he slams the screw back in the box and says to me (like I'm stupid mind you) "people use this stuff all the time to anchor down swing sets, all you have to do is screw it in the ground... it's used all the time for furniture."

Who puts a GIANT screw through a concrete floor? The dresser isn't going to be blown away by a damn tornado! FUCK!

So to Walmart we go. Normally I don't enter this "forbidden" territory- as every time I go there a little bit of white trash gets on me and I need to scrub hard to get it off. But Stephen saw online that they sell furniture anchors there- so I went.

As I tried to navigate through a sea of Ding Dongs and cellulite I finally was like "oh fuck it" and went to the call for help button.

I pressed. And pressed again. And again... again... again....

5 employees walked by me. Each one looking at me like deeeeerrrrrrr. "The yellow one's the sun!"*

Finally I walk up to 2 employees yapping and say "is there anyone in this place that can help me?!"

I asked where the furniture anchors were and was shown something to hang a mirror.

So I'm home now, trying to find something online.

You'd think with all the furniture related deaths and injuries involving furniture- anchors would be easy to find.

If fucking hate WalMart- HATE!!!

*Hehe, Brian Regan is funny....

Saturday, June 06, 2009

Now accepting applications!

Ok, so as most of you know I do an on-going Sims story using the people I know as the "characters."

Now that I've reconnected with more people via Facebook, I thought I'd open it up to more people instead of just my blogging bitches.

So if you'd like to be a Sim and in my fun little adventure comment here, or email me (via the link on the right under profile):

-Name
-Hair color
-5 traits from the list here

Your Sim won't look like you- I suck at making Sims anyway.

So get your crap in cause there's limited space in the household!

Tuesday, June 02, 2009

Ok, enough with this whining crap

Was just having a bad time- I'm over it now.

Of course now all of my friends are probably pissed at me and wondering which one of them I hate.
no they're not, they really don't care, hehe


I'm not really expecting to pick up the Sims3 today since EA Games is retarded and always gives the date of when stores get it- NOT the date it goes on the shelves. So it'll probably be available tomorrow. I'm kind of hoping it' tomorrow since I have a D&D game tonight and can't play it until tomorrow anyway.


I'm (more than likely) getting my Mirena put in ths Thursday. You know what that means! No condoms and no kids! YAY! mwahahaha


We bought Paul one of those little plastic kiddie pools. It was insane trying to find one that you didn't need to inflate. I hate inflatable crap.


And as promised, photos of Kathleen and Carson's wedding:


Monday, June 01, 2009

Married female with 2 kids seeks mommy friend who doesn't helicopter her kids....

SAHMs should have 2 (or 3) Mothers Days instead of just the one.

I'm gonna get in trouble by all the "working" moms but- well you guys get breaks by leaving the house and going to work. You are able to see other adults. You are able to little by little work your brain back up to somewhat normal and functional.

People look at you like "wow, you can do everything! You work, AND are a mom..." Where people make comments to me like "well you have the *time* to do (insert whatever it is here)..."

No one questions if working moms are feminists because- they're working.

I have no friends who even come close to understanding what 16+ hours of non stop whining and screeching will do to someone. Though they pretend to cause they once visited their cousin who had kids once or something stupid like that.

I'm expected to more patient than everyone else- because I have to be because my kids are so young.

God forbid I get frustrated and angry- god forbid I let myself get frustrated and angry. Of course that means I have no patience.

There is no "ok, work is over! See you tomorrow!"
Because even in the middle of the night there are kids who get nightmares, get their legs stuck in crib bars, spit up all over themselves and need water and bears....

I'd go out by myself- and do what? We have no money.

Maybe I just feel like this because father's day is soon and I'm going nuts trying to figure out a good thing to do for Stephen for Father's Day... and then I feel guilty for the thought that "your tablespoon of sperm deserves an entire day?"

Fathers deserve crap too- I agree.

But times like this it's hard not to think so. It's hard not to think "ok, when you spend a full 24 hours with YOU taking care of them 98%... when you don't take a shower becuase all you have time for is to get the kids ready, diaper bag ready, and be somewhere on time all while they're screeching, going limp, kicking walls and oh wait- you forgot to feed the baby! Stop what you're doing and make a bottle..."

It's hard not think that when they do all that then maybe you deserve a day. Fathers day should be the day when SAHMs give dad the kids and go away so dads will appreciate their kids sooo much more.

And how wonderful it is being away from them.

It's just a really bad day (and I'm not saying my husband doesn't do anything. But it's no secret than when it comes to the kids- I do more).








<