Wednesday, January 28, 2009

I like sex too much to wait for the last minute

So there are few shows I DVR, one of them being 17 18 Kids and Counting. That show on TLC about the Duggers and their ginormous family.

Now I have 5 sisters and 2 brothers and married a guy with 5 brothers and 2 sisters and I think their family is huge.

Anyway- so they are UBER conservative. Now, I personally think that anyone that far to either side (left or right) is a little crazy. Ok, maybe more than a little crazy.

I think that Jim Bob (the dad, and I fully admit the name totally throws me off. I mean... Jim Bob well yeeee-fucking-haw!... hehe) I think he's a wonderful husband.

He always talks about and puts into action putting his wife first and meeting her needs, etc. At his eldest son's wedding when he was giving him the sex talk he emphasized that it is easier for men. Men can be up and down in a matter of moments, so it's important to take your time and make sure she's in the mood and such.

And I thought that was great that he taught his son that.

I never wanted to be the "cool" parent. The one that says "here's a condom sweety, and hey use our bed if you need!" Hell no.

But I also don't want our girls to be ashamed of knowing their bodies and knowing what will give them pleasure. Same with the boys (although it's a little more important to express that to the girls considering guys can get a hard on by a stiff breeze).

So, back to the Duggars... the eldest son waited until his wedding to have his first boinky-boink (whatever, no big deal) but also have his first kiss!

Poor thing. No, no- I don't really feel sorry for him, but... I dunno.

Ok this is what I think (I don't if you don't want to listen! MY blog! RAR!). I don't think you should slut around before you're married. And I do think that you should wait until you get engaged. Or at least know you've found the right one.

Some people don't and that's fine. I don't have any super strong beliefs backing that up. Except for the fact that I HATE it when people are stupid with sex. And most people are.

I also think that it takes a long time for your partner to really know *you* in bed, and you're going to waste all that time waiting for your wedding night when you can get a jump on having orgasms?!

I think that if those people had themselves some good orgasms they wouldn't wait until the wedding night. :) Hehe.

Oh and one side note about the Duggar show. Ok so the oldest boy was getting married at they got married at his wife's church in Florida. And her pastor (is that what you call the priest guy in a Baptist church? I don't know)- anyway the pastor said that now that's she's getting married he moves his "authority" over her to her husband.

Uhhh- fuck no. In the VOWS (the vows people!) there was some bullshit line about how the pastor and god were her authority in her life and religion and whatever and now that shifts to her husband.

I don't think so.

Excuse me, but I can think for myself. I don't need an "authority" over me.

I'm not some flimsy little wife who just sits there waiting for her prince while batting my damn eye lashes.

Fuck that. I've got shit to do.

And I think that's of the LEAST respectful attitudes a man can have towards a woman.

If they think that a man is above a woman- what else do they think they're above?

See- people THAT far to either side are just crazy!

Sunday, January 25, 2009

Let's face it- I'm mean.

I hate it when some one says the word "brave" when it makes NO sense.

Like that blind guy who tried out for American Idol. Everyone said he was so brave for coming out.

Well correct me if I'm wrong but your eyes are not linked to your vocal cords and/or mouth, yes? Ok then.

Yeah sure, whatever, he's blind so he has to overcome little things we with sight take for granted.

But he's not "brave" for coming out and singing. Eye sight has no effect on his ability to sing. Give me a break.

It's the same thing when people say "she's beautiful AND can do whatever..."

As though beauty requires skill. I mean other than paying the plastic surgeon and recovering. Or applying make up.

Why is it a person who is *just* talented is seemingly not as talented without the beauty factor?

And while I'm showing my meanness- fat people are not handi-capped. Thyroid problems yeah you gain a litle bit of weight- but enough weight that your fat ass has to scoot around on one of those motorized carts?

It's your own damn fault there's too much weight on your knees and you can't walk around. Put down the McDonalds. It's selfish and unfair to take a wheelchair or scooter from someone who is *actually* handi-capped. Like the blind guy.

I think maybe I'm in a mode of self-sabotage. I will make everyone hate me! Mwahahahah!

Tuesday, January 20, 2009

This isn't going to make me very popular

I think the fact that we have our first black President is wonderful and historic. It's a huge step foward for us.

With that being said- it seems like I am part of dying breed of people who still follow and believe in the teaching of Martin Luther King jr.

Now let me explain. I am not saying there is more racism in the world (well, we'll get to that in a bit).

I'm saying he was for equality of all races and genders. Equality being the key word here.

"In a multi-racial society, no group can make it alone."

It just seems like people think in order for one race to come up they have to push another down. It seems like that's how it's been through out our history. And I'm not just talking about white people.

Now I'm not claiming what so ever to "understand" what it's like to be black. There's just no way in Hell I ever could. And I think it'd be extremely rude of me to assume I could ever understand- but here's a quick thought I had.

I think that some blacks do and say certain things because they're scared that if they don't we as a nation will forget how they were treated.

I personally think that, no- we'll never forget. But I also think we cannot better ourselves nor our country unless we can learn from our mistakes and move on. But we're not aloud to it seems.

We won't ever have equality unless we can accept each other, learn from our mistakes and move foward to better ourselves. And I do mean every one.

Now I know some people are going to read that, be pissed and jump to some silly racist conclusions about me like I am one and say "oh my god! How can you say that!?"

Because if you really listen to what I'm saying there's not a racist fragment in there at all. Problem is that we're too quick to point the finger of racism. That's another problem too. Can't we just relax and listen and not jump the gun.
I'm telling myself that too. I sometimes have heard racism in statements where there wasn't any.

I grew up, too, being taught to never forget where I come from and my family's history.

My mom is 1/2 Mexican and I grew up being taught that nothing was easy and how my family members were faced with racism and such.

My grandma (dad's mom) is 1/2 Cherokee. Same thing.

I know where I come from. So those of you who say my opinion doesn't matter because it comes from that of some white chick- no. I know where I come from, I know the sacrifices my family has made to give us a better life. The sacrifices they made so that I can blog my opinions.

If I didn't move on and try and better myself- all of their attempts would be in vain. I respect my family too much to still think and jump to the conclusion that "whitey" is bringing us down.

Friday, January 16, 2009

Damnit

I was writing a blog post in my head last night while laying in bed and I stupidly thought I'd remember it...

Fuckity fuck.

I'm pretty sure it had to do with Olivia Munn- cause you know she's what I think about when I'm laying in bed butt ass naked.

Mwahahaha- yeah, you know when I say butt ass naked I mean wearing make shift pajamas, not showered and bags under my eyes.

How's THAT for a girl on girl fantasy? Olivia Munn and the creature from under the bed snarl and slobber inserted here.

No seriously- I like Olivia, I think she's hot and funny. Of course I have to admit (cause we all know I just can't NOT say it) that it annoys the fuck out of me that her main goal in life is to showcase her boobs. Yeah- ok, great boobs, I get it.

But see I don't think guys should always think their dicks.

Ok... moving along before I get some hate mail telling me all I am is jealous (uhhuu, oh riiight. That's what it is. If I had low self esteem and didn't like my breasts I'd have to keep pointing them out too).

I downloaded the inTeeninator- soo awesome! I got me a knocked up teen!
(Yes I'm talking about the Sims...)

Oh but the chick I AM jealous of? And I fully admit it... Patti Ann Browne

Stephen has the hots for her lol. Ok, so he has the hots for a lot of girls. But Patti Ann is different. She's conservative (something I could never be), she's got greats boobs and legs (and showed them off last night in her little school girl outfit on the last Red Eye).

I know- I shouldn't be jealous... I mean he did marry ME and like he always says- if he wanted a big boobied Republican he would've married one of them and not me.

Still- I'm always jealous of people with young kids who have time and energy to take showers and look nice. Makes me think there's something wrong with me.

Saturday, January 10, 2009

If you don't ever feel like beating the shit out of your kids then you're a damn liar

You know how I like to be woken up on Saturday morning? Birds chirping? No. Sweet violin music? Oh no. The smell of cinnamon rolls? Think again.
Nothing beats the sound of a whiney 2 year old screeching and making my ears bleed while he's rubbing snot all over the damn place.
Oh and if that's not enough have him continue to be a montrous brat until- well, it hasn't ended yet.
Thank god for blogging and crazy lady meds because on days like this all those "awful" things step-mothers do in fairytales seem oh so tempting.


Why can't people walk on the side in the parking lot. Why walk the fuck down the middle? Move your asses and let cars past.


OMG finally. That's all I'm gonna say on that topic.


Teddy's getting baptized tomorrow. Gotta get the Devil outta that boy! We all know he's possessed. :)


Sigh....


And yes I am a big fine woman, so why don't I back that thing up? Because it hurts. Having Teddy did one hell of a number on my digestive system and lately I've been crapping petrified log cabins. Yeah, I don't even like to take big dumps, I'm not gonna shove anything up my ass.
Side note- no no no, the husband knows better than to ask that. He knows I'll say no. But that's what I was thinking of while I was giving birth out my ass this afternoon.


I need more people to follow me on Twitter

Friday, January 09, 2009

Time to dork it up

Soon 2 new games will be out that I'm uber doober excited about!

Sims 3- obviously- omg that's gonna rule. Just the fact that you can be "evil" is sooo worth it.

I want to make a town molester (ok, I don't *want* to in that sense, but every neighborhood has one. Right...?)

And then in the Spring Champions Online comes out.

OMG this game is SOO going to rule!

I've been playing City of Heroes and City of Villains since it was released- and stopped pretty much ever since I first hit 50 (the max level)- off and on really. There are some things about that game I don't like- the repetative missions, etc.

But Champions is partially made by the same people who made COH/COV so they know their mistakes and can change them.

Ok, in this game, you can:


choose to have a secret or public identity

choose what your powers look like and what body part they come out of (Dane Cook's cock lazer comes to mind, lmao)

At level 30 you can make your arch-nemesis and he/she will show up every now and then to thwart your attempts at saving the day.

I mean this game is the super hero game I've been waiting for. I get little game-gasms when I think about it.

Tuesday, January 06, 2009

Because I'm brave

After 2 kids here's what my belly looks like.

Glamorous isn't it?


Can you see the purple stretch marks?



You can see them better here on the side. My belly says Glub Glub Glub....
Monday, January 05, 2009
Man, fuck you rainforest!
Last night Stephen and I took the kids to the mall to wander around and so Stephen could buy some new Chucks. We saw there was a Rainbow Cafe there and we'd never eaten there and thought it looked neat for kids so we decided to have dinner there.
The place was pretty cool. Wall to wall jungle vines and animals that moved and made noise and giant fish tanks.
The food was ok- no better than your average Chilis or Applebees. Nothing special really. And we were having a great time, until the bill came. For 2 adults and one toddler- with tip- the bill was like nearly 90$! Screw that! I don't care what the decor is! I've had better food for less! Pffft!


I'm obsessed with the show Mystery Diagnosis. It's the perfect show for someone like me! Hypochondriac and can't stand not knowing what happens.
Stephen hates that show but he's a pansy... hehe.


I have a cold.. cough cough...


Why are the best clothes always so expensive? I need to be on What Not to Wear. Seriously- I sooo want to be on that show. You guys should nominate me... hehe.

Sunday, January 04, 2009

omg, are you serious?

Ok- the last Sims update I gave was all about spouses flirting with each other and all that crap.

Well quite a bit has happened since then. Since then Ecru, Lily, Caryl and Coral have all died.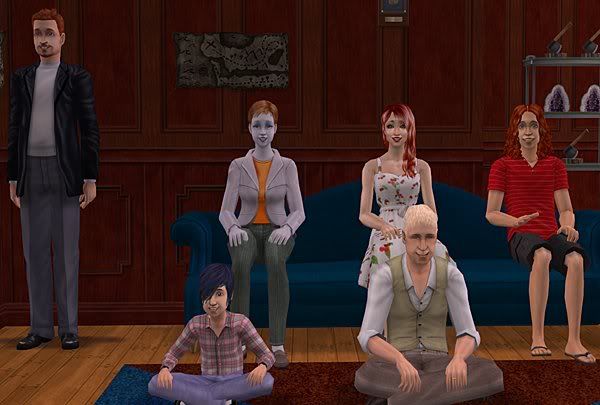 Ruby and Rubicund grew up and went through college. Ruby married a scientist named Joe (the blonde) and Rubicund married Geoff (the red head in the black jacket).
Ruby and Joe had a son named Perse.

Perse grew up, went to college and is now an astronaut.

In college Perse met this chick: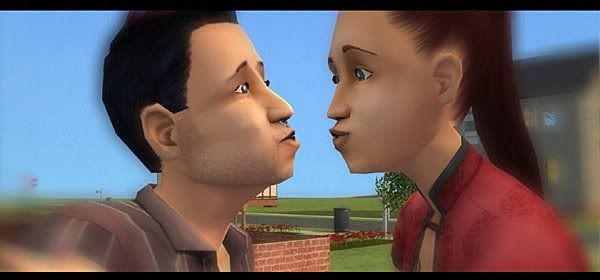 It was love at first site- 3 lightening bolts worth of chemistry and everything!
Well, she's one of those townies who doesn't own a phone or anything. She would never come over when he called her or hosted a party. So he forgot all about her.

So then he met this other Sim I made...



They fell in love and got engaged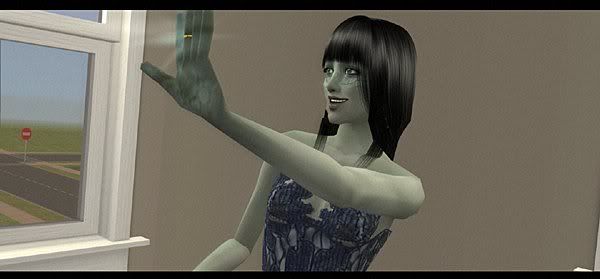 Ok, here's where it gets screwy.
I made them get married- they had a gorgeous moonlit and candle-lit wedding.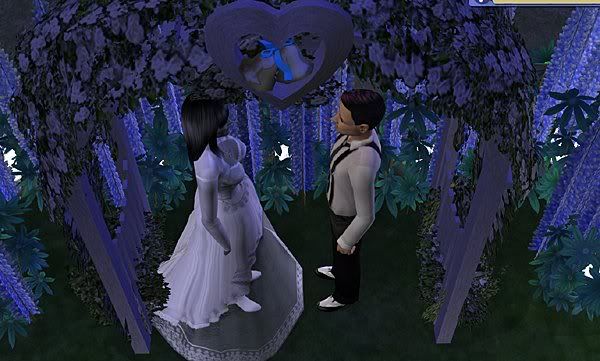 And everythign was lovely.

Well I wasn't saving after like 2 hours of playing. And then my game friggin crashed! UGH!
So I had to go back to my last saved point. Before the wedding and after the engagement.
So I hosted another wedding party.

All the guests had just shown up when guess who decided to take a stroll in front Perse's house?
Oh yes! His first love!

So he greets her and says hello, and she immedietly flirts with him- in FRONT of his very soon to be wife.
Well she freaks out and slaps him and then leaves him at the alter!

But I guess it all worked out because he then proposed and married his first love and they're expecting they're first child soon.

Sheesh!

Friday, January 02, 2009

mmmhhhmmm

omg I swear I just have nothing to say! This is just silly.

Erm... I'm just waiting for the dr to call me back and let me know if my PAP is normal so I get that Mirena thing shoved up my cooter.

Anyway- here are some new photos of Teddy:










<