Thursday, August 28, 2008

We are SOOOO vain

Side note- I'm playing a day early because I'm leaving tomorrow for the weekend

I think I'm the only person left who's actually playing SPF

But whatever- it's fun for me!

This week's theme (keeping up with the song title motif) is "You're so vain..."

So who else could I post photos of except for my sisters and I? We love to take photos of ourselves and when we get together we have "photo shoots" and wear all these different clothes and different styles of hair and make up and then spend all day posing for the camera. We really are oh so vain. So I jazzed up some of our photos for this week:


Mara- the oldest and not as willing to take photos like some of us, but still vain in her own right.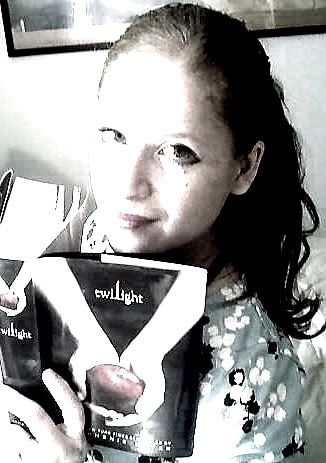 I'm next I'm next!!!




Next *would* be Diana. But a) she hates to take photos, and b) there's not a vain bone in her body.


This is Anne: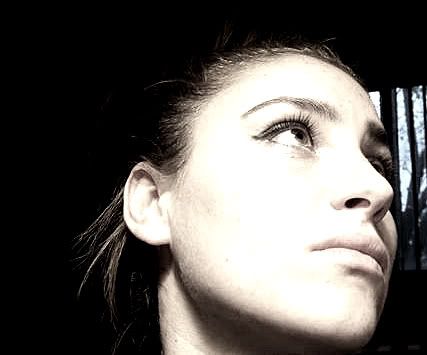 This is Kathleen. We're all totally jealous of her cheekbones and eyes. She's the most naturally talented of all of us in the way of doing hair and make up. Brat




And then the youngest girl- Roxi. Hoo boy... She loves to take photos of herself and says things like "omg! I am SO skinny!" Let's all beat her shall we?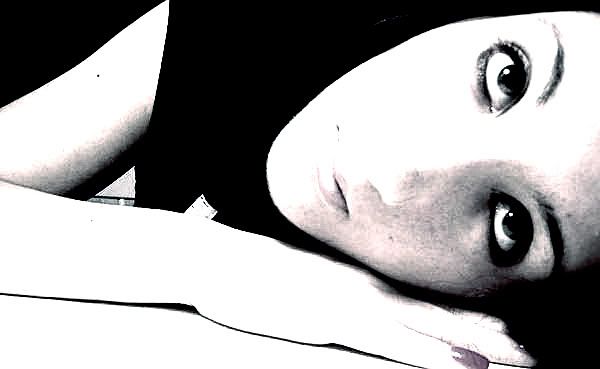 Did you play?

Wednesday, August 27, 2008

the title

First off- we have a new "pet."

There is this big-ass spider making a web on the side of our house.

We thought maybe it was a Brown Recluse- but it's not.

Stink-Butt's got me all freaked out about that now. Apparently brown recluses can like chew your leg off.

So I looked it up- apparently it's not a Brown Recluse- but a non-poisenous spider that's really good for your garden / yard.

I'm leaving him there and have named him Vincent...




In other photo news- here's new preggo-pop2 photos:


Tuesday, August 26, 2008

How the other half lives

With so many blogging bitches living in a house it's hard to keep up with everyone and capture all the neat and funny things we do.

So this time I specifically focused on those blogging Sims bitches I rarely capture.

Steve went to a party which turned out to be a gay orgy. I'm not sure how he wound up without a shirt on...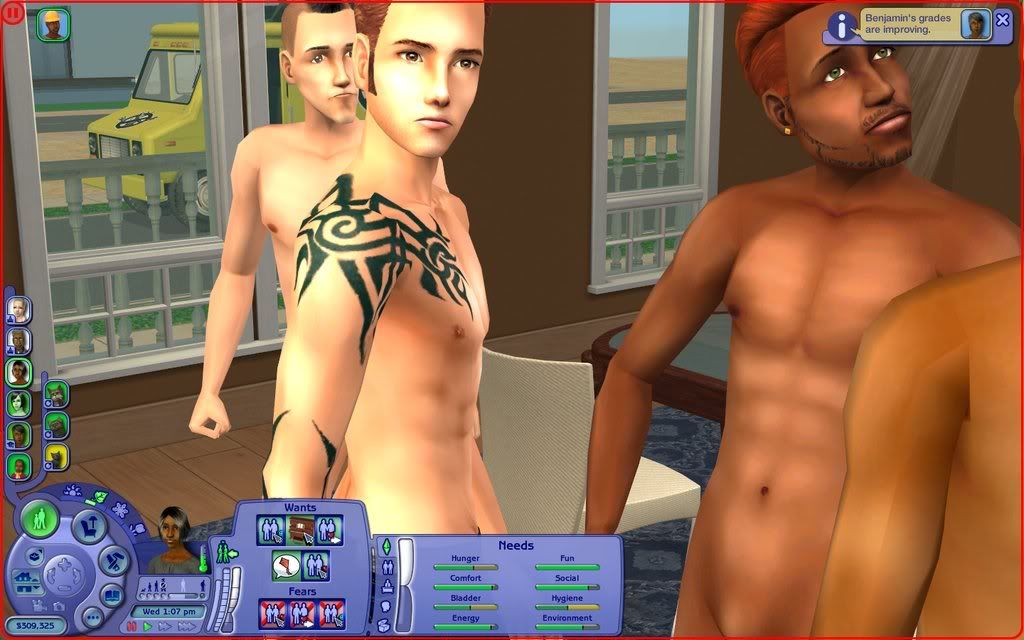 "It was NOT a gay orgy! Hrmph"



Miss Ann spends most of her time cuddling up with her kitties and giving them hugs and wuvs!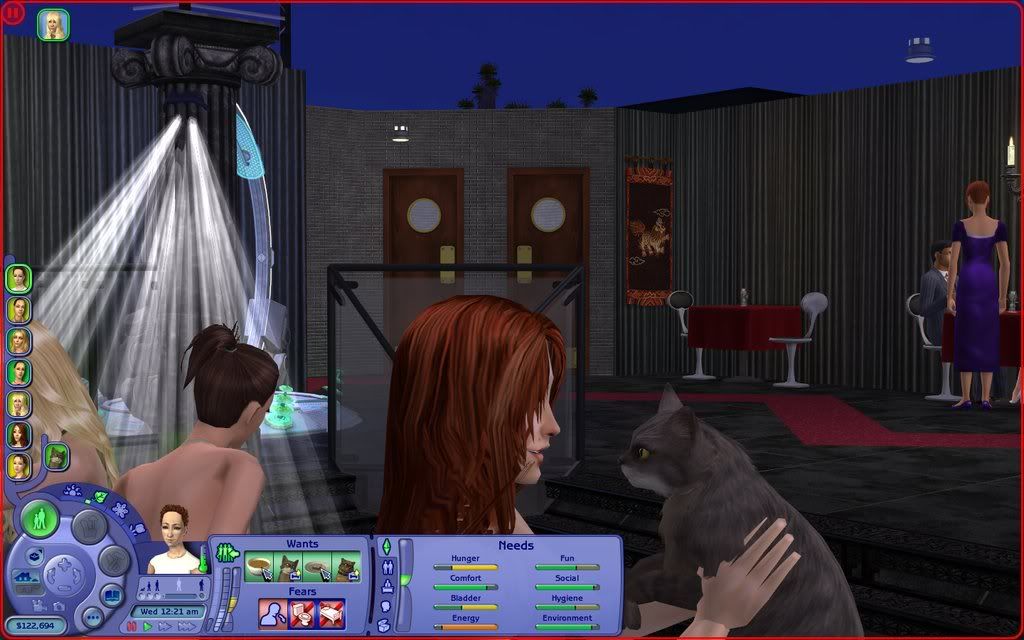 Cheeky has been taking piano lessons- and practicing while drunk at 3am...



Clare didn't want to change Banana's diaper...


eww...

So Mer took the baby out back to hose her down. That sticky tar poop is nasty.



"I'm not touching it! I've changed too many diapers in my day!" says Katy... well, can you blame her?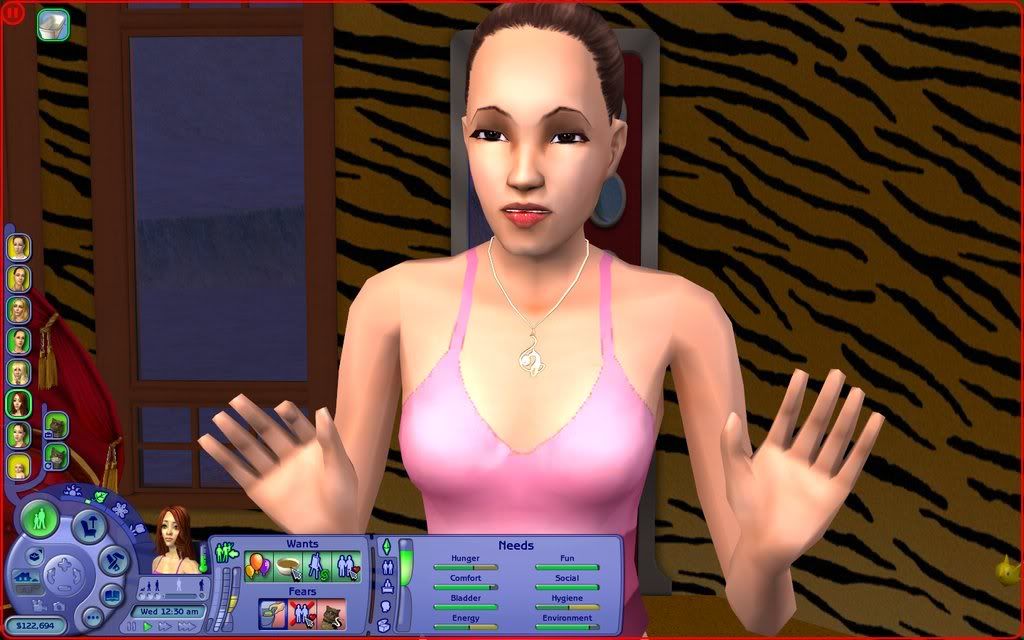 Hellooo Dixie! Here are my boobies!



Break it down!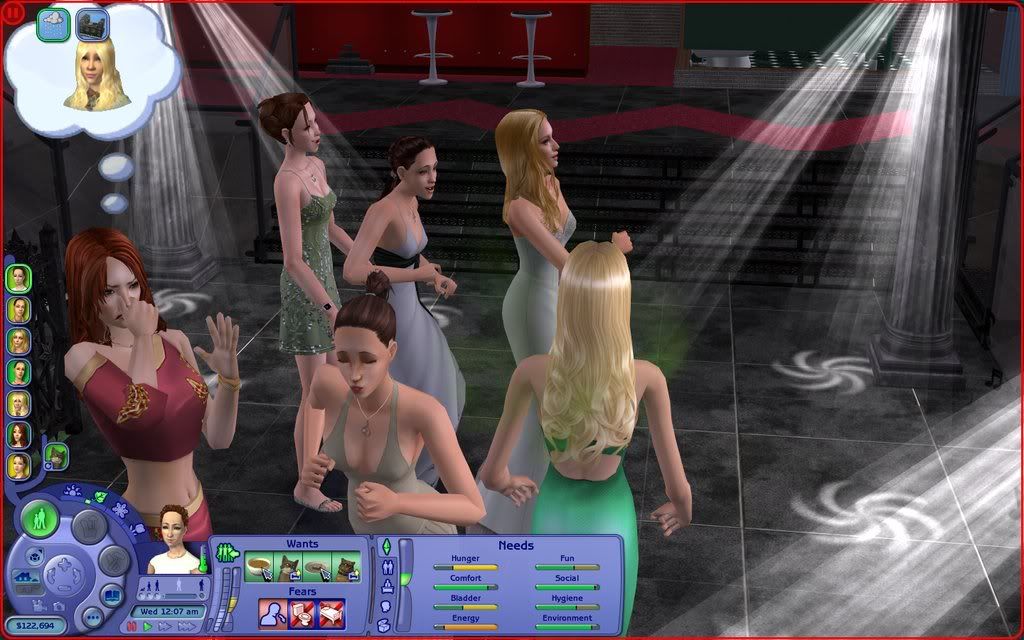 I don't think DFSS meant to do this... actually I think Steve was taking the photo here and wanted to get "the money shot"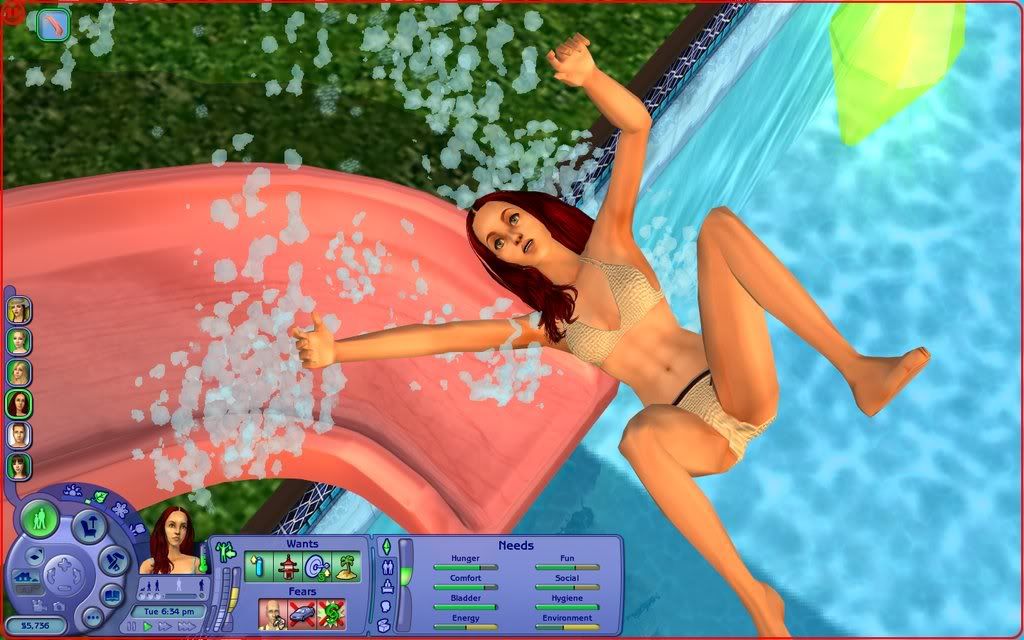 And here are some random shots of us doing whatever....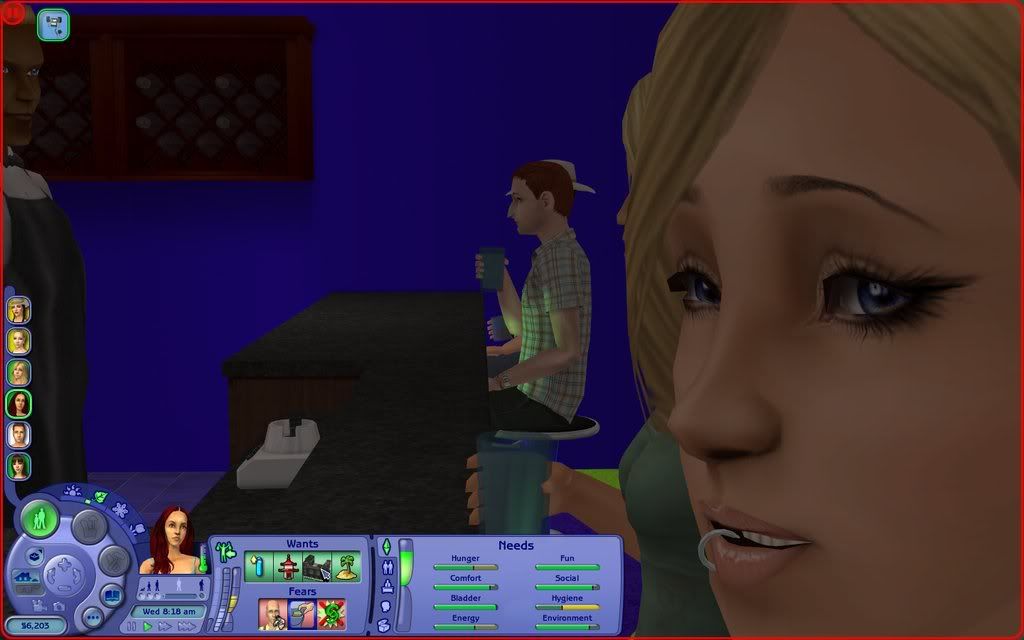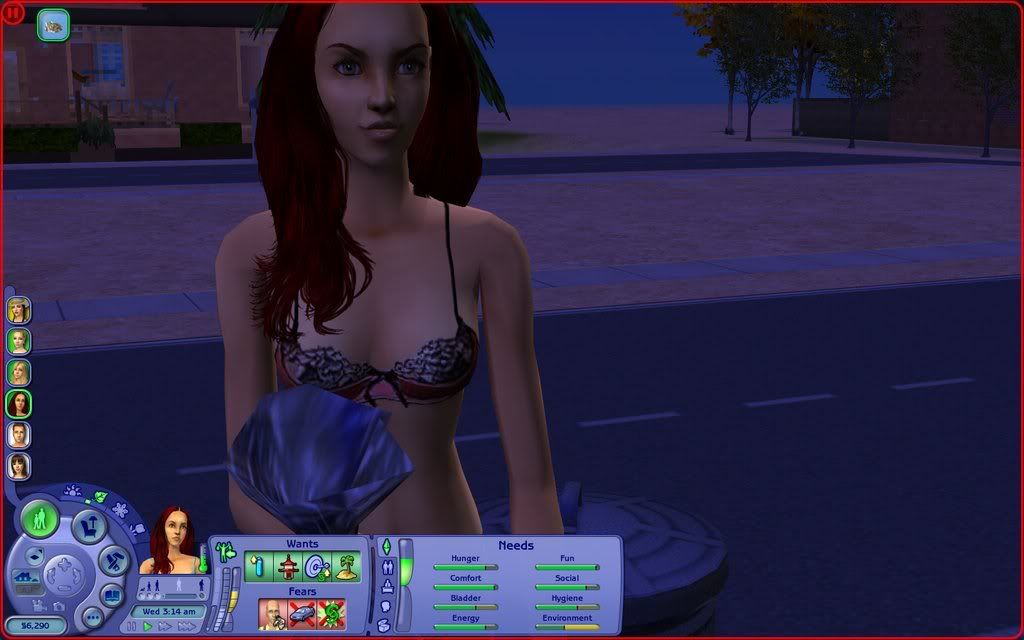 So there you have it!

Thursday, August 21, 2008

...I know how to use them....

Stuff Portrait Friday is finally back! Hooray!

This week's theme is -"She's Got Legs!"

Does anyone else, when they get ZZ Top's "She's Got Legs" song in there head add in the "Sheer energy legs..." line from the commercials?

Just me? You don't like ZZ Top? Yeah, neither do I.
look away

So I was going to bore everyone with my annoying yammering on how I think my legs are all fat and crap now.

It's not very attractive to always whine about your body.

Besides, they don't look too bad here!




Did you play?

Tuesday, August 19, 2008

Bring in da funk

I don't have no good edjimacation so instead of coherent paragraphs you get bullet points!


There is NO reason to make a full stop on the free way. Other than you want me to jump out of my car and say "what the fuck!?" to you.


Working on my new yard has been one of the very few things lately that've made me happy and feel worthwile. I bought a new sprinkler and grass seed for spots today. Oh yeah, give me my award for most awesome female on the planet.


We bought Hulk-Man new Mickey Mouse Club House sheets and blanket for his toddler bed. I think I'm more excited about it than he is... hahaha


The 2 usb drives in the front of my computer (not the billions in the back) are broken. Litterally. I don't know what happened... so that's just great. Pffft.
Strike that- none of them are working. Damn it!


new posts up in my other blog


There are too many spiders here- I can't keep up!


There's also an ant colony on the side of my house. I have the gabillions of bites to prove it.


I finally found out who made my favorite coffee cups in all the world. It's by a little Italian (ok not little) shop called Pagnossin, in Treviso. I nearly crapped my pants when I found it. Ok, so Replacements found it for me.... But anyway- so if you want to buy me a present- buy it from there! Hint, oh hint!


We're having a house warming the first weekend of September... you know, where people bring us gifts and look at the new home. If you order now it might get here in time. Hehehe.
I need to hurry up and send out the invitations so people will come and skip in my new yard


I got the best idea from my friend Bekki (omg a REAL name?!). Details in the other blog.


My baby sister (the youngest girl) joined the Army. I'm not sure when she leaves for Boot Camp but she's going to be workin' the camera (both still and motion). Yeah, she's the Army's resident porn star.... lmao jk.
I'm having a hard time accepting / believing it. But, it'll be good for her. Maybe she'll get stationed near me- that'd be awesome!

Thursday, August 14, 2008

That's just gross

We love bullet points yes we do! We love bullet points how 'bout YOU!?

go ahead and shoot me now for that


We've been fixing up the house with little things here and there lately. Tonight we just put together this!
that is the style and color but not the price I paid. I went to a different site and got it for way cheaper. Teehee.
That is my food prep area. Isn't is beautiful???!?!!!?! So no matter what, I always will have counter space.


I also hung our bird feeder up. Apparently in the wrong place because today I heard a thud at the backdoor. Some dumbass bird flew into it and was flopping around on the ground with it's neck broken. I didn't take photos because I had to run to Target and get a shovel (which we needed anyway) to bury it. When I got home I was just not in the mood to take photos.


It was fucking disgusting.


This baby is sitting super low- or so it feels. Hulk Man never felt this low- ever. But he was breeched. I'm wondering if this is how a normal pregnancy feels (?)


I mowed the lawn yesterday (my favorite thing to do. Stink Butt offered to do it but I smacked his ass and told him to get his ass back in the house). The grass was so tall I filled up like 5 lawn and garden black trash bags. The Force Flex kind too!


There are a ton of crickets in our yard. Anyone know if they harm plants or are they're just a nuisance?


We hosted our weekly D&D extravaganZA at our place last night. It went over swimmingly! I got to be the hostess AND play D&D. It was super awesome! For reals!

Tuesday, August 12, 2008

At home with the IMPs

-Hulk Man and I in the family room. I friggin love our fire place. We have a fire place! Wee!



-The kitchen. Need I say more?



-Hulk Man in his room being super cute.



-In the masta!



-In the new baby's room. Stink-Butt's mom gave us that toddler bed and we're gonna switch Hulk Man over to it in October (a month before the new baby is born so he can get used to it and see that his crib will be used for something else...)



-Backyard



-And Hulk Man and I (please excuse the double chin (I'm trying to...)

Tuesday, August 05, 2008

The house

Welp, we're all moved in!

Ok, not quite.

There is a ton of crap still at our apartment. I swear I thought I packed everything and just had a few loose odds and ends. Nope- there's enough shit left back there to make a college kid quite comfortable.

And I'm nowhere near done unpacking here at the house. But I needed to give my body a rest.

We decided (er, the only time we could move our crap...) to move on the hotest fucking day in the history of the universe. For reals!

So the strain and stress of moving took a delayed toll on my pregnant ass body and I pretty much couldn't move yesterday. I'm taking it super easy today, I promise (even though I feel lazy it's better if I don't wither up and die).

So here's a list of my favorite things about our new house:


MINE MINE MINE MINE. Ok, and Stink-Butts... and technically part of the banks. But it's MINE MINE MINE MINE MINE.


The room! We could probably fit our apartment into the basement here. Which means I don't feel as crowded. Hulk-Man can run all over the place and not just in a straight line.


A yard. I like to mow the lawn, it's relaxing. And now I have a yard to plant pretty flowers in and mow and all that crap.


Room enough in my kitchen to actually put shit away. I even have a drawer that I have no idea what's gonna go in there.


The tree lined street. It's got sidewalks and everything! Ok- so that sounds stupid, but I grew up in the ghetttooooo (in the ghettOH!) and to me sidewalks are just fancy. Now I live on a street that has them. Sweet!


Can you hear that?... Exactly! No dumbfuck neighbors sharing a wall, floor, ceiling!

I promise I will take photos soon- give me a few days to unpack and unwind.

Oh- and side note. We had to buy a new fridge. Holy shit- go to the Sears outlet store if you have one near you! We got a brand-fucking-new fridge (with an icemaker and everything! Oooh, classy!)- with delivery and all it was less than a thousand.








<