Sunday, June 29, 2008

Devil-B-Gone!

Today we got Hulk-Man baptized.

Finally.

I swear we are baptizing the next kid the second they're born so they'll just sleep through it and not try and run around! Hahahaha.

But he was pretty good- he did better than we thought considering he canNOT sit still for more than 2 seconds.

We took some photos before heading to the church- you can't really see my ever growing preggo belly but you can see Hulk-Man's tie! I love ties on little boys and think it's the cutest thing EVER!



-I looke crazy here....



-He apparently doesn't WANT to be baptized and wants to be a heathen! Hahahaha

Friday, June 27, 2008

I believe the children are our fuuuture.... everyone sing!

This week's
theme is;

"Children are our Future"

Watch out- I was totally lazy this week.

I honestly couldn't think of a photo to take that symbolized to me children are our future.

To me that's all about family, discipline, and parenting.

See, I'm not shaping my kids to cure cancer, or invent the most awesome thing in the universe, etc. My job, our job, is to shape them into good people who care about others and work hard. And our kids may never do anything great on a world scale (or they just might) but they can be great people.

My kids will probably never be a politician- they'll be too honest. Haha!

But they will be caring and loving and respectful and that means so much more on the scale of worldly greatness than anything.




did you play?

Wednesday, June 25, 2008

Friendly McFrienderson

So it's probably no big shock that I a) hate people, and b) don't make friends easily.

I'm way too picky about the people I hang out with. Or maybe I'm not picky and everyone is just fucking retarded. It's even harder for me to be friends with people now that I'm techinically a parent.

When I lived on Fort Carson it was easy. Katy can be friends with a flagpole. She's so warm and inviting. So she kind of "forced" me to be friends with her. But I needed that. Plus she and I are VERY similar in our parenting styles and how we view how we should raise our kids.

I love her and miss her. She's like an ex-boyfriend I just can't get over. I compare all my new friends to her, lol.

So here's the new situation. There's this chick at church who has a 3 year old and is due only a few weeks after me. We've set up a few playdates and such. And I'm always nice, but the truth of the matter is that I just don't think we could ever be really good friends.

And maybe I'm using Hulk-Man to push people away so I can be the nerdy recluse that I am. But wouldn't you agree that parenting styles should be *somewhat* similar when it comes to friends?

I'm the type to step back and let Hulk-Man fall flat on his face and make him get up and "dust it off." She's not. She even told me that she used to spank but then stopped spanking because her daughter (then 2) said "mama no spank!"

What child LIKES to be spanked? That's why we do it. We are the authoritiy figures.

I can tell she tries not to gasp and rush over when I let Hulk-Man fall or say "no you do it. You're a big boy... try again...."

But I'm sticking it out because Stink-Butt is certain she and her husband are major dorks and just haven't brought it out yet. They did reference Lord of the Rings....

But am I alone in this? Or do you use your kids to make friends or not make friends, lol?

Tuesday, June 24, 2008

Boy, girl, hermapherdite, elephant...?

I leave in a few hours to find out which we're having!

Update!

We're having a hermapherdite!

Ok seriously- this is what happened....

I'm not really sure if we're having a boy or a girl.

The baby's back was facing my front, s/he was cross-legged, and the umbilical cord was in the way.

But the doctor said it might be a boy because of a fraction of something that might've been the penis.

But that's nowhere NEAR being able to say anything with any certainty.

And we can't afford to go get another U/S just to find out the sex.

So we'll see. We're just gonna say it's a boy..... lol

Monday, June 23, 2008

It's purple!

So, I'm not sure I mentioned this here (if you're a MySpace friend you probably know) but Stink-Butt and I are looking into buying a house.
We are SO sick of sharing walls with people it's ridiculous. I'm not sure we can stand it any longer, hehe.

So Saturday we went out and looked around at houses with our realtor. He, of course, showed us the most craptastic houses first. Oh and believe me- they were craaaaaaaap!

The last one we saw though we just fell in love with. It's in the higher end of our price range- but we know the listing price is never the final price. Our realtor is working right now on getting us a better deal. Hopefully we can get the price to go down considering it doesn't come with a stove or fridge and though it's been fairly updated- is still an older house.
It's 4 bedrooms 2 1/2 bathrooms. It's lovely- big enough for us to be comfortable now, and still have room for our family to grow.
And we're not the type to buy a house and move right after we paid the mortage off- we want to stay in it for a long long time.

Cosmetically it's got such gorgeous touches that really appeal to me.

-Deep, dark, wood door with a small window- almost Spanish style in a sense.
-arched doorways (which just scream "home" to me)
-a deep purple living room (most people would hate that but it fits perfectly with our stuff. We wouldn't need to paint!)
-a yard! lol.

So, I'll keep everyone updated on our progress. Wish us luck- or DIE!
:D

Friday, June 20, 2008

The title of this post (new SPF)

This week's SPF theme is:

Youth

What reminds us of youth, what it means to us, etc.

For me, it's this:




Old worn shoes thrown to the side on some rained on wood.

I have 5 sisters and 2 brothers and growing up we were each others most favorite playmates. Our school friends never really got our little sibling "quirks."

Growing up we couldn't be bothered with the hassle of shoes (which is probably part of the reason I love flip-flops so much). We had playing to do! We couldn't stop to sit and put them on and tie them!
Nope! We were too busy running out the door.

I can't tell you how many times we got in trouble, and yelled at by our mom.
How many bees, rocks, rusted nails and other crap we stepped on.
How many stubbed toes.
How incredibley dirty our feet must have been!




Also the rained on wood (god I can smell it now!) because one of our favorite games (and my personal favorite) was "Pirates."

We had old peices of wood and fence and such in our backyard and every now and then it would rain perfectly.
There would be wind and the rain made everything smell like the Earth. It was wonderful.

So we'd all run outside and make a "ship" and pretend we were on the high seas in a huge storm.
I, of course, was always captain (because I've always had issues with control- I MUST have it, haha). Using an old bicycle tire as the ship's wheel.
People would be thrown overboard and we had to "save" them.

Looking back it was really one of the best times of my life. I just hope my kids can have that much love for playing and each other.

Tuesday, June 17, 2008

Friggin prunes

Ok, I'm not even gonna lie- old people piss me the fuck off.

Before I get into it, let me say a few nice things. See, I love my grandparents, and my in-laws. They're all awesome.

But they're awesome because they're my family, so I don't get as mad at crap they do that I would just some random old ass person.

Take, for example, tonight. I ran to the store to get olives (craving) and some candy bars to make gas station cookies for tomorrow's D&D adventure. I was the express lane (which kept messing up and not taking people's cards), and this old ass cow cut in front of me in line. And I'm too much of a pushover nice to say anything. Then the cashier told us in line to go to the next lane cause this machine was stupid. And her crazy old bat ass gets ahead of me there!

Why is it old people (especially old womaen) feel they're entitled to everything?

Ok, I know they're old and we should treat them with respect, and I do- but they don't give it.

I mean I was walking down the steps with Hulk-Man once and we move over to let this old bat pass us- and we're squished against the wall and did she budge over even a hair? Uh, no.

And I admit, I think it should be a hell of a lot harder for old people to have a driver's liscence. They're dangerous on the road! And don't know what they're doing!

I was with a certain lady I know (love her to death) but she stopped- dead stopped!- in the middle of the FREEWAY!

Hell no I'm not dying because of you, you crazy fuck!

There needs to be the most awesome shuttle system for old people. Just for them. Cause if I'm cut off one more time, or behind some old fuck going 20 miles *under* the speed limit again I'm gonna.... be mad and blog about it more! Rar!

Yeah, I say this crap now, but when I'm old and senile I'll be yelling about those rude little whipper snappers....

Monday, June 16, 2008

Monday Monday....

Father's Day was nice. Hulk-Man and I made Stink-Butt breakfast in bed. Giant pancakes with butter, powdered sugar, home-made whipped cream (I never buy in a can), and syrup; mimosas, coffee and sausage. Mmmm yummy.

Hulk-Man gave him the tie he picked out all by himself. It's a nice tie too- I was surprised he picked out such a nice one. Believe me I put ALL the ties out in front of him- including one with little anchors all over it, one shiny pink one, and one that looked like it belonged in a candy factory. But he picked out a nice, sensible tie. Hehe.

We also got him a nice new watch- all shiny and leathery.

Then I WAS going to take us to Oceans of Fun (that's a water park for you retards who can't put 2 and 2 together) after church. But while we were eating lunch some ugly ass grey clouds saw our car and said "Get 'em!" and rained on us until late.

So we obviously didn't go to the water park. Stupid weather.

So then I let Stink-Butt decide what he wanted to do- and he said he wanted to go see the Hulk.
Hulk-Man and I stayed here (I played some Sims) and then we ordered pizza for dinner.

Unfortunately I didn't grab my photo opportunities when I had the chance so I don't have any father's day photos like a dumbfuck.

Friday, June 13, 2008

OMFG! Finally!

Ok, I've been trying to play SPF all friggin morning.

But, oh boo hoo, it started thundering and lightning again last night so everyone in the midwest had to freak out and interupt every single show on TV because a few clouds were getting a bit lower in all the rain.

People used to make fun of me because I'm a Cali girl and the only severe weather I've been in are flash floods. But my god! People here freak the fuck out if it thinks about thundering and lightning and raining.

So we had to shut off our babies computers last night and unhook the router for the internet and all that. And then I couldn't get it back up this morning (because I'm a dumbass and plugged it into itself and not the wall, hehe).

Anyhoo- so this week's SPF is:

A child's toy.
Simple enough- we've made a whole floor of toys, lol.

Here are a *few* of Hulk-Man's toys (I'm happy to say that most of his toys were gifts/donations!)



This telephone looks a little creepy to me. Have you ever seen the Twighlight Zone where the kid was talking to his dead grandma on his toy telephone? Awkward!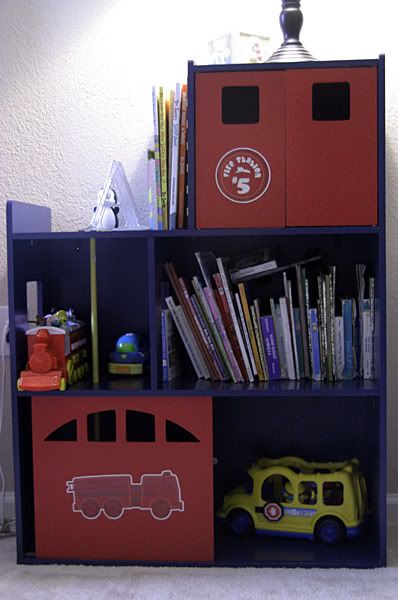 Hulk-Man's book shelf pretty much collapsed and fell on my head. So I had to get a new one. I found this at Target. Isn't it adorable?! It's a little firehouse! Now he can get his books whenever he wants (and chew on them like a dog...) Which btw- books are his new favorite toy.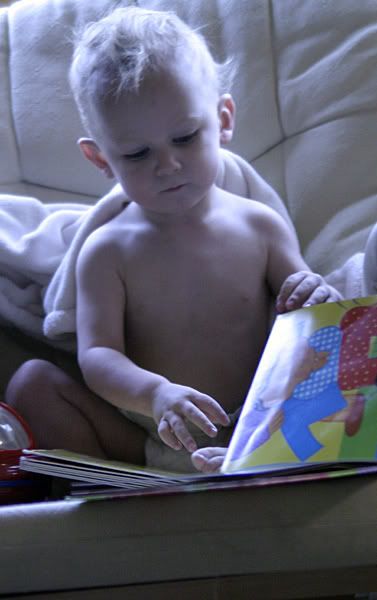 He looks so studious here. Heehee.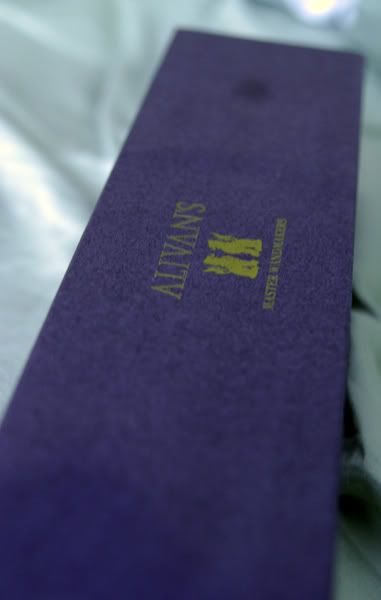 Mama has toys of her own...



And this crap help aid in our making of Hulk-Man so we could buy him the firehouse bookshelves. Hehe

Thursday, June 12, 2008

Babies!

Oh my goodness gracious. How the fuck long has it BEEN?!

I'm sitting here, wracking my mushy preggo brain trying to think of crap to blog about the answer is sitting right here in front of me!

Blogging Sim Bitches!

So since last time....

Clare had her baby. In the house, as there are no doctors or hospitals in Sims land. But she already has 3 other kids, so she handled it like a pro.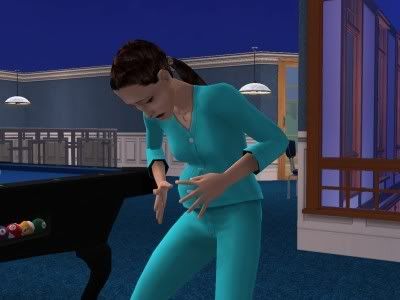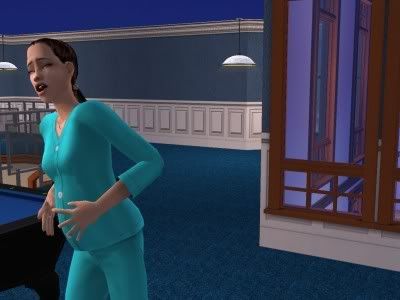 Everyone was super excited about the new baby.




Kami is excited but is hoping she doesn't have to change any diapers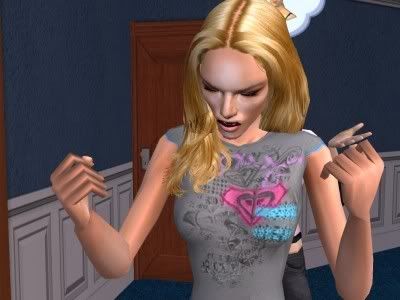 She named her Banana. Interesting name for a person, but whatever....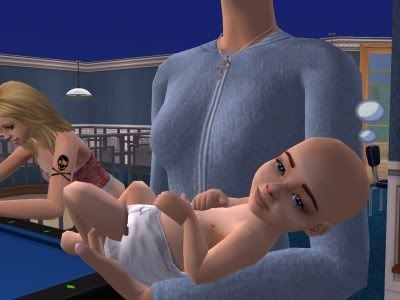 Gorgeous, isn't she? But not quite as asian-looking as her other kids. *looks away and whistles...*


Mer, of course, snatches the baby up and won't let go...




In other parts of the Sims Universe...


Steve wants to show the ladies JUST how hot he is, by preparing a meal for everyone. Sure it was macaroni and cheese, but he was cooking!
Sheri of course just HAD to bend down and put something in the dishwasher while he was cooking....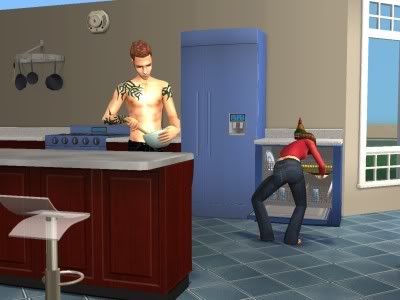 And now for some, what the hell are we DOING photos...


Mama Duck's camera is apparently taking photos of her boobs again...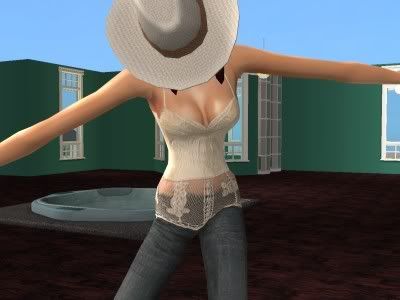 Apparently I think it's ok to flash poor, innocent fish...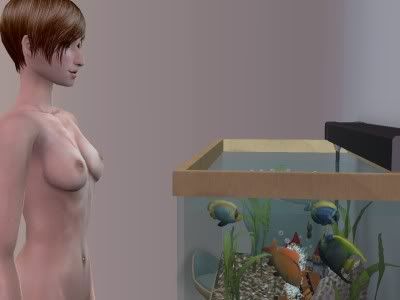 Uhh, yeah.... I'm just gonna leave this one alone....




And word to the wise, if you're gonna put a SUPA-Catholic in the same house as a SUPA-Democrat, be prepared for some fights....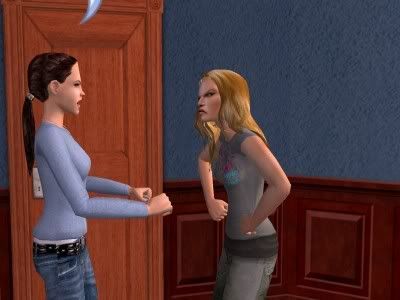 But they made up and are always friends... awwww!

If only....

If only I were a horrible person and ran around on my husband and went out drinking every night til the wee hours.

Then I'd have something to post about worth reading.

So I'm gonna ask my blogging mamas something because it's all I have.

Oh dear god bitches help me! I don't know if I'm too anal or what (ok, that's a given, we all know how anal I am)- but Hulk-Man will NOT listen to me.

I tell him to hold on to the car while I unlock the door- and he tries to make a run for the street (spank).

I tell him to sit down and be patient and wait his turn while Miss Emily passes out the instruments- he squeels and grunts and tries to get up.

Those are just 2 examples of MANY through out the day.

So this is my problem- how do I find theever popular "middle ground" that every other mom seems to have found.

That's all I hear, "you have to find the middle ground and choose your battles."

So let me in on the big secret. How do I let go and chalk it up to the fact that he's a 1 1/2. How do I know when to be anal and kick his bratty butt?

Cause the way I see it now- he's 1 1/2 he should listen and do whatever I say- no matter what. Cause if I let go then he's just gonna run into traffic when I'm yelling at him to stop.

Halp.

Wednesday, June 11, 2008

So boring, even dogs don't give a shit

Lately I've had nothing to post about. There is absolutely nothing going on.

Unless you want to hear about how Hulk-Man has turned into a stubborn monster and refuses to say please for anything and throws fits all damn day.

Or that he uses my boobies to hoist himself up; and my boobies are really fucking sore from being pregnant.

Or how, amazingly enough, they're not that sore during sex.

Or how an army of ants has decided to make camp in our apartment.

Or how all we've been doing really is reading the Players Handbook for 4th Edition.

See- aren't you glad I add a bit of dullness to your super exciting lives? :)

Saturday, June 07, 2008

Dorkery, penises and other crap

Man I love bullet points. I think I use them WAY too often. I have an addiction.


There's this outdoor mall type of thing near our house and this weekend they're having an "Italian Festival."
There wasn't that much Italian-ness going on though. Every booth was a stereotype, and the food wasn't exactly authentic. But I'm a snob when it comes to Italian food as- well I *am* Italian and my parents and grandparents made some kick ass food.
But I got Hulk-Man a shirt that said Italian Stallion because I thought it was too cute. I know, I gave in.


Hulk-Man is obsessed with his penis. His hand is never far from it. He digs into the side of his diaper to get to it and everything. I don't care, I mean he has a penis- he should know that. It's not "dirty," or "wrong"- it's a part of his body. It's wear his pee comes out of. But it's like geez boy! Give it a rest already!


So D&D 4th Edition came out the other day. Totally super excited! They totally changed a butt-load of crap and in some ways made it SO much easier (for dumbasses like me) to play.
Stink-Butt's gonna start a campain soon. I've already made my character- a Tiefling Fighter. WaPAH! It's gonna totally kick ass.


I'm totally craving something and cannot put my finger on what it is!


This second pregnancy seems to be going by really damn slow.

Labels: Bullets

Thursday, June 05, 2008

Putting Hulk-Man on the payroll

This week's SPF theme is:

Through the eyes of a child.

We're supposed to hand over the camera to our kids and let them take a photo (or photos) of whatever they wanted.

I was a little weary since Hulk-Man is only a year and a half. But he is always grabbing for the camera, and once I showed him what button to push it was all over from there.

I was, honestly, expecting a LOT worse. Out of focus, what the heck is that?! type of photos.

But they're kind of cute. I loved this one, I loved seeing the camera through his eyes. He didn't take any photos of anything specific (he's too young for that) he just liked pressing the button and holding it, hehe.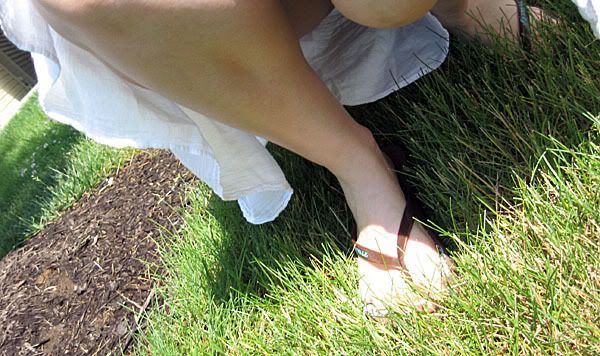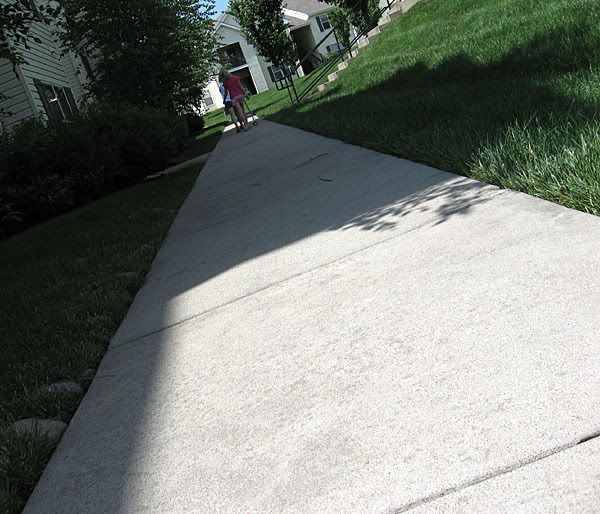 did you play?

Labels: SPF

Like father like son

Every day I take my shower and Hulk-Man plays in the bathroom while I do (I'd take one while he naps, but I nap as well).

And every day I get ready and watches me get dressed and has seen me naked.

What toddler hasn't seen their mom naked??

But recently he's started smacking my butt and thinks it's hilarious when it jiggles.

Sigh.

I am surrounded by ass-slappin' fools

Tuesday, June 03, 2008

People don't read my blog 'cause they're racist

Oh no I di-in't!

I realized something today. I was driving home and listening to a DJ talk to a lesbian woman who got kicked out of a baseball game. The woman was nice- wasn't causing any trouble at the game, etc.

But then the DJ started to compare her getting kicked out of a baseball game (for giving her girlfriend a few pecks, not making out, etc) to fucking Rosa Parks.

What the fuck people?

Martin Luther King Jr. and Ghandi and all that stuff is very important to me. I grew up knowing all that stuff- appreciating what people went through. Being taught the lessons that they taught and it really became a part of who I am and what I believe.

Fast foward to today.

I realized that people today want to have that same experience and feeling in the 60s of protesting and standing up for what you believe in such an extraordinary way.

And we all want that- you should stand up for your beliefs.

But to compare something so small to something so HUGE.... I feel like our view on things is distorted because we want SO much to mean just that much more to history.

I about fell over when Sayesha compared her ridiculous "struggle" on American Idol to that of the Civil Rights Movement.

Bitch please! I wanted to hunt her down and slap her!

And not every situation is a racial situation. There are people who see race issues where there are none. And it's crap like that which divides us.

Not saying we don't have racism (cause trust me we do- people make the dumbest jokes about Mexicans around me and then they find out I am one and then shut up...).

I don't think people want to unite - because then what would they stand for? I think people are scared to unite and not have racism.

And not having racism doesn't mean we all do it your way, or my way, etc. It's about acceptance of cultures and such. But people are scared of that. I don't think people like Jesse Jackson want to end racism- I think he wants to go on TV and yap.

Whatever. It just bugs me. I'm sick of the ignorance of people because they want to be bigger than what's around them.

Monday, June 02, 2008

Ok here's the deal

side note- Mer! Silly! I don't have your email!

I really have no one to talk to.

Let me explain (before Stink-Butt freaks out and thinks I can't talk to him).

There is something every female needs- good girlfriends (even maybe a good gay friend) to talk to about certain things. To go to and vent.

I mean I do talk to Stink-Butt about everything, but he's a guy and his reaction is going to be different.

Just like I think guys need to go have guy talk. I'm sure stink-Butt needs to go have some beers with the guys and make jokes and such with out me there to put a damper on it.

I need girl talk.

So I made a new, and private, blog.

No- I am not getting rid of this one. But if there are things I need to talk about that I don't want the entire world to know about it'll be at the private blog.

So I'm sending invites to certain people to read it. If I didn't send you an invite and you think you should get one- it's probably because I don't have your email address. So email me.

Of course if I think you shouldn't read it then I'll tell you to fuck off. :D

Sunday, June 01, 2008

GRRRR

Why does Blogger have to be such a pain in the fucking ass????

I have 2 blogs within my account. I did the template for both (ok actually I copied and pasted the one Karen made me, just switching the headers).

But I want to make another one (more about that later, if ever). And it won't LET me!

The other 2 blogs say "template" for when I want to change stuff. The 3rd I want to make says "layout," and I have NO fucking clue how to fix it.

I try and copy and paste and then it gives me some dumbass error, saying it can't save it.

Why could I do the other 2 but not this one? GRRRRRR!!!!

Halp!








<