Saturday, May 31, 2008

Sex and the Wii

I think about sex too much. So every guy that I know tells me.

Ok- the guy I know is my husband, haha.

But any way, I'm such a loser- Stink-Butt and I are going to see Indiana Jones tonight* and I just thought to myself~ "hmm, that'd be a good porn movie. Vagina Jones...."

Ok, I'm probably the last genius on Earth to think of that, but I thought it was clever. In my own little dumbass mind.

Anyhoo- we made a Mii for Hulk-Man and made him take the body test. It was pretty damn funny. His goal is to gain 6 lbs in 6 months! hahahahaha.

Friday, May 30, 2008

Lift your loving cup

This week's SPF theme is:

Your tribute

I thought of who I was going to make tributes to- Stink-Butt and Hulk-Man are too obvious and I always make tributes and sing songs to them. Besides there are a gabillion songs that remind me of them and choosing one would be difficult.

Then a song popped in my head this morning. The one song that always reminds me of my dad and what he means to our family.



Natalie Merchant ~King of May~

Farewell today
Travel on now
Be on your way

Go safely there
Never worry
Never care
Beyond this day

Farewell tonight
To all joy and to all delight
Go well and go peacefully
We can't keep your majesty
Be on your way

Make ready for the last King of May
Make a cardboard crown for him
Make your voices one
Praise a crazy mother's son
Who loved his life
Who loved his life

Farewell today
Travel on now
Be on your way
Can't bear the very thought
That we could keep your majesty
Be on your way

Make ready for the last King of May
Make a hole in the crowd for him
Raise your voices up
Lift your loving cups
To his long life
To his long life

Make ready for the last King of May
Make a hole in the sky for him
Raise your voices up
Drink your loving cups
To his long life
To his long life




Did you play?

side note- ok, that song sort of sounds like my dad is dead. But he's not. Altough this song would be perfect for his funeral. Geez, I can be morbid....

Thursday, May 29, 2008

I felt like I should so I am

I really have nothing in particular to blog about today so I'll just bullet point about stupid stuff no one cares about. Hooray!


I had a dream last night that Stink-Butt and I found the perfect house to buy. It had all sorts of stairs leading to different places and hidden little rooms in closets. But it also came with some one renting a room in the basement- which just happened to be Hot Mama (Deadboy's sister)*. There was also a train station in the front yard. But still- perfect! Hahaha.


We got that Wii Fit- and love it for the most part. The only thing we don't like is that you can't just do a work out without stopping. You have to stop and click the next thing you want to do. But it's better than getting dressed and hauling Hulk-Man to the gym every day where I'm not sure if I'm doing it right or not. Besides with the Fit I can hula-hoop! Something I couldn't do in real life.


My next OB appointment is on the 3rd and May is taking FOR-E-VER to end. Plus I want it to be Father's Day already so I can do what I'm planning for Stink-Butt. (I'm going to wrestle a bear in a vat of Jello).


I think it's some sort of rule of the Alliance that they be Night elves and be a fucking hunter. LoL.

*Deadboy is Stink-Butt and my real good friend. He'll be mentioned from time to time. Hot Mama is his sister

Wednesday, May 28, 2008

I really am carrying the spawn of Satan

Good thing my Catholic parents don't read my blog- they'd send over a priest to do an excorcism, hahaha.

I had a dream last night that I was dating Satan. It was Valentines Day and I had to help him drown in meloncholy music so he could die and come back.

Uhh.. yeah.

Sounds more like I was dating a retarded goth kid in high school.

But the new baby kept jabbing me with her horns all night.

Sunday, May 25, 2008

Pretty Pretty Princess and the Pool

Once upon a time there was lowly and poor girl. She was pregnant and didn't wear fancy clothes that sparkled or that were beautiful colors.

One day she went to the royal pool where the extravigantly dressed people laid along side the dull peasants.

On this day she saw one fancily dressed person laying out in the sun. He was tan and muscular and all the women and some men went "woo woo!"

But covering his manly parts was a small peice of fabric. Fabric too fancy for an ordinary person. This fabric was an electric shade of pink. And it was covered in glitter and sparklies.

The poor pregnant girl looked at this fancy man and thanked the Lord above her husband was just a poor and common man and not at all fancy.

And they lived happily ever after!

Thursday, May 22, 2008

Shake that groove thang

Apparently I'm a dumbass. Tomorrow is Friday.... I guess I just played early.
Derr!

This week's SPF theme is:

YOU IN MUSIC

Now, I've never played an instrument- err, I mean I've never taken lessons and I have no photos of me rocking out on a homemade toilet-paper roll kazoo.
And I don't really dance. And I never went to any school dances (yeah, including prom). So I had some major digging to do.

But I found some! Yay me!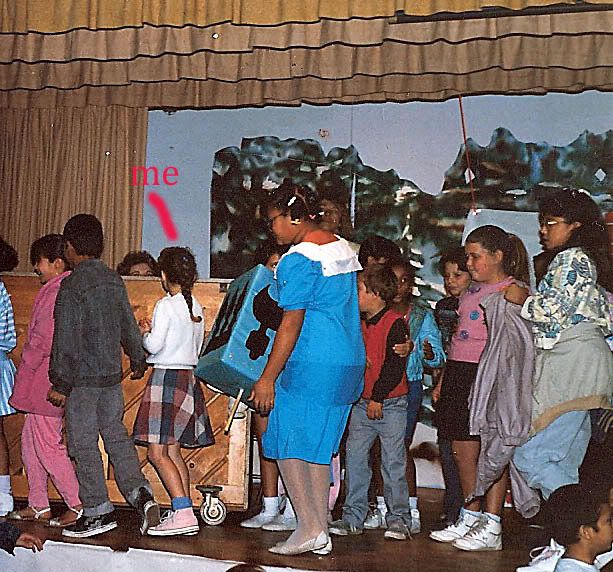 -This is my 4th grade Holiday concert thing at school. Notice how I have NO pictures of us actually singing? No, my mom took her photo opportunity to snap one as we were leaving the stage. Genius I tell you.
Oooh- and take a look at my totally awesome peach Chucks. (Now I have a pair of classic black ones, and some off white ones. And Hulk-Man and Stink-Butt both have black. Woot for Chucks!)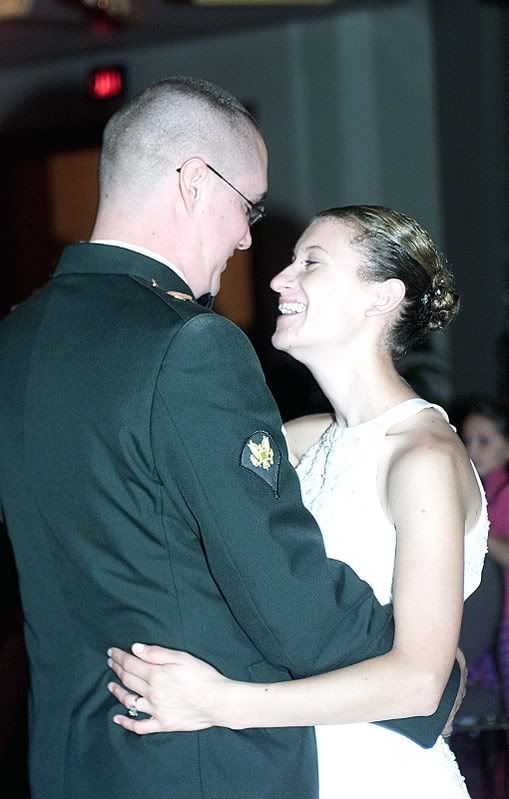 -This is Stink-Butt and I dancing at our wedding. Duh- I don't think I had to say that, it's pretty obvious, but whatever. Holy shit I was thin! Ok, to be fair- too thin. I weighed a whopping 80 lbs back then. Eating disorders are totally awesome... uh, yeah.... Anyway. Stink-Butt had just made me laugh because I was telling him I didn't like everyone staring at us- and I don't remember what he said exactly but it was funny. As always.

Did you play?

Tuesday, May 20, 2008

Back to elementary school- family style!

Stink-Butt's family has this house that everyone stays at (usually at different times) through out the summer.

Nothing fancy- and a family tradition.

The key word here is family

Before I really get into it- I don't think anyone in my family (or Stink-Butt's family) reads my blog, but if they do I'm not sure I care. I think people know me for having an opinion and stating it, haha.

So, Stink-Butt and I were going to stay at the house during 4th of July. Hulk-Man's never been and we're all excited to take him. Plus with Stink-Butt's new job he can't really start asking for time off so we were gonna make a quick weekend trip. Go up late Friday and leave Sunday sort of thing.

Then Stink-Butt's mom called- one of the sweetest people ever and wants everyone to be happy- and says "well, your brother and his wife want to go up July 4th and they don't want anyone else up there...."

Ok, first of all- You're seriously calling "dibbs" on a family house? A house which EVERYone visits and stays in? A family which you are a part of....

Hell, who calls "dibbs" in the first place? Fuck, next time they host something at their place I'm going to call "dibbs" on the food! :D

And second- 4th of July weekend? It's fucking 4th of July! And you want it all to yourself?

Whatever.

Stink-Butt and I probably won't go up- and let them have it. Because seriously we don't want to deal with all that bullshit and the comments and the looks while we're trying to have a good time as well.

So we'll be nice and find another weekend to go up.

Or not. We'll see.

Update- I should have mentioned that they said they were going up on the 4th before we did. But more than one family has gone up at a time- it's really not uncommon. We figured it wouldn't be a big deal. You know- family and all. Uhhuu....

Monday, May 19, 2008

Stupid fights we have....

Stink-Butt and I have the dumbest fights. No really. I don't even think they qualify as "fights," because they are that pointless.

Take last night for example:

SB: "There was trash on the floor near the garbage can again"

Me: "I've been really good about it lately though!"

SB: "but there was trash on the floor, including all sorts of goo from your bodily holes."

Me: looking at him like he's crazy cause all I do is blow my nose... "well I've been trying hard and I've been good about it lately."

silence

SB: "And there was some in Hulk-Man's bathroom too!"

a few minutes later...

SB: "I'm sorry honey. I know you're trying and I appreciate it...."
awww, that was sweet of him, huh? Of course I am the one who can't seem to know exactly where the trashcan is in any given room

After dinner and after Hulk-Man's bath...

SB: "I don't feel like you listen to me."

I don't know the rest, I wasn't listening- bwahahahahahha.

just kidding, I was totally listening and we resolved it

Thursday, May 15, 2008

The ole switcherooni

I think I messed up my SPF again... oh well.

This week's SPF theme is... well, not what you'd think....

Since I was a dumbass last week and mixed up the themes and did THIS week's theme of a song lyric- this week I will be showing you my Non-a-Pod.

Stink-Butt got this for me for last Christmas. I love it. LOVE LOVE LOVE it.

I mean, it's pink! Helloo!!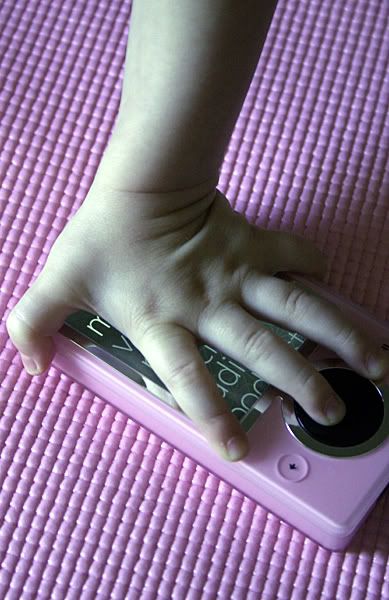 did you play?

Wednesday, May 14, 2008

I really think they switched babies at the hospital

I don't think Hulk-Man is my child.

Forget the fact he looked just like me in younger months and is looking more and more like Stink-Butt every day.

No no no.

He doesn't like tomatoes or basil (what child that comes from a VERY Italian mother doesn't like basil?!).

He doesn't like the Beatles.

He doesn't like strawberries.

It's like he has a mind of his own or something. WTF?!

And aside from that I think he's retarded- just slightly.

There are kids all around him when we go out of equal age or younger yapping up a storm- not babbling, talking.

Hulk-Man can barely say "Bubbles."

I really am worried that he's slow in the vocal department. Oh but he can balance... His motor skills are pretty advanced. My child is a big dumb brute, hahahaha!

That's ok, maybe he'll be the next David Beckham!! :D

I'm a weirdo...

Am I the only one who can't help laughing when their kid(s) cry - like when they get a shot or something?

I don't know WHY it's funny, but every time Hulk-Man gets a shot and gets that look of surprised pain on his face I burst out laughing.

This kid is gonna need therapy.

Tuesday, May 13, 2008

*The Title*

The post.

I have a headache and I'm tired.

That's all.

Monday, May 12, 2008

Happy Mother's Day to MEH (and other crap)

excuse my fat-assness and slouching posture. America's Next Top Model I am not

7:30- wake up to Hulk-Man whining and Stink-Butt saying "let's go get mama!"
Stink-Butt came in by himself because, apparently, Hulk-Man couldn't stop watching Mickey Mouse Club House long enough to jump on the bed and say Happy Mother's Day. Ha!
Have Stink-Butt tell me we're going somewhere special later.

8:40- head to breakfast at The Dish (the restaurant Stink-Butt's sister owns).

-Scarf down breakfast and give Hulk-Man half a cookie. BAAAAD idea!!

10:00- head to church.
Have Stink-Butt tell me we're going somewhere special later.

10:40- be interupted to come get Hulk-Man from the nursery because he wouldn't stop crying. we're not too concerned- it's only his second time at this church- we just need to keep going back and get him familiar

12:00- Pick up lunch, stop home, eat and take naps.
Have Stink-Butt tell me we're going somewhere special later.

3:00- have Stink-Butt say "uhh we can't do the thing I planned, I didn't know it closed at 3:00." lmao! we were going to go to the zoo. What? I love the zoo! hahaha!

3:20- head out to the downtown area to walk about and window shop.

4:00- have orgasm at / because of Williams Sonoma.

5:15- Head to dinner at the Olive Garden. Stay there for nearly 2 hours, going into Hulk-Man's bed time. Have my steak come out burnt and not medium-well. Listen to Hulk-Man whine all night. But I didn't cook!

It was a great Mother's Day. I didn't need to cook or clean anything and got to sleep in a bit. Of course at dinner Hulk-Man reminded me that you can't REALLY take a break from being mom. damnit!

Anyhoo- here are some photos:
side note- ok, we used the point and click so they aren't the *best* photos ever. Plus it doesn't help that I look like a bowl of human flesh and blubber with no backbone




And in other news....

Stink-Butt started his first day at his new job today! Here he is being all handsome and "manly." Hehe.
ok, yeah, I know- this picture is terrible, but whatever. I was too tired to get a good one. God I'm terrible


Sunday, May 11, 2008

Hello-o-o!

Thursday, May 08, 2008

On with the music!

Side note- I totally did not play correctly this week. I was supposed to show what I listen to my music on- but I accidently read the NEXT week. So I did a lyric in a song.
Whatever- this is my SPF, deal with it bitches!

This week's SPF theme is:

A lyric in a song.

This week was easy for me. This song- especially the following lyrics, just jumped right into my head and I knew what photo to take.



Suerte que es tener
Labios sinceros
Para besarte
Con mas ganas
Suerte que mis
Pechos sean pequenos
Y no los confundas
Con montanas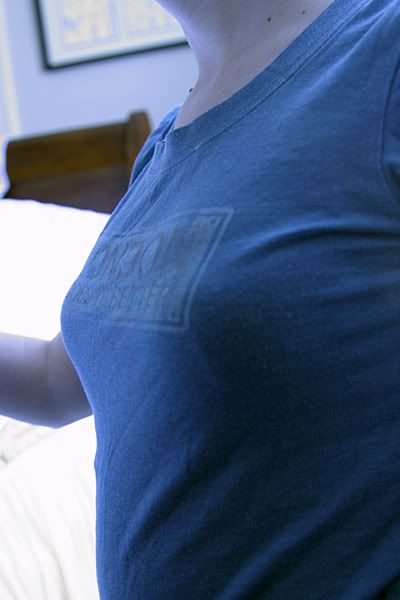 I wouldn't want Stink-Butt to be confused now would I? Noo... heh.

side note- you can somewhat see a little bit of the baby pooch I'm getting. Not big enough to wear maternity clothes but not thin enough to really fit into my own. So much fun... Hot!

Did you play?

Wednesday, May 07, 2008

Doing his husbandly duties

Well Stink-Butt got the job!

He is the regional manager of male gigilos!

He will be overseeing about 10 pimps and 40 prostitutes.

And he starts on Monday! YAY!

ok seriously, he did get that one job. Whether there are pimps and whores I don't know. We'll have to wait and see

Tuesday, May 06, 2008

The title
Mothers Day is coming up and Stink-Butt said we're "going somewhere," but won't tell me where.
I hope it involves a chocolate factory, lol.


Military Spouse Appreciation Day is coming up as well. I am no longer special. Hehe


Stink-Butt is beating me to level 70. Do you know how annoying that is? He's taking full advantage of this pregnancy and the fact that I'm so tired. Hehehe.


I'm wondering if I can say lol or hehe after every bullet point.


I'm a few days away from entering the 2nd trimester and am getting nervous. When I was preggo with Hulk-Man I ate everything in front of me because "that's what pregnant women do," right? And I didn't gain much- until one week I blew the fuck up and got preggo diabetes.
I'm scared of doing that again.
I don't want to ignore my hunger pains (oh, no!) but I don't want to devour everything in sight.

Sunday, May 04, 2008

Did this boy come out of *me*??

Today Hulk-Man and I walked down to the park on our apartment complex; and there was a girl there- college age- studying, laying out on a blanket.

Hulk-Man was all googly over her. Smiling and saying Hi and waving.

Now- when his grandmommy comes over he cries.
When any older woman comes over and loves all over him- he gets super shy and cries.

But the young, blonde, college girl? Oh yeah, no problems.

Is it something that's programmed into *all* (non-gay) males that says "old women! Ewww! Young and hot!? YEAH!"

Seriously? I mean I'm going to teach my son not to oggle and appreciate a *woman*- not just the young and beautiful. I guess I have my work cut out for me.

He probably likes the young ones since his mom is SO young and hot and thin.

Uhh, yeah. cough

Saturday, May 03, 2008

I confess to Almighty God, and to you my brothers and sisters.....

Man I'm a dork...

Anyway.

Ok, it's pretty much well known that I am not the cheerleader type. I DO NOT get them. The fake smiles, the "Go Team Go!"s, etc. I feel about cheerleaders the same way I feel about Miss America.

barf

But- not many people know that WAY back in the days of elementary school and a part of Jr. High did I want to be a cheerleader.

Shocking I know.

I even tried out once in 7th Grade.

But I was terrified to- why? Only because I heard that they would force you to do splits. Like you would go down and they would push you the rest of the way.

I never made it (and no that's not the basis of why I don't get cheerleaders).

So my career as a Dallas Cowboy Cheerleader was stopped in it's tracks. Nevermind the fact that I'm too ugly and have no boobs.

Hehe

Thursday, May 01, 2008

Everything looks perfect from far away....

This week's SPF theme is:

A Song Title



Such Great Heights
the Iron and Wine version

I am thinking it's a sign
That the freckles in our eyes
Are mirror images and
When we kiss they're perfectly aligned

And I have to speculate
That God himself did make us into
Corresponding shapes like puzzles pieces
From the clay

True, it may seem like a stretch
But it's thoughts like this
That catch my troubled head
When you're away, when I am missing you to death

When you were out there on the road
For several weeks of shows
And when you scan the radio
I hope this song will guide you home

They will see us waving from such great heights
"Come down now," they'll say
But everything looks perfect from far away
"Come down now," but we'll stay

I've tried my best to leave
This all on your machine
But the persistent beat
Sounded thin upon listening

That frankly will not fly
You will hear the shrillest highs
And lowest lows with the windows down
When this is guiding you home

They will see us waving from such great heights
"Come down now," they'll say
But everything looks perfect from far away
"Come down now," but we'll say....





did you play?

update
For those who've never heard the song- you HAVE to. It's gorgeous and one of the most beautiful versions ever:










<