Tuesday, April 29, 2008
Ok, here's the sitchemination
I haven't talked about this pregnancy much because we haven't seen or heard anything of the baby yet. And because I've already had a Blighted Ovum, I'm scared to have another one and don't want to jinx myself.
I don't want to get too excited too early.


I'm starting to realize that not everyone in the universe finds me adorable and wonderful.
I know! It was a shock to me too!
But I have blog stalkers who hate me. I don't know why they keep coming to my blog if they can't stand me....


I'm sick, Stink-Butt is getting over being sick and Hulk-Man is all-fucking-better.
Ugh.


For those of you who live in Missouri- Jiggle Jam is coming in May. And- They Might Be Giants will be playing!
For those parents who DON'T know- they wrote all the songs for Mickey Mouse Club House, Higgly Town Heroes and a bunch others and have 2 new CDs of children's songs out.
We'll be there so let me know if any of you are coming! :D

Monday, April 28, 2008

Hey!

Someone found my blog via this search:

chnnature + dumb

Sniff.

Oh who'm I kidding- I am a dumbass. lmao

Sunday, April 27, 2008

Dork much?

Ok, as (most of) you all know- Stink-Butt and I are big on PC games. I guess you could call us gamers (we'd be more so if not for a pesky little distraction called "Parenting").

But yesterday we heard about the new Wii Fit where you can totally customize your workout. It tells you where you carry your weight, etc. Basically you have a personal trainer (which my dorky ass has always wanted).

And let's face it- Stink-Butt and I are not gym people. But we are computer people. So today we called Target to see if they had any Wii's in and they had 15 left so we ran down and picked one up.

OMG! This thing is WAY too much fun! I just got done beating the crap out of Stink-Butt. I boxed him out cold.
ok, so it was a tie, but who doesn't feel like boxing their husband's/wife's ears every now and then lol

How retarded are we though that the one fitness program that sparked our interest will be on a video game console?

Saturday, April 26, 2008

Ch-Ch-Changes....

Ok- again- you guys know I don't get political that much here.

But I have a (probably stupid) question.

Barack Obama's big slogan is "A Change We Can Believe In."

Um- what's the change?

Other than a Democrat finally taking over the White House after forever 8 years of Bush.

Other than he's 1/2 black.

Any other party member besides the Republican Party would be a change in the White House next election. And I don't base a person's actions on the color of their skin.
I base their actions on their actions

So what's this "Big Change" he keeps talking about?

Labels: Politics

Friday, April 25, 2008

It's Friday!

Time for another awe-inspiring (yeah right) SPF!

This week's theme is: Towels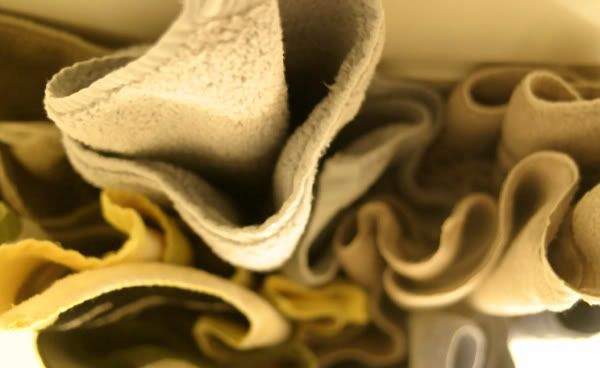 -These are the towels in Hulk-Man's bathroom (Stink-Butt and I have our own).
Gorgeous aren't they? Oh yeah....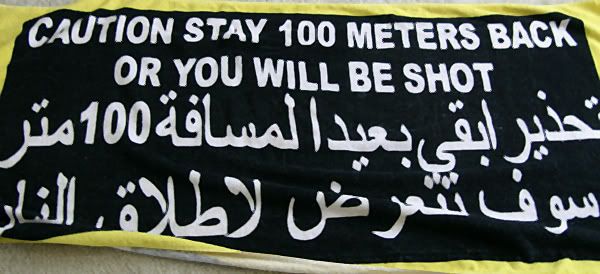 -There's a sign in Iraq, says Stink-Butt, that says that. He found a towel of that sign. We think it's going to be hilarious when we lay out by the pool with it. But then again we're strange like that. Hahaha.



did you play?

Wednesday, April 23, 2008

*snicker*

In case you haven't heard, or you don't live with me, and aren't one of my good friends- I'm mean. I make fun of people WAY too much.

But seriously, people are fucking retarded and most of them deserve to be made fun of.

Take, for example, the white trash hooker I saw yesterday. She made me laugh for hours.

She was wearing old dusty cowboy boots- cowboy boots with a stilleto heel mind you.
A short as fuck acid washed jean skirt. And a rainbow striped tank top.

I wish I had a photo. It was some of the Fugliest shit ever.

I'm still amused at her costume clothes.

Monday, April 21, 2008

Pee Pee!

Hulk-Man took his first pee in his potty today!

Well, really this evening before his bath.

We aren't exactly potty training him because we don't think he fully understands what he's doing yet- but he watches when Stink-Butt and I use the bathroom and flushes the toilet for us.

We got him a training toilet just so he could get more familiar with the concept so it'll be easier and less scarey when we're actually potty training him.

Every night before his bath he gets undressed and sits on the potty and stares at his penis for about 2 seconds and then hops off. Well tonight he sat there for a second and didn't look at his penis and went pee!

I was too excited and was clapping too much to really get his reaction; so I'm not sure if he knew what he was doing or not.

Saturday, April 19, 2008

Err, yeah, so.... how 'bout them Dodgers?

I cannot think of a single thing to blog about. So guess what, you get another post about nothing.

Hooray for you!


I still can't get a full night's sleep. I wake up sweating and though my upper body is tired my legs can't get settled. Damn legs.


Hulk-Man is taking a toddler music class at Gymboree and loves it. Then again he's always been a bit musically inclined. Yes, my child is a genius! Hehehehe...


Stink-Butt is up for this great job. It might not sound so wonderful to most- but for us it's perfect. He'll be working for a real estate company that focuses on kind of like vacation home through out the US. He'll be writing the descriptions for them. They also mentioned they'd like it if someone could also do the photos. Well- duh! Not only does stink-butt have an amazing portfolio, but we have the equiptment. Plus the building is litterally a 2 second walk away from where we live. And each month they have conventions where Stink-Butt would need to take photos- this year it's in Vegas. Vegas! I love Vegas!


I haven't been playing the Sims cause I just haven't felt like it. How can I when I'm 7 levels from 70 and my flying mount in WoW?!


I have a new video of Hulk-Man. I remember when he could hardly stand- now he's running!


Thursday, April 17, 2008

Dear baby brother

Ok, you're 15. You think you're "grown up."

But my sweet your brain hasn't developed enough to think outside yourself; so I'm going to let you in on a secret.

You have it SO much better than you realize.

You're the youngest and don't remember what it used to be like back when our mom disapeared and the crazy lady took over. So when she makes you wear a suit and tie to Easter mass and makes you do your homework and doesn't let you do whatever you want it's unfair and cause for you to think your life "sucks."

Oh baby brother if you only knew just how wonderful your life is. Our parents care about us so much.

This whole "I'm an anarchist" act, we know, won't last long. You think your life is so rough and tough and that no one understands you.

You'll grow up soon and realize that 1) it's not all about you, 2) your life is so much better than you think it is.

So stop your whining, stop talking back to mom in that snotty tone before I wack you upside the head.

Wednesday, April 16, 2008

Sheesh

Why is it that when I'm pregnant the way I used to lay on my bed to go to sleep is no longer comfortable?

And it's not the position- I mean my head wants to be at the foot of the bed and my body wants to be on Stink-Butt's side.

You wouldn't think that would make much difference, ohhh but it does.

So what it is fetus? The moon's gravitational pull? The rotation of the Earth? Can you stop being so picky and let mama get some sleep?

Monday, April 14, 2008

She's crazy.....

I just finished reading Dave Pelzer's sequel to A Boy Called It about his foster homes, and am now reading A Boy Called It.

And it's fascinating and I can't put it down.

And it scares me and reminds me of my childhood.

I don't need to go into details (that's something for Stink-Butt and my therapist), but reading his words and his thoughts is like "yes! I know! Exactly!"

See, I don't consider myself to have had a mom from the ages of 3-18.

It was nowhere NEAR the level of Dave Pelzer's situation.

And I have something he doesn't- my mom is now "my mom."

She, through hard work and help from my dad, is passed all that. She is now a Betty Crocker type, sweet and wonderful, grandma and mommy.

My mom used to be crazy. Looking back it wasn't all her fault- with PPD being so hush-hush she wasn't "aloud" to feel what she was. Plus her mom (my grandma) who is a sweet and wonderful person but is a total perfectionist and god forbid you didn't do it perfectly.
My mom thought, when she had kids, that "oh my family will be perfect. Clean, pressed, and obedient."
She couldn't handle the fact she had rambunctious and independent kids who asked "why?" all the damn time.

OCD like that runs in my family. More on that in a bit.

So my mom went crazy and was taking over by "that woman."

"That woman" came and went with no warning. Leaving bruises not only on our bodies but our self-esteem and childhood.
Once she left a bruise the size of Kentucky on my thigh and stupid me (though I wasn't usually stupid, I knew to cover things up) I wore shorts the next day.
I was talking to one of my uncles when my mom came over and said "where'd you get that bruise?!" As though she truly did not remember.
That was one of the many times I wanted to yell at her "bitch! Are you fucking crazy!?"
But you know better than that. So I said Bear (my brother) and I were playing too rough.

"That woman" is the reason I'm scared to be alone in the dark, why I'm such a light sleeper and always wake up, why I cried when I burnt the brownies I promised Stink-Butt. Why I feel like a failure if it's not perfect.

Why I'm on Lexapro now.

See, I've always been proud to be on meds. I don't hide it and think it tabboo.

I admit I have anger tendencies and I'm OCD in a bad way. But I didn't want it to be too late for my kids.
I didn't want them to lose their mom when they need me the most.

In that sense maybe I'm not as strong as my mom. She didn't have meds to help her get rid of her demons. She did it with her own strength and support from my dad.

I lost my childhood because of it but at least I have her now. And I will always be grateful that I have my mom back and that my kids will benefit from having a grandma and having a mom smart enough to know when she needs to take medication.

That's why mother's day is so wonderful now. Because I'm truly grateful.

Saturday, April 12, 2008

ok, uh, yeah....

Why the hell does my ass keep itching?

The inner part of my right cheek itches. Not just today, but for weeks now.

I'm clean- I swear. I'm super clean. And I dry myself thoroughly after my showers and baths. And I don't have any bug bites.

Stupid itchy asses.

In other news...

I get confused, easily I might add.

I was looking through the blogs and the searches of people who found mine. And came across this blog- particularly this post.
Someone came to my blog directly from that post.

Now there's no link to me, so I'm guessing someone was just going through their blogroll maybe. I dunno.

But the weird thing is that I don't know if this person thinks they know me and if they do why they have such a weird view of my marriage.

The chick she's talking about and I both:

-met our husbands and got engaged after a few months of dating.
-had miscarriages
-have a one year old son

and this blogger is (roughly) the same age as I am.

But Stink-Butt and I aren't unhappy, we've never "broken up." And I don't feel the need to find God.

So, I'm wondering if she knows me and is making up some crap for blogging purposes or if it's just coincidence.

I read too much into the dumbest crap.

Friday, April 11, 2008

Bad bad Leroy Brown. Baddest man in the whole damn town....

It's Friday!

I'd be happy that it's the weekend but since every day is the same to me and being a parent is a 24/7 job I'm not sure how I can get excited about just another day.

Although it IS laundry day... I know, the excitement cannot be contained!

And it's also time for Stuff Portrait Friday.

This week's theme is Bad Bad Bad.

I took out this chicken breast from the freezer to thaw and for the first time ever I had a peice of meat I was thawing go bad.
don't worry honey we didn't eat it. I threw it out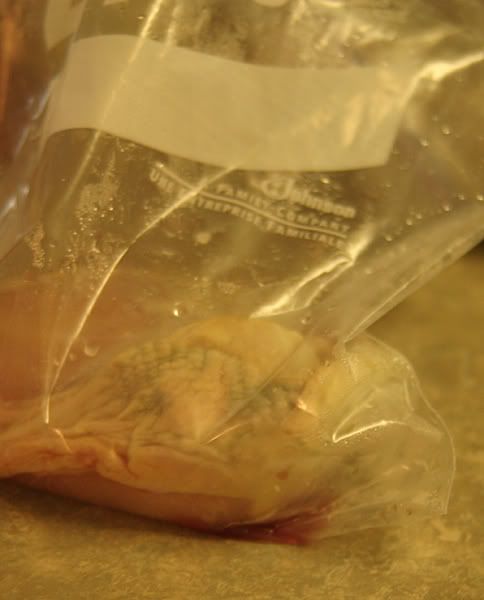 See the blue-ish green? Yeah... that doesn't look too appetizing.

Did you play?

Tuesday, April 08, 2008

the title

I hate pretentious people.

H-A-T-E them!

I don't like smokers and hate cigarette smoke, but the people on those "Truth" ads make me want to light up and bad.

I don't give a shit if you're the smartest mother-fucker on the planet, if you're pretentious I won't listen.

Of course they would roll their eyes and say "of course" and how it was expected of someone of MY intelligence not to listen to them.

We watched King of Kong yesterday. OMG that was awesome.
But Billy Mitchell is a fucking pretentious dumbass and I think he's a dirty cheater.
Viva Wiebe! Hahahahaha
me? a dork? noooo

I just got rid of a 3 day long headache. Damn I miss my Excedrin- Tylenol does nothing for me.

Back to the pretentious thing- I really fucking hate it when people spew that fake "I care about you" bullshit.

It's ok if you don't really care. It's emotionally draining to care, really care, about everything all the time.
But no- you're not aloud to NOT care.

Sure there are issues I care deeply about, but if one of you came to my house say yesterday when I wasn't feeling well and gave me your sob story about how your hamster has lukemia I don't think I could sit up, take your hand, look into your eyes and squeeze out a few tears. I'm sorry.

I'd rather you not care then fake it. I fucking hate fakers. THOSE people think they're the salt of the Earth and give themselves WAY too much credit.

But good luck telling them that because, oh *look of concern inserted here* "I really caaare."

No you don't. You're fake and a liar. Go get a mind of your own and quit hosting on other people's suffering.

Friday, April 04, 2008

Apparently God does read my blog

You know how I mentioned a while back that sometimes I felt like God is punishing me with infertility (sort of) because I don't believe in a Christian God?

Well apparently he read my post and said "Bitch please! You know I love you!"

And to prove it he helped along the process of getting preggo.

I'm due November 21.

We've acrually known about it for a while but because of past miscarriages we feel better telling people at 7-8 weeks.

So there you go. Baby time!

Wednesday, April 02, 2008

Blah blah blah....

Bullet points! Hurray for you!


Re to Ms Batman... I have no idea what started that thought process. Weird shit just comes into my head. I blame Dr. Phil and Oprah for always having like "the fattest people on the planet!" on their shows or something.
I'm surprised I haven't started yapping about my love affair with gum and how it's better than silly putty.


I thought about making an April Fool's Day joke yesterday but I got super lazy. Besides I could never EVER top World of Warcraft's April Fools joke.
OMG! I laughed so hard I cried.
Man that was funny....


I'll put up new Blogging Sims bitches soon. I've just been PvPing in WoW. Goddamn Alliance. Fucking Gnomes... I hate Gnomes!!


I, er we, signed Hulk-Man up for Gymboree. We got a free class and Hulk-Man just LOVED it. It's pretty cool, and the bubbles they use are amazing. Seriously, there was a gabillion of them and they stayed in the air and when the hit the ground they didn't pop. It was seriously one of the coolest things ever. But anyhoo I'm gonna take him the music class. And when he's 3 I can drop him off for a few hours and leave him there!!!
It's all I ever wanted! For my kids to get out from up my ass! Hahahaha.


I wonder now if I'll get backlash from those moms who think I don't love my kids besides I don't want to spend every waking moment with them.... It's bound to happen sooner or later. It's about that time of year, hehe.








<