Sunday, March 30, 2008

Sex dilemma (with drawings!)...

I have this dilemma. I am completely confused about something.

How does a fat man- not like normal fat, like HUGE can't get out of bed 2 million lbs fat- masterbate? Or even have sex with another person?

Because, well, he's fat so I don't think his arms would be able to reach his penis.




And if a woman were so inclined to do him the tremendous favor of giving him a blow job...

1) Wouldn't it be really sweaty down there? I mean it'd be her job to clean him *out*, not clean him *up*.

2) How would she not get engulfed in the surrounding parts of his body?




They should make, and maybe there's already a product like this on the market, a fat man masterbation tool.

Like, you know those grabber things? You'd pull a handle and on the end of a stick some dinosaur head open and closed its mouth?

Well, they should make an extra long one that's bendable and on the end would be a hand that opened and shut- as tight or as loose as he wanted.

I'm a genius. I'm gonna patten it and call it the "Fat Man's Life Saver" or something like that. Or the Masterbation Extendo.... hahaha

Saturday, March 29, 2008

Dear Hershey's....

I've been so good lately. I'm excercising every day. I'm drinking more water. I'm eating healthier. I've been a good girl.

So can you please, oh for the love of god PLEASE, stop putting all your products on sale and making awesome deals?

I'm begging you.

Friday, March 28, 2008

1234 tell me that you love me more....

For those of you who don't know- SPF is back!

This week's theme is Numbers.

I didn't get a chance to actually take any new photos because I forgot until like 2 seconds ago, lol.

So here is a timeline: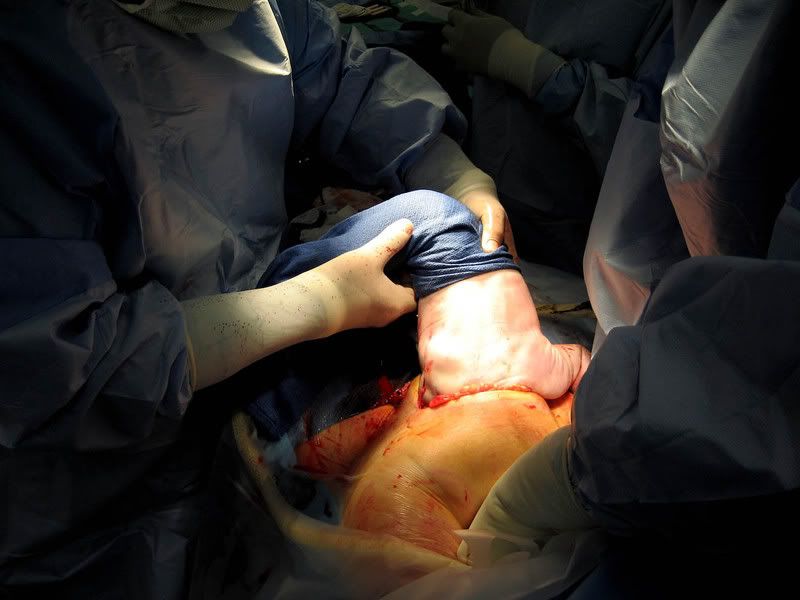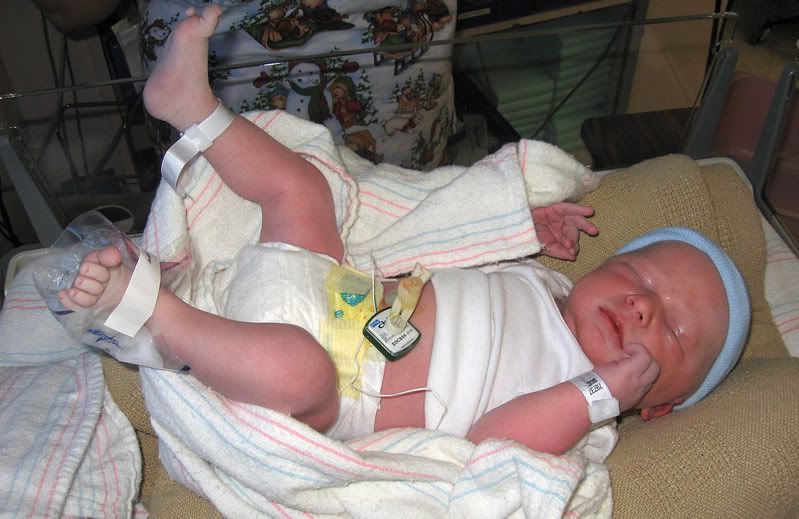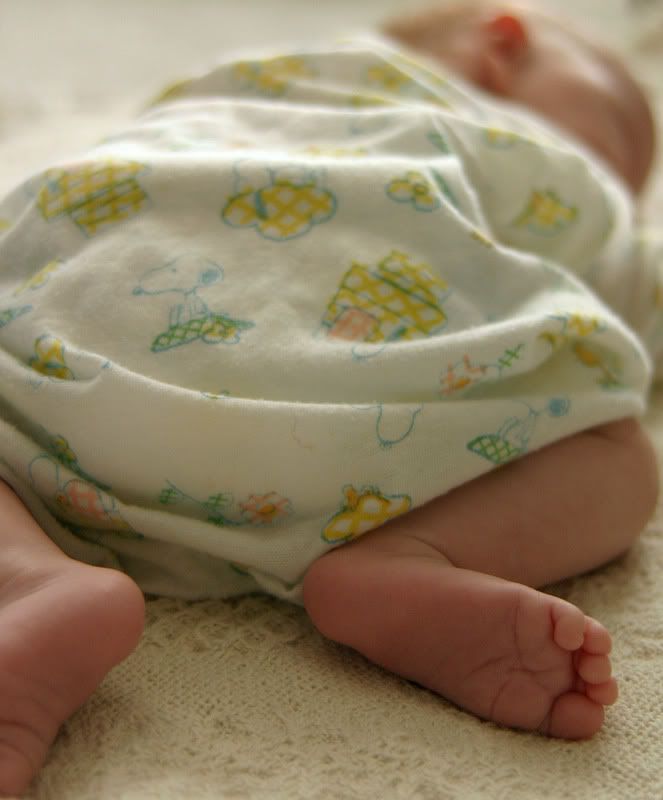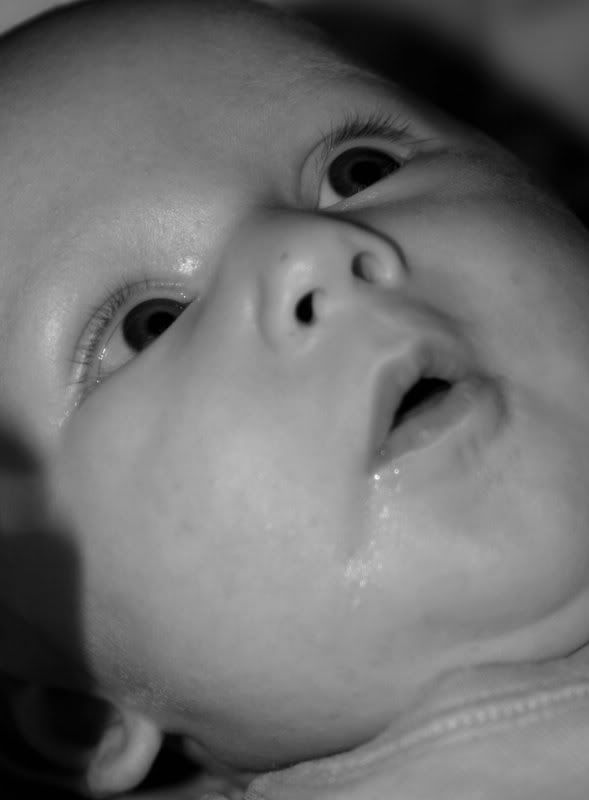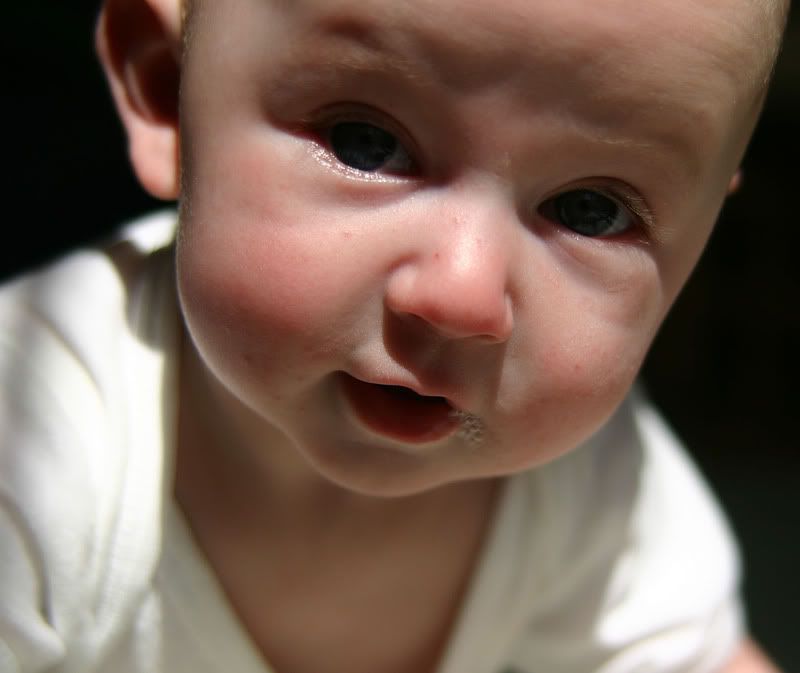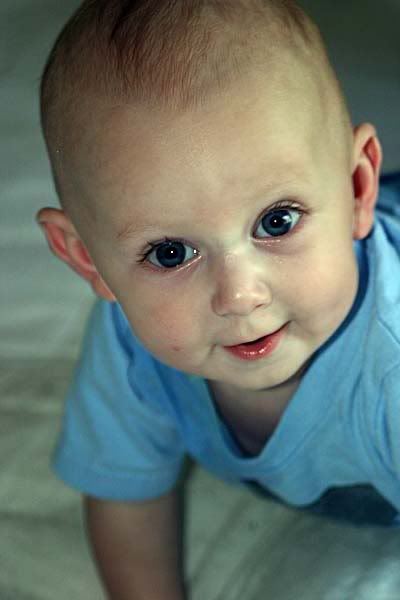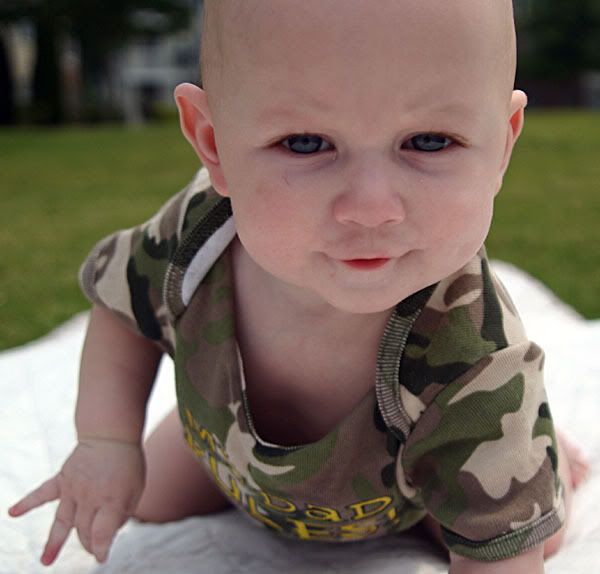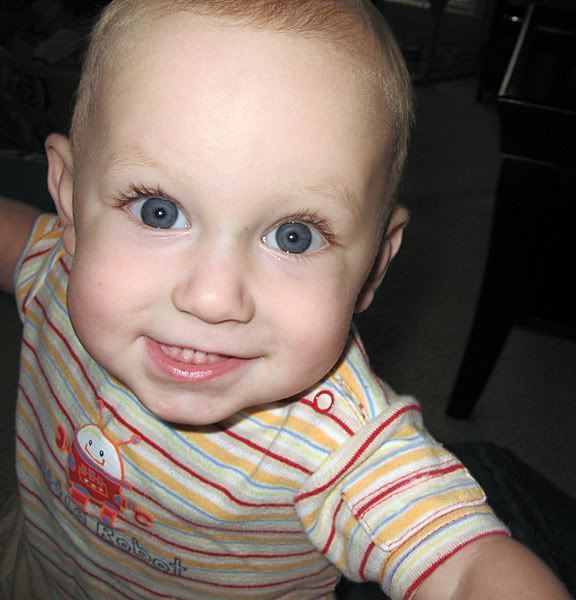 Did you play?

Thursday, March 27, 2008

Mamas! (and dads) Halp!!!

Ok, here's the situation.

(Most of) This has happened before just in different ways, and Stink-Butt and I are beside ourselves in how to fix it.

Yesterday Hulk-Man woke up on the wrong damn side of the bed. No biggie, everyone does.
But ALL damn day he was whining and throwing fits for NOTHING and getting into stuff he KNOWS he's not supposed to.

Then, because it was Wednesday, we went out to eat. At the restaurant he threw his toys down and we took them away like usual. But today he screamed about it.

Oh, and all day long he would NOT say "Please" for anything. And he KNOWS if he wants something he has to ask politely and say "Please."
he says Pah Pah Pah for please. It's really cute lol

So then we wouldn't give it to him and he screamed.

Then we went to go play D&D (cause that's what we do on Wednesdays) at our friend Deadboy's house. We've been there I don't know how many times and Hulk-Man is NO stranger to sleeping there.

Well Deadboy had to run into the room where Hulk-Man sleeps to get something. No big deal, it's happened before and Hulk-Man quietly goes back to sleep.

Well this time it really woke him up and he WOULD NOT go back to sleep.

I mean he was screaming bloody murder. It wasn't a hurt or a scared cry. It was a stubborn brat of a cry.
Now Hulk-Man has not done this since he was 3 months old. I mean cried and not laid down and went to sleep.

Stink-Butt and I went in there about every 15 mins and put him back down (laid him down, said night night and left).

But we are baffled as to what the fuck.

He is become WAY brattier and Stink-Butt and I would like some advice on as to how you guys handled it when your kids turned into demons. :)

Monday, March 24, 2008

Little boobs, big asses

I've decided to never buy clothes at Target again. Nor will I even try them on.

I don't understand people who design and make clothes. Seriously.

I tried on a few things the other day and I've come to the conclusion that the people making these clothes have never seen a female (a real one), and have never been told how to make clothes for females.

I tried on several dresses that not only made my ass look huge, but it was very loose in my boobie section and the sleeves were so tight they were cutting off circulation.
I'm a size 10 (holy shit, did I gain 4 sizes when preggo with Hulk-Man?!). And all the dresses I tried on were a size 10.
I'm not sure I know too many women who are a size 10 but only in their boobies.

Oh yeah, wouldn't we all just LOVE it if we were? I mean really, how else am I gonna find self-esteem if I can't show off my ginormous girls?

Heh.

I think people forget about my type of body. The "where the hell are they?!" boobs with the "woah, back that thang up!" gadunkadunk ass.
My ass happens to stick out. It's not just big, it's bubbly.
So I have a real hard time finding pants that fit around my waist and don't show the crack when I sit down. And dresses that are smaller on top for my lack of boobs and wider on bottom for my ass.

Yeah I know, a line... No one makes them. No one less than 40$....

I'm considering getting some Apple Bottoms but I'm not sure I wanna spend 80$ for one damn pair of jeans.

Woe is me.

Sunday, March 23, 2008

Hippitus Hoppitus

Well, we had a pretty good Easter I'd say.

I found this great, and humungo, floppy rabbit for like 13$ at the grocery store so I bought it for Hulk-Man.
Uh, I mean the Easter Bunny left it for him.. teehee.

And got those plastic eggs and filled 2- one (well 1/2 way) with pastel candy corn and the other with colorful Goldfish snacks.
He friggin loved it. Of course the rest of the day he kept wanting us to put food in his eggs. No problem! That's why I got Goldfish and not a horde (hoard? lmao) of candy.
The Robin Eggs are for MEH!

I hid eggs in his room and he found them, uh, kind of. You'll see in the videos.

OMG- speaking of the videos I don't realize I do it when I'm doing it- but I fucking talking like a baby to Hulk-Man.

Someone punch me, and hard, every time I do it so I'll stop.
I know Stink-Butt my love, you'll gladly accept the task, hahaha

Anyhoo- enough yapping, here're the photos and videos.
there will be more photos later I promise:




Hulk-Man apparently doesn't like us making fun of his egg boobs... teehee



He's playing the piano with his cousins, H & J

And someone tell me why the hell I'm walking like that with him? I swear- hit me, hit me now.





Saturday, March 22, 2008

Dear fucktard of a bitch working at Kohls:

I understand it's the day before a holiday and there's a mass of people shopping for Easter outfits but...

No, wait.. uhh, fuck you.

It's fucking the day before Easter. Easter dresses you stupid whore. Why your incompetent manager only scheduled 4 fucking people to work is beyond me.

But does that mean you still can't do your job? Or are you too fucking stupid to move your left AND right hand at the same fucking time?

And when I ask where the other dressing room is because one is 1) filled with clothes to the brim, and 2) there are no fucking locks (or any device to shut the door) DO NOT give me a bitchy snotty attitude and tell me your woes about how everyone who works there has to be on the register.

Fuck you, I don't give a shit. Learn how to schedule properly. I MIGHT have been sympathetic if you weren't such a fucking whore of a bitch.

Next...

Dear fucking older than dirt man and fat ass cow:

FUCKING MOVE!!!!!!!!!!!!!!!!!!

The speed limit is 45.

NOT 30!!!!!!!!

Old man- there is a reason why people want the elderly to turn in their drivers liscences, and you are the fucking poster boy. Get off the road you crazy old man!

Fat ass- you sped up to pass old man, but as soon as you got next to him you slowed the fuck down to his fucking speed! Uhh, are you a dumbass?

Maybe you can't drive and stuff your fucking face with fastfood like I saw you do when I *finally* passed you both.
You couldn't wait to get home to shove it in your face?

Dear me:
You, my darling, are a fucking retard if you thought you were gonna be able to find an Easter dress the day before Easter. Just wear what you already have. You just wasted 2 hours in public full of fucking dumbasses.
side note Damnit that fucking cheesecake better turn out.

Friday, March 21, 2008

Oh yes Oh yes it's springtime!...

Yeah, we watch Little Einsteins...

Ok, well since the last Simming Bitches episode lots of things have happened. We all got plastic surgery, again, raised Sheri from the dead, and opened our home(s) to new friends.

Everything is, somewhat, back to normal.


Mama D works on her tutus...



I plant an herb garden outside (gotta have the fresh basil!)...



Miss Ann loves and cuddles her cats (which, btw, I've named Mr and Mrs Kitty)...



Steve stares at Dixie's boobs...




but with new friends comes a period of adjustment.

Clare thought having 3 toddlers was nerve-wracking. But now she has to share bathrooms with 6 other girls! Hehe...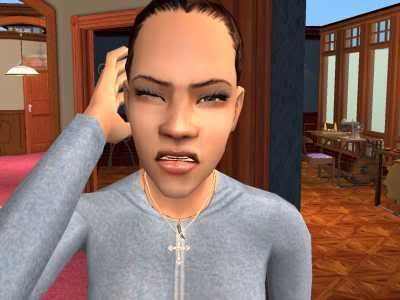 Clare was even insulted by the local nutcase, Nervous (yes, that's his name). He made fun of Catholics.
Bad move buddy. He'll pay for that one later...



"Um, hello? My arm is stuck in a wall..."
I'm not sure DSB really knows her way around just yet...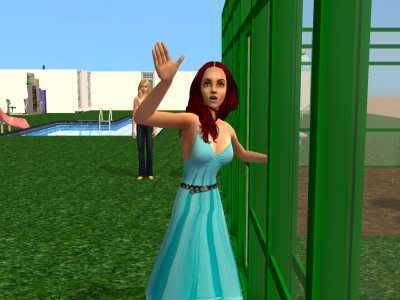 Kami and I talk about our new roommates and hope they can last amongst all our craziness and sometimes drunkenness...


side note, my blogging sim was made for me to look just like me so I think I'm the only one who looks like herself. Although I think Clare looks a lot like herself too.

And amongst all the chaos of newness Mama D still regularly visits the porcelein god. Well, the baby makes her. Baby? Did I say baby? In a Blogging Sims house? Interesting...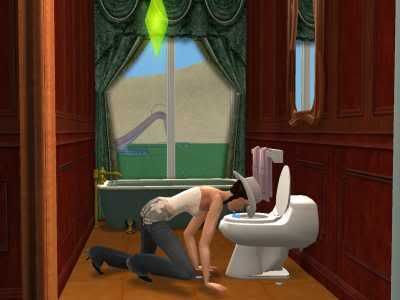 And Mama D and Clare find a common bond in their pregnancies and talk about how faaaabulous it is...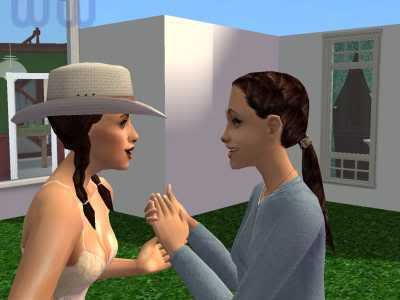 And Sheri shows her recently raised from the dead boobies to some fish...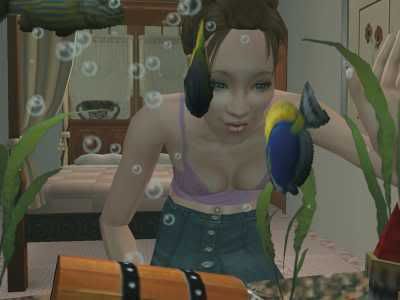 So all in all we're back full force and more interesting than ever.
Yes everyone who wanted to be in the sims house is there I just didn't get pics of everyone

Side note- because it was too funny not to share:


Thursday, March 20, 2008

Well, there ya go

Ok, you guys know I don't get into anything too political on my blog.

But I can't not any longer.

Oh yes, today boys and girls I will be yapping about Obama.

Now I liked him- I really did. I agreed with a lot of what he said.

Then the video(s) of his pastor came out.

And I gave Obama the benefit of the doubt. Even after his rebuttal (sp?) speech (which really didn't clench it for me and make me say, "ok we just misunderstood.")

But today, I heard from his lips a potentially racist remark.

Talking about his white grandmother said "typical white woman."

Now many people didn't take offense to that. But, if a white person said that about a black person wouldn't they get offended? Wouldn't anyone?

And it's like other people have said- Obama bashed his grandmother for stereotyping yet he himself blunty stereotypes but does not take responcibility for it.

I was always going to vote for Hillary anyway (yes yes) but for a short time I went back and forth between who I wanted.

And that is an issue I cannot turn my back on.

side note- blogging sims bitches will be up tomorrow

Labels: Politics

Wednesday, March 19, 2008

Correspondence

Just gonna reply to commenters and such today.


Re: Miss Ann on February 8th.
Yeah, I can basically knit a square and a hat but that's about it. I wish I could actually knit for real but I am just a total r-tard when it comes to that stuff :)


Re: Mama Duck (same day).
Most of Stink-Butt's neices and nephews don't like spaghetti either. Weirdos. You couldn't survive in my family if you didn't like spaghetti, hehe.


Re: Mer on February 12th.
That's a sign of a good mom- one who will pop your child's zits! lmao!


Re: my Blogging Sims Bitches.
I will post an update soon. I promise. I've just been playing another family....


Re: DSB on March 4th.
Oh I did NOT want to cut Hulk-Man's hair yet. I mean really, he hardly has any! But what he did have was getting all long and he was starting to get a mullet and no child of mine is gonna have a mullet!


Re: Mama D on March 18th.
Yes he is my performing monkey! What other use do kids have if not to be our little performing monkies? :D

Tuesday, March 18, 2008

My family... sigh

My little brother, Hyah Mule! (a nickname I gave him when he was like 3)- who is now 14 thinks he's an anarchist. Thinks he should drop out of school (not really, I think he thinks he's getting to my parents). And just dyed his hair black.
I don't care about the hair dying thing. I've had my hair a plethora of colors, including black. But 1) Mule is a natural red-head (thanks to our Northern Italian and Scottish roots), and 2) it's also naturally curly and therefore harder to dye. He dyed it himself and now looks like our calico cat Anabel, lmao. Ahhh 14 year olds.


My sister (well one of them), Big D, is married to a jerk. There could be a nicer term, but I don't know how else to say it.
He is, without a doubt one of the most selfish people not only that I know, but on the planet. I honestly don't think he knows how to see passed himself. And I think he's abusive- emotionally. I don't know about physical. I haven't seen marks and my sister wears sleeveless shirts all the time.
But when everyone was over our house he didn't come because he had to work- but Stink-Butt heard him on the phone talking to Big D yelling and saying "your family doesn't give a fuck about me! They don't give a fuck about you!.... (and then in a calm voice said)... Thanks for listenin' babe, I just had to get that off my chest. I love you."
Um, abusive? Yeah. The thing is, god I want to be able to sweep in there and rescue she and her son (Manly we'll call him). But the more we pressure her to leave him I'm afraid the more she'll hide from us and listen to his lies.


My family, I swear- they just make me want to pull my hair out sometimes.

He's not a genius, but he's not a retard either





And I think I'm ok with the whole wanting another baby thing. I just decided to let it go and let what happens happen. :)

Saturday, March 15, 2008

*shudder*

There are somethings that just flat out disturb me.

I was looking at my blog refferals to see who's been poking around and where they came from; and the following search led some sicko to this blog:

"man fucking child"- first off, nowhere on here do I talk about that. At all. So how they found my blog via THAT search, I'll never know. Second- seriously you fucking sicko, don't you know that every time you go to one of those sites where they actually show crap like that you're being watched? That you're "marked?"
Ew ew ew, get AWAY from my blog!

Glah!

War of the Ring is byfar one of THE most frustrating games I've ever played!

Wednesday, March 12, 2008

I have nothing to say- time to blog!

Ok, everyone else has forgotten about it and moved on with their lives. But me? No. I can't shake this weird feeling- the mix of a train wreck, a raper under my bed and my best friend dying. All from 2 Girls, 1 Cup.
So I'm gonna be mean and link the link to the video.
2 Girls, 1 Cup
I'm warning you. Your life will NEVER be the same again.


And now for a lighter video. Seriously, watch this. It's fucking adorable!



Mer is having a Peeps contest. So go check it out. GO! NOW!


I miss R&O Fridays. I do. I think someone should pick it back up. If Kristine isn't going to, maybe I'll start it. I dunno. Maybe. Unless someone else already did (?)


I want a CriCut

Monday, March 10, 2008

2 in 1- omg the excitement!

I'm bored... I think we all know what that means.

Bullet points about NOTHING!


I haven't been reading any blogs. Mainly because I'm a lazy whore, but also because Stink-Butt and I play a lot of games. I'm not talking Monopoly either. Sexual games? No. damn.
I also haven't gone to a few blogs because the writers are preggo and it's depressing me... a little. I mean I love them but I don't need a reminder that Hulk-Man doesn't have a sibling coming. And probably won't for a while.


confession A small part of me thinks that it's so difficult for me to get preggo because when I finally became honest with everyone (including myself) that I do not believe in a Christian God that made God angry.
But I grew up Catholic, I think I'll feel guilty no matter what- hahahaha.
I'm gonna get in trouble for that last line. The rest was true- I do think that some times


Alright, I know I made a post earlier today... I'm bored.


I just did some scrapbooking. Uhh nothing else to say there.


Hulk-Man has a new thing. Er, 2. He loves his blue, sort of fuzzy blanket and has become Linus with it. His favorite thing to do with it? Besides hump it that is (my child loves to hump things). Is for me or Stink-Butt to lay it out for him and for him to stand on it and spin around all. damn. day.
You know the movie Parenthood? Where Rick Moranis' kid is like a genius and Steve Martin's kid runs around with a bucket on his head? Guess which one Hulk-Man is... lmao. That's just fine with me. To a point. OMG I hope he's not stupid. Hahahaha!


I love Lost so much.


I'm still decorating our houses for Blogging Sims Bitches and I will have an update soon.


Time for bed. I'm sure you're all asleep by now from this post anyway. :)

Ohhhh fuck no

I got the following video from Kristine who was just as appalled as I am.

Difference is that she's nice and actually has no words in her speechlessness, I on the other hand will now go on a rampage saying FUCK YOU.

First, here's the video (if you would like to just listen for yourself and just hear what she's saying close your eyes):



Ahem

Uh, yeah so being gay is worse than being a terrorist? Fuck, if that's the case why did my husband deploy to help stop terrorism? He could've just went to his circle of friends and opened fire on some of them.

Being gay isn't a disease it is not the cause for corruption in the world and the is NO evidence that it is.

How can anyone be SO blinded by hate. Seriously?

Which is why I can say she is part of a small portion of people who think this way. She does NOT represent all of the far religious right, the religious right, the right, the left, nor Oklahoma.
Those are HER words, she speaks for herself. Although I hate that she's saying how she thinks all she's saying is "fact."

It is a fact however that she's a dumbass. :D

That's just scarey. If Hulk-Man grew up and realized he was gay Stink-Butt and I both decided a long time ago that we'd go around wearing t-shirts that say "I love my gay-ass son!"
lmao.

I guess she (nor anyone else who believes in God) can have a Gay child... cause you know that would mean God hates them.

Wait... yeah, I don't think Jesus died on the cross teaching a lesson of hate. Or maybe he did and I totally did not understand the New Testament.

Ok, bring on the "well in the Bible it says...." blah blah blahs.

Sunday, March 09, 2008

Damn you daylight savings time!

So last night we dropped Hulk-Man off at his grandmommy and granddaddy's house, put him to bed and ran headed out the door.

We all (all of us being Stink-Butt and I and 4 friends) got to Ted's Montana Grill around 7:45 and were seated at like... fucking 9. Whatever. Good stuff. I mean it was fantastic- so fantastic it made up for the wait but whatever, I didn't have to order a kids meal!

We then went to Deadboy's house for some (more) drinks and he made everyone dirty martinis.

Yeah those are nasty.

I will totally admit I am completely girly when it comes to drinking. I don't want to taste the alcohol at ALL. I am a froo-froo drinker and not ashamed to admit it.

But the blue cheese olives are deLIcious.

Then around midnight (er, quarter til) we headed out to this awesome hole in the wall to see this Japanese rock band play. I have no idea what the name of their band was so I can't link them or anything. But the chick bassist wore a kimono- it was fucking hot. She was adorable.

Ok, really, has their been an ugly Japanese woman?

Anyhoo- they were really good. I didn't like hte singer's voice thourh it didn't fit the music.

So Stink-Butt and I left a little early to get home and get to bed... you gotta understand that we're usually in bed around 9, 10 at the very latest. So think was a long ass night for us.

We picked up Hulk-Man, headed home and fell right to sleep. Which is a little surprising because usually when I drink I get all flirty and want to have sex and usually can't wait and want to grab Stink-Butt and take him in the bathroom and have my way with him. But that's nasty and thank god he keeps his head about him and won't. Lord knows whats in those bathrooms. I'd be surprised if there was nothing less than syphalis (sp?).

And weren't we surprised when we woke up the next morning to discover it was an hour later than we thought.

I am sooo tired, but we had SOO much fun.

We were away from Hulk-Man for 6 hours and it was WONDERFUL!

Saturday, March 08, 2008

OMG!

Tonight Stink-Butt and I are going out with friends for dinner and drinks...

WITH OUT HULK-MAN

Grown-up time! No bibs, no sippy cups, no pacifiers!

Oh happy day.

Friday, March 07, 2008

I can't stop thinking about it....

Last night our friends Deadboy, Chuckles, and Hot-Lady came over to play some Arkham Horror (fabulous game).

And the subject came up. One which is still haunting me, and may still for quite some time.

2 Girls and 1 cup.

I'd go find a link to show you, but I'm scared.

I'm scared for myself, my husband... my child.

I heard about this video that was floating around the internet. There's even video of people's reactions to it on YouTube.

I knew it was a video of 2 girls eating something. And now that I know what it is, I cannot stop thinking about it.

Which is awful because no one should think about it.

I'm scared to tell you what it is. If you already know what it is though- you know the pain and anguish I'm going through right now.

If you don't know what it is... I'll give you 3 guesses.

Thursday, March 06, 2008

Houses as follows:

In the first Blogging Sims Bitches house:

-Steve
-Mama D
-SuZan
-Dixie
-DSB
-Cheeky

And in the second BSB house:

-Me
-Miss Ann
-Katy
-Sheri (alive, hehe)
-Kami
-Mer
-Clare (my cousin)

Oooh, this should be good... Mwahahaha

Tuesday, March 04, 2008

My baby turned into a big boy today

He got his first haircut.

snivvle

His baby hair is GONE. Well, ok, not gone-gone. It's in an envelope in my purse.
But it is no longer attached to his head.

Sigh. Anyhoo- here are the pics :)


side note- holy crap I'm fat. Well I was 89 lbs before I get preggo with Hulk-Man and now I'm... *cough* 140. Yikes. Ok sorry, not about me... about my baby... Ooohhh my ba-a-byyy!
Monday, March 03, 2008
Random yappings
I lied misinformed you blogging Sims bitches. You know how I said we were all still there but all my custom content was gone? Well it turns out that not only did I accidently get rid of my custom content but all my Sims.
So cough I've got to remake us again. This is the last time! I promise!
Although I'm thinking about making 2 houses to accomodate all the bloggers who want to be in the little Sims world.


Braids and cowboy hat for Mama Duck. Got it. Any other requests?


Any other blogger want to be a part of the Blogging Sims bitches in the neighboring house?


Hulk-Man is obsessed with Yoda. We have this talking Yoda doll thing and Hulk-Man will climb the walls (literally) to play with it and throw a major fit when we take it away.
Oh yeah, I'd say he's our child, hehe.


My Monk in D&D is now level 8. Woot. Now I get 3 flurry of blows attacks bitches!


Well this Chic Princess has no more drivel to spew out. :D

Saturday, March 01, 2008

Erm, yeah
Ok, I have good news and bad news. The good news is that the new Sims EP is out- which adds new stuff to the game (genie in a lamp anyone?), but I was retarded and didn't prepare my computer for the new upload. So I lost all of my custom content (our hair, furniture, etc). We're all still there- but I need to remodel our house and give us all makeovers. Ooooh! Makeovers!


I am planning to bring Sheri back to life. But I need to cheat on tweak a few things first.


I had the flu yesterday- ew. I had a fever for about 6 hours. So, not too bad. The last time I got the flu I was in bed for a week.


We watched another awesomely retarded movie about D&D- Gamers. OMG. The acting is sooooooo bad, but if you can get passed that it's pretty funny. Erm, maybe it's funny beCAUSE the acting is so bad. It's hard to tell.


I need to clip my toenails.


Update, because I don't know when to shut up-
Anonymous- dude, shut the fuck up. If you're not going to have the balls to write who you are then you have nothing to say.
Does my "Chic Princess" ness scare you? Ooh, I know- you're some 14 year old boy who read some dark poetry and now thinks he's an anarchist and is going around making trouble? Right? It's ok sweety, you don't need to be scared.
Oh and "Anonymous" has got to be one of the following blogs:

-Blog #1
-Blog #2
-Blog #3 nawww
-Blog #4 he could still be mad about the whole Porn King thing... but I seriously doubt he'd be anonymous
-Blog #5
-Someone from my Military Spouse forums

Avi- I dunno. I didn't think Mist would. I just put up the past few blog links :)

Miss Ann- 1st, omg I think I love you. 2nd, well I can't pinpoint an exact blog/site. I just went to the last few blogs/sites that came to my blog. The comment wasn't made that long ago so I figured it had to be in the first couple of pages. I know it wasn't 1, 2, or 3 and mainly put them up as a HaHa. Hell, I don't even know if it was 4 or 5 either, :)








<