Friday, February 29, 2008

P is for Park

We took Hulk-Man to this awesome park yesterday. They have giant elephants, penguins, and kangaroos!

Ok, admittedly (I know, I can't spell...) I thought it was way more awesome than Hulk-Man but he still had a good time:

Why yes that sounds like a blast crawling up your vagina giant kangaroo!



I don't think Hulk-Man's too sure of this whole riding on a whale thing...



After I kicked him down the slide Hulk-Man going down the slide



Hulk-Man for President! Waving to the public, kissing the babies, handing out candy...



Little does he know the giant penguin behind him is plotting to take over the world...

Tuesday, February 26, 2008

I like big butts and I cannot lie....

Ever since Steve moved into the house everything seems sexual to most of the girls. Well, and Steve.

Even Mer told us of a story about a guy she once dated...


"He was THIS big!" she boasted.

Steve shakes his ass in front of us every chance he gets. Which is a lot mind you.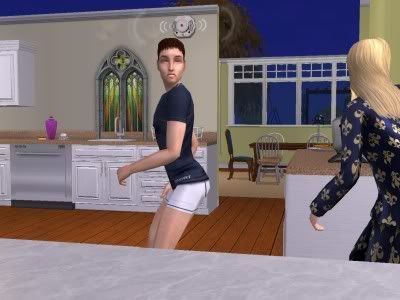 But the best was when he decided to take a sponge bath in the kitchen...



And Dixie just happened to walk in...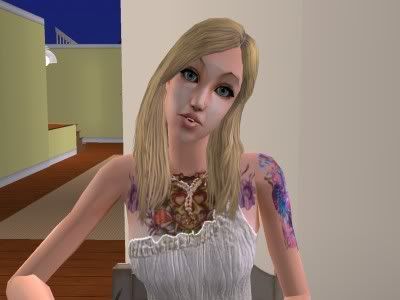 Sheri is still around. She only comes out at night but she's loads of fun when she does surface!



But wait- are SuZan's loins burning?



Naw, but I am on fire.



Thank goodness the firemen came out (again) to extinguish the fire.



But with all this sexual tension, the fires, Katy being crazy and thinking a flour sack is a baby....


I don't think any of us noticed the tiny bit of extra weight Mama Duck put on...


...in her belly.

Saturday, February 23, 2008

P'choo P'choo!

Stink-Butt isn't sick anymore. Hooray. Now we can get back to our normal routine of sitting around and playing games. Jealous? Oh yeah, you know you are.


I'll take care of you Ms Ann! I'll make you chicken soup, and tea and cover you up with blankets and let you watch whatever you want on TV. And in exchange you can babysit Hulk-Man for Stink-Butt and I. Hehe- you get hugs and kisses from him and we get date night. It's a total win-win! :D


Lexapro doesn't have a generic (omg, did I spell that right? I'm such a loser) form. One bottle, with insurance, is 85$. Fuck that. So my OB/GYN said I can switch to this other one (not Paxil. No, I did not like Paxil) and get the generic of that. I don't know if these new pills will like me like my Lexapro or what. We'll see.
Being a little crazy is better than being a total fucking nutcase right?


I met my neice, Chickie-Poo's boyfriend- Benny.
Some of you may know his blog as it's pretty well known. I only met him for 5 minutes but he seemed nice enough. If he were just another blogger I'd think he was wonderful. But he's dating my darling neice now. I adore my neice and am extremely protective of her. So we'll see.
But, I like that she's dating a fellow blogger- that's sure to win him some points with me, mwahahaha.


I'm going to update with our Sims Blogging Bitches soon. I promise. I've just been playing other games.


Hulk-Man is getting so big. I'm seeing my future flash before my eyes.


The weirdest crap pops into my head sometimes. I was folding laundry and thought to myself how horrific it'd be if Hulk-Man died. I mean yeah- that's a no brainer. If one of our kids' died it'd be the end of any one of us and would be the most horrible thing ever. But why I thought about that during laundry I'm not sure. Ok, don't want to think about it any more....


Brian Regan is coming to town. Tomorrow. And we can't go. Too short notice for a sitter and probably too short notice for tickets. Damn it! We LOVE Brian Regan!


I need another baby. Hulk-Man's getting too big. Maybe I'll give birth to a midget and then all my problems will be solved. Bwahahhahaha. Shut up, that was funny and you know it. :D

Labels: Bullets

Friday, February 22, 2008

Oh boy, here we go.

Stink-Butt is sick.

I mean he threw up all last night.

And Hulk-Man is getting all stuffy and cranky.

I declare myself "not getting sick until my boys are better."

Hell yes I can do that- I'm the mama. We defy rules of physics.

Wednesday, February 20, 2008

I got in T-R-O-U-B-L-E

Before I get into what I did to get me in trouble let me give you some background.

I was with this guy- I thought we'd get married.

He was an ass.

Emotionally abusive and a cheating manipulative fucktard.

Because of him I have issues with trust.

Fastfoward to me and Stink-Butt.

It took me a while (and one deployment) to not feel the need / urge to go around and look at Stink-Butt's computer history and be suspicious of him.

I have no need. I know that.

But yesterday all those old feeling came rushing back in and I went on a rampage. I checked his Myspace account and all those things. Finding stuff that wasn't there and exploded at him when he walked through the door.

Yeah, forget the fact that I know all his passwords and such. No, I was convinced he was hiding something from me on his Myspace page.

So- I got into a bit of trouble.

Isn't it amazing how one bad relationship can sour every one after?

Tuesday, February 19, 2008

It's all about the money

Bullet points!


Ms Ann- I haven't FedExed Hulk-Man yet because I'm holding out for more money. I realize I could get a good price off him. I thought about selling him to Angelina Jolie for a huge chunk of change but then figured she would never take him because 1) Hulk-Man has one Republican parent, and 2) he's too white.
even though his grandpa has enough Cherokee in him to live on a reservation and his grandma has enough Mexican in her to be a wetback.
But the eyes alone say "cute celebrity baby," so I think I may hold out for a bit more. :D


I bought new Devil rollers dice yesterday. Lovely black and pink ones, green and gold ones, and frosty white. They look like dry ice. Teehee.


Why are men so scared to get pedicures? Why the desperate attempt to hold on to their connection to cavemen? Seriously. What is wrong with clean feet and a foot massage?


Crystal Lite peach iced tea is the shit.


Stink-Butt and I have a friend who's in a Cure cover band and they played recently at a local club. Stink-Butt took some awesome photos of them, so go Here to check them out.

Labels: Bullets

Monday, February 18, 2008

Prepare the ovaries for battle!




Sunday, February 17, 2008

The Devil made me post this

Stink-Butt made me watch the funniest fucking movie ever. It was awesome.

Not because it was well made and the jokes were laughable. No- because of it's total retardedness.

A serious (er made for TV) film entitled Mazes and Monsters. All about the evils and dangers of playing games like D&D

I'm not sure these people have ever played, or sat in on a game- because if they did they'd be there for 2 (maybe even 1) seconds and get up and leaving saying "yeah, no fucking way are these people Satanists or gonna harm anything...."

But Stink-Butt and I were intrigued, we had to Wiki more about how people thought it was all Devil's work and found this.

Uh... yeah.

I'm more worried about the freaks that believe this is all "bad" and "wrong" than I am about one of my D&D friends ever EVER doing anything.

And hell yes we will teach Hulk-Man to play. Quick, call CPS! Our boy is gonna roll him some dice!

Friday, February 15, 2008

From scrapbooking to pooping

I spent WAY too much money on scrapbooking supplies the other day.

I'm totally blaming my neice, Chickie-Poo, here.

I shouldn't have considering Stink-Butt still doesn't have a job.

He's depressed about it (and the fact that his computer busted and now he can't play LOTRO) and he's dragging me down.

Oh sure I could be all in a funk because it's my favorite time of the month, you know, the one time I wear underwear.

Speaking of which- it is the absolute worst to be on your period and go poop. I must use like 1/2 a roll of toilet paper trying to clean myself.

Un-eventful....

Hulk-Man can do all sorts of things, but turn a video camera on him and he suddenly forgets how.

Now, how am I supposed to make money off him if he can't perform on camera?! Hehe.

In any case, here he is not doing what I ask him to. :D



Thursday, February 14, 2008

Worst Valentines Day ever....
Stink-Butt's computer decided to go nuts and not work and kept giving him the blue screen of death.


Hulk-Man was being a little shit all day.


Manufactuers can't make instructions for anything that make sense.


Oh and we made dinner together and the fucking fire alarm decided to go off and wouldn't shut up.


And Hulk-Man was being a terror all day.

Oh yeah, me spanking and say "don't touch!" and "no!" to Hulk-Man while Stink-Butt tries to fix his computer all day sure as hell sounds like the most romantic day of the year doesn't it?

Or maybe I just expect perfection where it's not possible. Like life with a toddler.

I'm so boring.

I've been thinking, pretty much since last post, about what to post about next.

I have no idea.

Hobby Lobby is having a scrabooking sale. You totally are on the edge of your seat with this post huh?

Dungeons and Dragons maps and castles are the best for making houses in the Sims I discovered. They both use boxes.

Uhhh... yeah.

It's ok, you can sneak out the door now. Hell that's what I'm gonna do.

Tuesday, February 12, 2008

Holes holes and more holes

I've had this blackhead on my right arm for I don't know how long. It would NOT come out though. I tried to get it for like fucking-ever. I tried everything. I squeezed it and tweezed it- I even used one of my Biore pore strips (with out success and managed to pull the hairs from my arm. Yeah... ouch!)

But finally, after my shower this morning, I squeezed that fat ass out.

Now there's a crater in my arm. And I'm fascinated.

Is it just me (probably)- or am I the only one fascinated by the crap that comes out of my body?

I swear every time I use one of those Biore pore strips (which is about every other month) I have to sit there I stare at for literally hours. I can't stop looking at it.
I'm seriously amazed at the gunk in me.

Ok, that sounds disgusting like I'm sitting here full of nastiness and puss. I'm clean- oh sure I have the occassional adult acne, but there's only so much my face scrub can remove on a daily basis.

Anyhoo- am I the only one who does that?

In other news. I have a headache- a migraine (oh god it hurts). I get one every month right before I begin the ever fun adventure of bleeding and wearing diapers pads.

So I guess I'm not knocked up. That's ok. I shouldn't be getting pregnant while Stink-Butt is unemployed.
But that fact doesn't stop my biological clock from pounding on my uterus. Loudly I might add.
And it hasn't stopped.

Friday, February 08, 2008

The good, the bad, and the supa-craftEEE!

Bullet time!


I'm starting to hate Microsoft. Enough to like Mac? Hellll NO.
But windowslive.com has the worst fucking customer service ever. Ever. EVER. There's no way to contact them- to just call and be like "this is the problem."
So I sent an email and instead of reading it they sent me the same goddamn email they've been sending me, telling me how to reset my password (which I don't want to do- I bought something and they said I never did- bullshit).
Why can't you just punch people without getting sent to jail?


Hulk-Man has been putting toy phones up to his ear and "talking" lately. Well, most of the time he makes either Stink-Butt or I talk on it for hours on end.


At first we couldn't get health insurance because I had an abnormal PAP (isn't it funny how selfish and greedy people are that they can't help out and give insurance to those who actually need it?). BUT I went and got another PAP (I went to Planned Parenthood. Cause they were cheap. Judge all you want they were great and professional) and that was normal (god my body is so weird) so yay! We have insurance!
Now I can get more crazy lady meds and the world will again be safe from my snarling hideousness! Hooray!


No one wants anyone to have babies. Tri-Care paid for us to have Hulk-Man but we no longer have Tri-Care- and getting maternity on our health insurance will practically make us homeless (ok not really, I'm totally full of hot air)- but in any case, we can't afford to have another baby.
So Stink-Butt is terrified to touch me.
Of course you know what that means- we'll both get fed up and then I'll get preggo.
Oh sure there are condoms but who wants to go through the work of unwrapping something from a package and such? Sheesh.


I have some friends! Like friends near me. Physical friends. They live below us and are very nice :) They're not like the kind of friends like I have with you guys- where we can talk about our husbands, men, kids, sex and say the word penis with out blushing.
No- they appeal to that other part of me. The part that LOVES Anne of Green Gables and Jane Austen and tea parties.
One of them (there are 3) showed me the coolest thing EVER. It's called (I think) Knifty Knitters. I've always wanted to learn how to knit- but since I'm a dumbass and don't know my left from my right (blame the synesthesia) I never could get the needles down. But this is the greatest things for retards like me! So easy!
I'm in the middle of making myself a pretty pink hat. And they make all sizes for different projects. I've always been totally jealous of Miss-Ann'sability to make afghans- but now I can too! cause that's what I do, try and be just like Miss Ann, haha jk


Hulk-Man doesn't like peanutbutter and jelly. I think he really is a freak of nature....

Wednesday, February 06, 2008

And the winners are....

While the RFS blog awards are going on all regular posts (including all weekly memes) will be found at my other blog


1) The dirty old man award
-Mr. Fab

2) Blogger most likely to be a Walmart greeter
it's a tie!
-Avi
-Miss Ann

3) Ditziest female
-Tracy

4) Most likely to still live in his/hers mother's basement
it's a tie!
-Jesus
-Avi

5) Blogger most likely to have the most stretched out vagina
it's a tie!
-Mr. Fab
-Miss-Britt

6) Blogger most likely to be fired for sexual harassment
-One Hung Man

7) Blogger most likely to jump off a bridge if someone told them to
-A Blonde and her Blog

8) Blogger who needs to get laid
-Avi

9) Blogger most likely to be killed in a tragic blogging accicent
-Miss Ann

10) Blogger of the month
-The Dawg








special thanks to Karen for this session's buttons




Congrats to all the winners!

didn't win? Next time go kiss more ass....

Labels: RFS Blog Awards








<