Wednesday, December 19, 2007

Hiatus / Vaction Us

Before the movers come and pack up my wonderful computer and all the blogging and Simming that goes with it I thought I'd give a quick Sims update.

Everyone will be happy to know that the sparkly purple potion the old woman gave Mer worked and she is back to her old self!



To celebrate none of us getting bit or Mer melting in the sun I bought us all tickets to Twiki Island for a much needed vacation.

We head out early morning...



Checked in...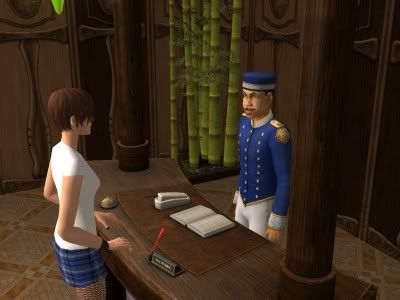 And get right down to relaxing in the sun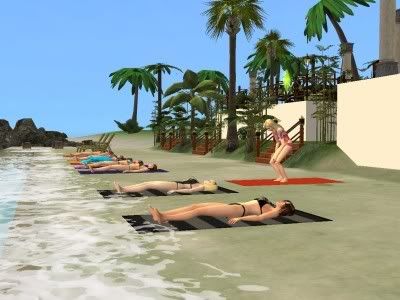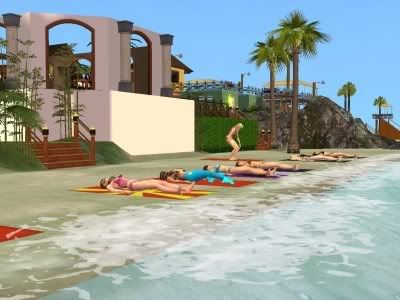 Of course Mama D reminds us all to wear sunscreen



Later we all decide to walk about town and play on the local pirate ship...

Mama Duck is captain, Yar!



I practice my fencing


I totally pwnd that wooden pirate!

Ooh a waterfall



Mer got cozy with some locals... cough



We all decide to buy some island clothes



And we're having a great time.

I'll send more postcards from our Sims vacation when I can!

Tuesday, December 18, 2007

It has to happen

A few things to blog about today
any excuse for some bullet points huh?


We're going to have a new member of the blogging bitches household.
And maybe a new house.
Whether or not this new Sim will replace an existing household member... well you'll just have to wait and see.


Here's the thing- Stink-Butt and I want to have another baby. And am I knocked up yet?
No.
I just assumed I'd get pregnant right away when he got home from deployment. And I assumed that once I had a kid it'd be easier to have more.
Sigh.


The movers are coming Thursday to pack up. I'm not sure when I'll be able to blog again after that- depending on how long it'll take us to find a place, unpack and start the internet back up.

Monday, December 17, 2007

So I had this dream last night....

I have 2 types of blogging "friends."

1 group which I think would actually hang out with me- these people mainly being the Sims blogging bitches.
I'm hoping so because Katy and I used to hang out all the damn time when we lived near each other. Or maybe she just wanted someone to help tell Ethan not to run into the street.
haha, just kidding

The other group I think would flick me aside- be nice to me out of the sake of being nice, but look at me like "uh, what the fuck are you doing here?"

Not that they're mean, or "bad" or whatever.
Not at all- they're awesome.
But I can't really expect to fit my dorky and annoying ass in with every single group of friends now can I?

And that's what last night's dream was about.

I dreamt that we were having a "Blogger" party- actually the reviewers at I Talk 2 Much were having a party.
And Stink-Butt and I showed up and kind of blended in by waiting our turn to play golf (in a kitchen....) and drinking peach iced tea (with saffron).
But then my parents and younger brother, Joe, showed up. As well as my older sister, her husband and daughter.
And I was worried someone would look up and say "who the hell ARE all you people?!" and then I would be banned from reading all their blogs.
Which I hate to admit, but am obsessed with in a small way lol

Who knew I had blogging insecurities.

Then again, it was just a dream. :D

Friday, December 14, 2007

"The universe has a way of cause-correcting and I can't stop it forever. I'm sorry because, no matter what I try to do... you're gonna die"

Being fed up with being a vampire and having all her friends terrified of her, Mer' decides speak to a peddler woman she bumped into on the way home from work.

"A peddler?!" says Mama D, "Whaddawe live in the 18 hundreds?!"

But Mer' is desperate and will try anything. So under the cloak of nighttime (because the old woman won't make housecalls during the day she says) Mer' meets this old gypsy.




Everyone is skeptical- except for Mer.

"Look, she even has a crystal ball!" Says Mer'



"It's one of those glass sphere lawn ornaments!" says Katy



But Mer' doesn't listen to them and buys a "magic potion" for the magical price of way too many Simoleans

She gulps it down...



And...




Things seems to happen.

But did it work?

We shall see.

Thursday, December 13, 2007

He really is turning into the Hulk

Before I get to how Hulk-Man is turning into the Hulk and is driving me up the damn wall...

I just want to say that the Republican candidates for this election are fucking insane.

Hehe.
I'd go into more detail as to why I think that, but I'd only make myself mad and I'm too worn out to get into it all

Ok- on to Hulk-Man.

He recently had his 1 year old check up. Which means he got 5 shots (one of which gave him measles), blood drawn, and a skin test.
He is also off the bottles and formula.

No weening- OFF. So said the pediatrician.

And he's cutting another tooth.

He is so unbelievably cranky I can't even tell you in words (so maybe I'll videotape his ugliness and upload it later).

And mama is exhausted.

Tuesday, December 11, 2007

The title of this post

My bed smells like sex.

Not like that nasty smell of others' people sex. That scent I smell everytime I walk into Spencers or this bar I used to hang out in.

I don't know- maybe I'm crazy (ok, I am, I know) but there's something comforting in curling up under covers that still smell like sex.

Anyhoo- it's going to be a sad day when Stink-Butt and I can no longer talk about sex in front of Hulk-Man.

Update
Apparently, obviously..., I talk about sex too much.
Here's what people were searching for when they stumbled across my blog:


jennifer aniston fuckin archive

rob thomas

threesome
&

"dirty date night"

Monday, December 10, 2007

Answering comments and other yappings
I'm just moving, not falling off the face of the Earth, hehe. I might not have my computer for a little bit (until we find a place and settle down) but don't worry your pretty little head I'm not going anywhere permentantly.


The guy sitting in the background (Sims) is Goopy Gillespy (a townie in the Sims). He came home from work with Mama Duck to hang out.


Having Stink-Butt not be in the Army is going to be soo strange. We're nervous (naturally) but not too bad. All our eggs are nearly lined up and almost in their baskets. Financially we're okay for a while- but I have no doubts that Stink-Butt will get a job right away. He already has an interview lined up for when we move.

Update cause Mama Duck is slow, bwahahhaha- No we're not moving to Wisconsin. Pshh, I wish. Then I'd have someone to play with (and so would Hulk-Man lol). We're moving to Missouri where all of Stink-Butt's family lives. I don't think any of my blogging bitches are out that way. Sniff.

In other news

Because she's a sweetheart and I think many of my readers will read her too- I'm going to do something I don't normally do.
Because I like all the attention on ME! ME I SAY!

My cousin, Clare, just started her own blog not too long ago.
She has 3 kids (all under the ages of 4) and is expecting her 4th. So I thought I'd let you guys know about her and maybe you could add her to the ranks of "Another crazy mom blog."

Friday, December 07, 2007

Eek!

In 15 days we will be on the road.

Moving away from this god awful state, out of Army, and headed to finally being able to settle down and live near family.

And for the first time since I met him Stink-Butt will be a civilian.

Thursday, December 06, 2007

Because he loves me and I like going "neener neener neener, my husband loves me"


the card says "I thought you could use a new bear... and some daisies."

Wednesday, December 05, 2007

Reasons I could never be famous, or married to someone famous....
When I handle anything with soap I take my wedding ring off and occasionally (ok, a lot) I forget to put it back on and then run to Target and such. I'd be all over the front of magazines with the headline reading "Where the Wedding Ring?!"


I don't plaster a smile on my face and a skip in my step when Stink-Butt and I are out together. You know what that means- we must be headed for divorce.


I'm too ugly. Lets be honest here- famous people don't have adult acne, squinty eyes and big ass Italian noses.


I cry over nothing and everything and sometimes cry when in public. Mental breakdown in the tabloids here I come!


I want our kids to be known for their own acomplishments, not mine or Stink-Butts.

Aside from all that I really don't want to lose what small grip I have on reality. So, like everyone else, I pretend to accept some huge award in the shower- but I am sooo glad it's just in the shower.

Tuesday, December 04, 2007

What will become of us? bleh!

Something has happened to Mer'.

We've all noticed for a while now. She's been behaving rather strangely.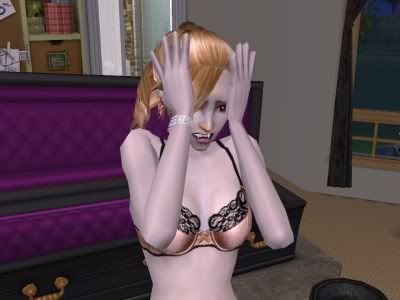 Her complexion is so pale. She's been getting headaches often...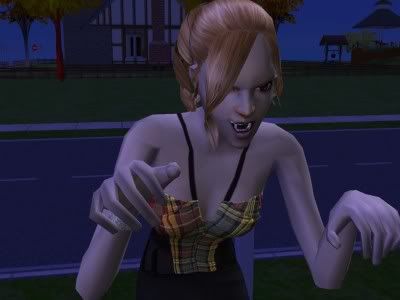 She stalks around at night...



And has become oh so much more mysterious...



She even came home one day with that- saying it was the only thing that got rid of the headaches.

Finally we tell her to see a doctor.



After, I ask what the diagnosis was.
She tells us she has Vampirism. How she got it and where she doesn't know.*



Needless to say, we're all shocked.

But in other news...



Why am I digging up, or burying, something in the dead of night?

*I seriously did not plan on Mer being a vampire... lol

Sunday, December 02, 2007

My bay-hay-hay-hay-beeeeeeeeeeee!!!!!!!!!!!!!!!!!

Officially Hulk-Man will be one on Tuesday, but the weekend works well for everyone so we had his 1st birthday party today.

Nothing fancy- just some cupcakes, a balloon and presents.

He didn't really get it (which is why I don't think you should go all out for a 1st birthday)- it was just another day to him. Only this day he got a cupcake! Mmm! drool

There are a lot of photos (and a video), so I'll quit my yapping and get to it: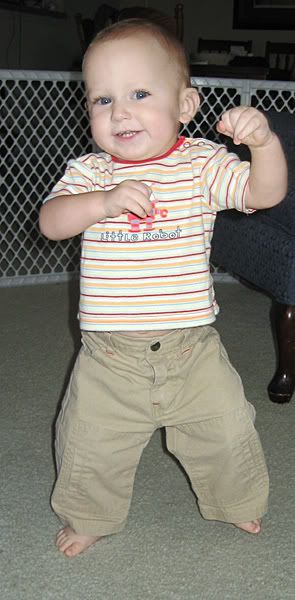 before the party, showing daddy how he can walk like a big boy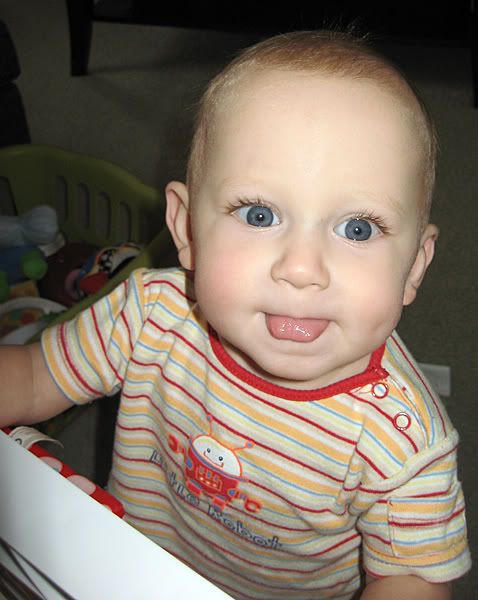 Ok, I know he's my son, and I'm biased- but omg! He is soo friggin cute!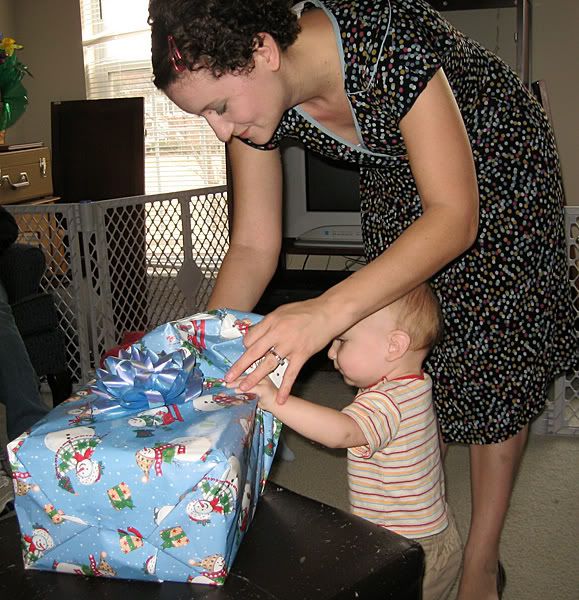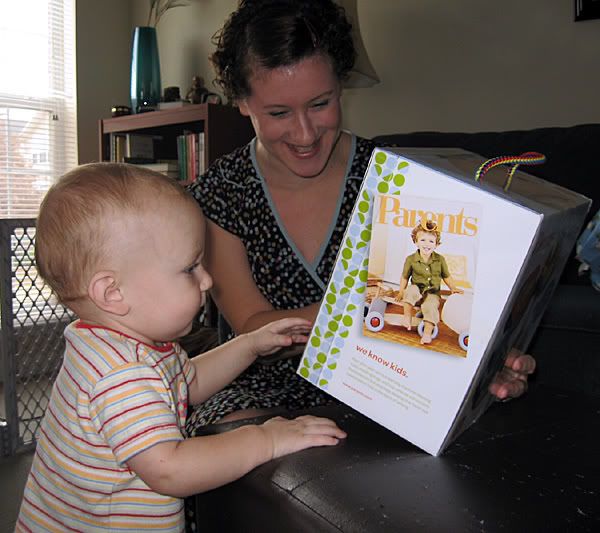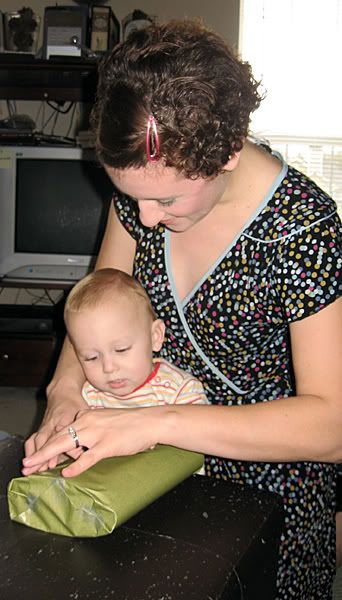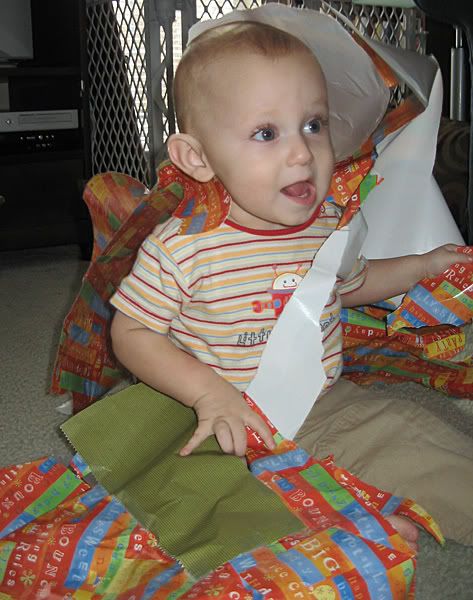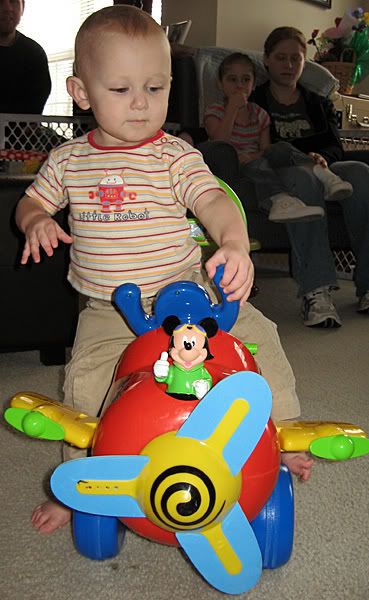 I added an entire thing of blue color to the frosting, lmao



Ew...








<