Thursday, November 29, 2007

Blah Blah Blah.....

I like bullet points. Teehee.


I don't care how many times I hear it- HelloGoodby's Here In Your Arms is one of the happiest songs ever and makes me want to skip like my mom.
my family and I have this ongoing laugh at my mom for the way she skips. She thrusts her hips out in front of her and picks her knees up really high. It's pretty funny to look at but even more fun to do


Skimming through blogs, via BlogExplosion, is just annoying. How many fucking pretentious blogs am I gonna come across? Seriously now. I cannot stand bloggers who make every post try and be Earth changing? You have nothing to say. You finding amazement in stupid shit and then assuming people are taking your opinions as practically scripture is just ridiculous. I'm not surprised blog like that have no comments. Because you're so full of yourself- you don't need comments.
but not me. I'm a comment whore. I hand out blowjobs for comments. Hehe


My ovaries have been aching lately what with Hulk-Man turning 1 soon and that damn Pottery Barn Kids catologue showing up in my mail box.
Look at this!:


I think my milk supply just started up again.

Oh my back!

My back hurts.

It probably wouldn't if I got off my ass and excercised every day like I should.

But have you tried taking a a 1 year old to the "gym?" It's impossible.

I say gym loosely 'cause I just go to the workout room here on my apartment complex.

Speaking of 1-year olds. I got things to make Hulk-Man's birthday cupcakes yesterday. I got white cake mix and white (cream cheese, mmm) frosting. I'm going to put blue and green swirls through out the batter and make the frosting ocean blue because I found these candied fish that I'm going to put on each of the cupcakes.

And that's the only thing I'm doing.

Really I'm decorating for me- because I love cooking and baking- this has nothing to do with Hulk-Man.

So, we're gonna have the party on the 2nd (even though his birthday is the 4th but the 2nd is a weekend day).

Can you believe he's going to be 1?

Can you guys believe you've been reading my boring ass blog for over a year?! heh

Tuesday, November 27, 2007

Mmm, ooh, ahh, EEK *giggle*

I have this completely ridiculous fear that I'm going to spit out some random guy's name during sex.

Now- I am not sleeping with random guys (Heeeellllll no), but I often just say the weirdest crap during sex.

One time I even said "No! Stop!" I didn't want, or mean to say "No! Stop!" but it came out.
and yes, like all good men Stink-Butt not only stopped immedietly but when to the far end of the bed until I pulled him back over.

So sometimes I think to myself "my god, how fucked up would that be if I just said some crazy random name. Like Roy. I don't know anyone named Roy. But here I am just putting letters together because I can't contain myself and random shit just pops out of my mouth."

I'm insane....

Confessions (some tmi, watch out)

Since Stink-Butt's been back from Iraq...


I'm not as cuddly as I used to be


I'm not really in the mood for sex until we're in the middle of having it. Oh sure, it could be the fact I'm chasing after a (nearly) 1 year old all day. Or it could be the meds (but I don't think so since I was on Paxil and with that I didn't even want to take care of anything myself, and I don't feel that way on Lexapro). Whatever the reason, I could go for weeks and not realize it.


I get jealous of stupid shit. I'm no longer jealous of the things I used to get jealous at. Now, on bad days when I'm not thinking clearly and depression comes in, I get jealous the excitement in Stink-Butt's eyes when he comes home from work and sees Hulk-Man. How ridiculous is that? Right, pretty fucking ridiculous.


Depression comes on out of nowhere and then leaves and I still can't figure out why. Those on (or who were on) Lexapro- did you get like this?


Sometimes an overwhelming feeling of "I miss you" comes over me about Stink-Butt.


It seems ages ago he got home, even though he's been home for only (about) 2 months.

It hasn't all been bad, and I'm not a depressed mess over here- but that's what's been happening off and on with me since Stink-Butt came home.

There, now I've blogged about it, talked about it, and no longer hiding it from my bitches (and the rest of you person who reads my blog:))

Sunday, November 25, 2007

Thanksgiving

I hope that other's peoples' families are as fucking insane and screwed in the head as mine.

Sheesh!

People yelling, people whispering, people showing off to mom and dad so they'd feel like the "favorite."

But aside from all the family drama (including husbands yelling at their wives and wives nagging they husbands) we had a great Thanksgiving. Because no matter what we love each other more than I can say.

So here are some photos of the holiday weekend:


setting the table (stink-butt caught me by surprise)



Before (now, my BIL made a small fried turkey, the real turkey- the one I made, hehe- is the one in the back)



After the wolves



Black mail photo of Hulk-Man. Mwahahahaha!



My parents outside



My dad with Hulk-Man and his cousin Mr. Man

Tuesday, November 20, 2007

In case anyone was wondering....

Probably not, but I felt I should make a post today anyway....

The RFS Blog Awards will be back in January.


Sunday, November 18, 2007

Who says I get mad at every naked female?

Today Stink-Butt and I went on a lunch date and saw Beowulf.
I didn't really want to cause it looked cheesey but I hadn't yet read the poem (usually if I see a movie after reading the book it's never as good as the book)- so I thought I had nothing to lose.

I thought Angelina Jolie was going to have a more prominent role (and she does, but she isn't seen much).

The one scene she is seen in though was by far one of the sexiest scenes I've watched in a long time (excluding porn).

OMG I was practically sweating it was so hot. Seriously.

Now normally I dont' find her attractive (she's pretty much anorexic me thinks) - but her boobies (you know I love boobies) looked fantastic and that gold draping her body was gorgeous. It was such a sensual scene. Very well done.

I need to buy me some gold body paint lol

Friday, November 16, 2007

Oh crap!

December 20th Stink-Butt will officially be out of the Army.

No longer active duty.

thud

Ok, but in other news and whatever- It's time for me to be all dork like. Watch out.

I cannot stand Olivia Munn.
She doesn't talk about games like she ever plays (I could very well be wrong about this) and just sounds like she's reading the teleprompter and thank god that's there.

Her sole purpose for hosting Attack of the Show (with Kevin Pereira) is for sex appeal.

Ok yeah, sure. It's Attack of the Show. On G4TV. Hello! You need to have sex appeal. It's the fucking gaming/tech channel.

But hey, I play games too and I want to hear about men who look like old lesbians too with out some twit in the background going "OMG! I just dropped something down my blouse! Let me shake it out!" (ok she didn't really say that, but close enough).

Everytime I watch that show I get irritated cause glah! Quit acting like a dumbass!

Morgan Webb is hot and she doesn't act like a dipshit.

Side note- Kevin is now coming to fans' houses and hanging out with them and showing it on AotS (at least they will soon)- omg! Stink-Butt and I want him to come hang out with us. Have some wine. We can trick him into watching Hulk-Man for us while we go play our games! HaHA!

Thursday, November 15, 2007

He fell down the stairs.... uh yeah hehe

Lately Hulk-Man has been practicing walking more. He took his first real steps on the 10th, woot.

And has fallen face first into the coffee table.

Twice.

He looks an awful mess.

But see- people are just being r-tards about it. It's amazing how many dirty looks you get from people when your child has giant bruises on their head. I mean yeah, it's a giant bruise on a baby's head- but anyone with kids, or who's ever been around kids, knows that they fall. A lot.

Anyhoo- here he is with his dirty, Cheerio-upped, bruised face.

He actually looks much better than he did.... hehe



he looks fucking crazy here


Wednesday, November 14, 2007

Ode to my boobies. BOOBIES

Ok, so I know everyone thinks I'm a prude (heh) and all scared of my boobies and such. But really, I love my boobies.

The other day I was watching Nigella on Food Network (one of my favorite chefs) and thinking to myself "My god, she had some fantastic hooters."
Nigella is womanly curvasious, and has real, honest-to-goodness boobs.

Which led me to thinking about my own boobs. See I'm not a fan of plastic surgery- at all, but I won't get into that (much) today. One of the reasons is that fake boobs look, well, fake. And not comforting.

Yes- comforting.

There's nothing better than sitting (or standing or laying) there squishing and grabbing your own boob fat.
It's nothing sexual (at least it's not meant to be sometimes, lol)- but it's oh so relaxing and lovely. Seriously, try it.

Now I don't have extra squishiness like Nigella does (or even Giada omg, I have such a girl crush on her) but I love my boobies.

I think it high time more girls stopped being scared of their own lovely squishiness (no matter how small, or in some cases how big) and just fucking grab them.

;-)

Friday, November 09, 2007

Sheri has gone crazy....hehe

When last we left Sheri she was on the floor in her underwear drunk off her ass. Now she's (still in her undies) and splashing in rain puddles outside in the dead of night...



Well, at least she's not wearing a donkey outfit around all day like Kami was, haha!

There was a small "incident" in the house, but luckily Mr. Sexy Fireman came to our rescue...


I have no idea why Mama Duck looks so calm here... I'm suspicious....

And what better way to celebrate not burning to death in a fire? Pillow fight in undies of course!..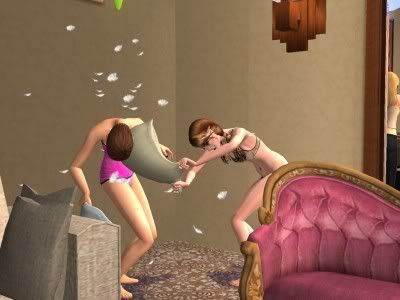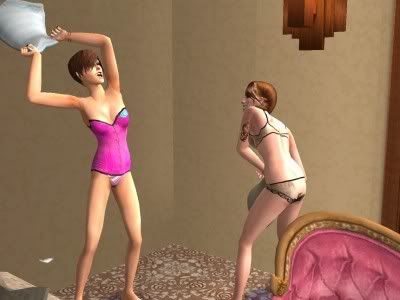 Mer' goes firefly hunting (or as they say in Kentucky "Lat-nin' Bug")...


Oooh, sparkley!

Katy is one hot-ass kareoking bitch...



"Ooooh! We should all go on vacation!" says Mama Duck to me.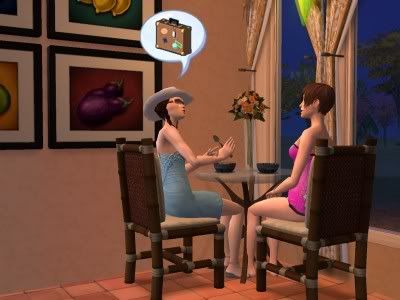 We may just have to....

Thursday, November 08, 2007

"I don't think killing Jesus is very Christian..."

Ok, this post has nothing to do with the title- I just thought it was funny. We were watching South Park last night and it was all about the "first Pope"- Peter Rabbit... it was hilarious.

Erm yeah... I have no idea what to blog about.

Hulk-Man is getting closer to walking. He's taken a few steps here and there but not really ready to walk yet.

He's been getting more confident though, letting go of the table and standing for a bit, etc. Such a big boy.

Lately we've been getting things in the mail about his 1st birthday- like catolouges (ugh, sp?) for stupid decorations. It's his first birthday- he's not going to remember it. He doesn't need some big hooplah! I think it's ridiculous when parents make some big giant stink about it.
I mean yeah, it's his first birthday and all but come on. I just think it's silly.

On another note- having sex whenever you feel like it is so much harder with a kid.
Damn that child!
Hehehe. :D

Monday, November 05, 2007

Why do I have to think of a title?
I've recently come to the conclusion that my life is super boring. Which is why I haven't been blogging every day like I used to.


Maybe I need to start blogging every day to get the creative (I'll settle for non-mushy brain waves) juices flowing.


I've been saying super a lot. I hate that word but I can't stop saying it.


Hulk-Man's 1st birthday is in one month. Fucking insane.


I'm watching my neice today who was watching Super Why this morning (on PBS) and they fucking changed the story of the Boy Who Cried Wolf to some cheesy-ass peice of crap. It wasn't about lying at all and that if you keep lying eventually people will tell you to fuck off and it'll be too late. No... they fucking changed it. People are really starting to piss me off.
They take recess out of schools because, oh boo-fucking-hoo some kids might get hurt and goddamn fucking retards sue. Some schools don't write in red ink because it's "too harsh."
I fucking hate people.

Thursday, November 01, 2007

Ooooh scarey.....

The town we live in now pretty much sucks when it comes to Halloween. No one trick-or-treats. I don't even see jack-o-lanterns on doorsteps.

Seriously, what's wrong with these dumbasses?

So knowing that Stink-Butt asked the guys in his unit if we could come trick-or-treating to all of them.
Luckily they all got into it and ran out and bought candy.

So Stink-Butt, Hulk-Man, my sister, BIL (who's in the same unit as Stink-Butt) and my neice all went trick-or-treating around the barracks and had a blast.

this is Hulk-Man and I before we left. It's hard to smile because of my nose surgery so that's why I look like I just got Botox injections or something, hehe:



My neice and Hulk-Man. She's a Viking princess in case you didn't get that:



Waiting for candy:



Hulk-Man really got into this whole taking candy from strangers thing, hehe:



Hanging out with Captain America:









<