Wednesday, October 31, 2007

I'm a lazy little whore

I haven't blogged in forever because I just haven't felt like it. And every time I come home over and sit down and I'm ready to blog nothing comes to mind.

Seriously- if you guys thought my posts were boring before you'd shoot yourselves in the head now.

But for those extra brave souls- here's what's been happening around here:


I got nose surgery the other day for a deviated septum. I'm still recovering, can't breathe in or out of my nose, it feels like some one punched me, and bloody snot is dripping down the back of my throat.


Hulk-Man has been trying to stand by himself, without holding on to anything. Not a lot- just a few times now. :D Oooh he's such a big boy.


It's Halloweeen! I will have photos of him in his costume tomorrow.

Thursday, October 25, 2007

I knew I had kids for a reason!

I had to go grocery shopping the other day and I really had to fart... luckily I had Hulk-Man with me so people just thought he had a poopy diaper.

Monday, October 22, 2007

Stupid bitch....

I had a doctor's appointment today (to talk about my nose surgery) and in the waiting room Hulk-Man was crawling around and being all sorts of cute.

There was another woman with her daughter there too- and the daughter was like no older than 1 1/2-2.

And the stupid, bitchy woman kept making the little girl sit down and she goes "Sit down. You don't need to be crawling all over the floor" and glances at Hulk-Man.

Like bitch, puhlease. You're the reason why schools are taking out PE and recess- fucking ridiculous.

Friday, October 19, 2007

Blogging bitch Sims

Ok, as most of you know Stink-Butt and I upgraded our computer and I reinstalled all my Sims discs and decided to start all over. Which means I lost all my houses and families.
So I like to think that we blogging bitches all went and got plastic surgery and hair and make-up makeovers and that's why we look so different lol.

We moved into a new house (bigger and better). Woot woot! Everyone dance!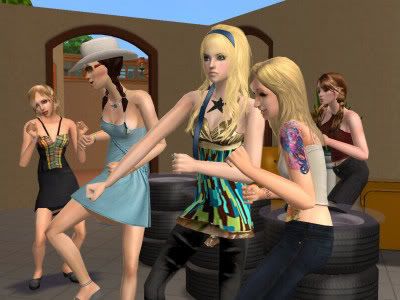 that's Mer, Mama Duck, Kami, Dixie, and SuZan

Mama Duck used her awesome kitchen skills to make us some bologna sandwhiches, hehe.



Uhh, apparently Kami and SuZan are having an eating contest... mmm k.



Dixie has befriended the neighborhood robot



K, I think Sheri had a little too much to drink....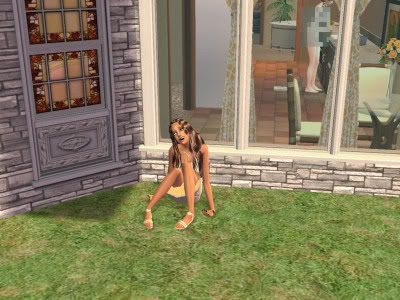 More later, that's all I got now. :D

Thursday, October 18, 2007

Bleh

I have a cold. From Hulk-Man, grrr. I hate being so sick. Plus it's the time of year when my allergies make my head feel like it's underwater constantly.

Oooh, speaking of allergies I'm going to get that deviated septum (sp?) surgery.
You know, to straighten out the inside of my nose. Hopefully it won't change the outside cause I rather like my bumpy and long witches nose.

sigh Can you beliive Hulk-Man will be 1 years old in less than 2 months? sniff
My baby is all growing up....

This is a rather boring post... so I'll just leave it here. I can't think of anything clever to say.

Monday, October 15, 2007

Praise Dane!...

Dane Cook is, sometimes, the voice of my conscience.

Not that I think to myself "hmm, what would Dane Cook do in this situation?"

No... but sometimes when I'm thinking and daydreaming about all the weird crap that goes through my head, Dane Cook is the narator.

Yeah, I am THAT weird.

side note- I might have to post the first Blogging bitches Sims post tomorrow, or Thursday. I'm still making and decorating our house lol.

*title*

Lately Stephen and I have been watching movies like Saw and Seven- I swear the FBI is going to think we're doing research so we can kill people or something.

yeah, if the FBI were watching us, we'd all be in trouble, cause don't they have better things to do?

Sometimes I think it would be easy to hide a body... but then I watch shows like CSI and think dang! They always catch the guy!

have I scared you? Do you think I'm gonna kill someone now? Don't wory... lol. I'm a pacifist.

Ok, no more talk of murder.

I'm going to make a new blogging bitches in the Sims today and I will have the first post about it tomorrow. EEK! I know, the excitement never stops around here....

Friday, October 12, 2007

Wowsers!
Blogspot actually saved my information and signed my automatically. I'm shocked! Shocked I say!


Stink-Butt and I watched Saw 3 last night. I love those movies. They're the only scarey movies I'll sit through and watch.
because I'm a big baby and get scared to the point of having nightmares at movies like Gremlins.
It was good but not as good as the first 2.


I have photos from our recent outing to the zoo, I'll post them as soon as I find them. Stink-Butt didn't save them in a place where I would....


Stink-Butt and I got a new computer (upgraded) and I sort of lost all my Sims... meaning I lost my blogging bitches Sims. So I'm gonna have to start over with that whole thing.
Maybe this time Kami will wear some normal clothes, bwahahahaha!

Tuesday, October 09, 2007

Holy crap! How long has it BEEN?

At this moment Stink-Butt is playing Half-Life 2 and Hulk-Man is watching a Baby Einstein- so I'm taking this opportunity to blog.

I need to. For my sanity- which, lately, has been fleeting.

Deployments effect so much more than you think they would. Prime example... when Stink-Butt was gone every day I thought to myself how fabulous it will be once I get some help.

And it has been great- really, truly great. But what I didn't consider is that jealousy would rear her bitchy head.

The other day we were all eating breakfast (yes, together- we feel it important to eat as a family) and Stink-Butt gave Hulk-Man a bite of his pancake with syrup. And I fucking freaked out.

The real reason? Was that Stink-Butt made a decision involving Hulk-Man with out involving me. He took a step as the parent of *our* child. And I just burst into tears because now there's some one else here. It's no longer, physically, Hulk-Man and I.

So a lot of my being away had to do with me getting over that, stepping back and letting Stink-Butt take an active role in parenting, and getting Hulk-Man used to all of it.

He's been great though. Some bratty moments here and there- taking advantage of Stink-Butt's want to pick him up and hold him every 2 seconds, etc- hehe.

But I can't blame him. If I didn't see my son for 8 1/2 months of his life I'd want to hold him all the time too.

But we're all getting better- slowly but surely.

Stink-Butt returns to work tomorrow so I'll start being able to play weekly games and such now and reading blogs more.

sniff I missed my bitches.....








<