Saturday, June 30, 2007

more video....

Ok, now that I've learned how to upload video...

(Thank you to Mama Duck for introducing me to Dropshots)

you guys will get to see Hulk-Man a lot more.

So I don't want to hear anymore damn whining! Hehe.

Here he is babbling up a storm:






Friday, June 29, 2007

SPF and Hulk-Man videos

1) For this week's Stuff Portrait Friday Kristine wanted to see your favoritest ugly creation that was made just for you.

Stink-Butt and I went on a cruise with his family a few years ago. It was right after we got married and so his family and I didn't really know each other that well yet. His neice was our flower girl. So cute...

So on the cruise she, rather shyly, came up to me and handed me this:




She drew it just for me. Come on now... that's just adorable!

2) I figured out how to do video! These are kind of crappy, but it was my first attempt so my apologies.




Photo Sharing - Video Sharing - Share Photos - Free Video Hosting


Hulk-Man crawling




Photo Sharing - Video Sharing - Share Photos - Free Video Hosting


Hulk-Man and his Daddy Doll

Did you play?

Thursday, June 28, 2007

I'm getting to old for this, damnit

I'm on the other side of 25 now and a few years from being in my 30s, yet I still have the mind set that I can be lazy when it comes to excercise and such.

Uh no. Things slow down as you get older.

The bags under my eyes aren't just gonna pop back into place with a good night's sleep.

Now mind you I have never been one for plastic surgery and wanting to look 20 in my 40s. That's just not me. I'm all about aging gracefully and the wrinkles I get are from me living my life and think they're a tribute.

But I've got to stop acting like my metabolism and elasticity of my skin is going to be the same as it was a few years ago (and before being preggo).

But lets face it I am so fucking lazy when it comes to excercise.

I swear, a few years from now I'm gonna look 50 in my 30s. I gotta get some motivation.
as if that wasn't motivation enough

Hmm maybe I'll try that "excercising with out moving" thing I see on infomercials all the time, lmao.

Tuesday, June 26, 2007

WCW and other stuff

1) Stink-Butt is so funny sometimes. Not like in his normal, make me laugh so hard I practically pee way... But in a "husband" sort of way.

Yesterday i posted about how I love the Geek Squad uniforms- because I do- and this morning Stink-Butt casually brings it up.

It was just so cute, and a little flattering when he said he didn't want any Geek Squad guys hitting on "my wife."

He's not a jealous person- not in the least, and trusts me completely, so it's just cute and endearing when he does that "I'm not jealous," - hrmph thing.

Just makes we want to bake him a whole batch of cookies and kiss him. Hehe.

2) I solved the Hulk-Man food dillemma (dilemma?). Hulk-Man is not the sort to just sit there and watch and let people do *for* him. And I've always sort of stepped back a bit and let him try and figure it out on his own.
So I put some food in a little bowl, put the spoon in his hand and put some food on the spoon. And he put it in his mouth (he has excellent hand-eye coordination). And he ate. I had to put the food on the spoon for him and he played with the food too and rubbed it all over the place. But he ate. He just didn't want me to feed him.
That's my big boy!

3) Ok, it's Wednesday
technically it's Tuesday night, but I'm gonna play anyway
Time for Wild Card Wednesday.
This week's letter is H.
So, here you have my hands:




Did you play?

Sunday, June 24, 2007

I like the wings too.... *cough*

You know how men go to Hooters for the, uh, hot wings at Hooters?

I take my computer into the Geek Squad at Best Buy for the same reason... lol.

Not really boobs per se, but for my own personal version of awesome uniforms.

Short sleeved white button up shirt, black pants, black tie- oh lord STOP!

I swear I'm gonna start taking my computer in, making stuff up, just so the Geek Squad will look at it.

"Oh, there's nothing wrong? *giggle* I could've sworn it was ready to crash...."

lmao.

Help a mutha out

Ok I've recently put Paul on regular food (well, it's baby food, but it's not formula) and I'm keeping his bottle schedule and I feed him baby food at the table with me (sometimes us) when I / we eat breakfast, lunch and dinner.

Everyone eats meals at the table together.
A rule I think more people need to adopt, but that's another blog for another day... anyhoo....

The problem is that he screams and tries to turn around in his seat and throws a huge fit and won't calm down during meal times.

Sure he's only 6 1/2 months old but we only spank his hand when he's going to do something when he's going to hurt himself.
yes we spank his hand at this age, get off my ass and skip the "you're a horrible parent" hate-mail.

And saying "no, sit nicely at the table" isn't really working.

So what do I do to help teach him proper table manners?

I'm not expecting results tomorrow mind you, I just don't know where to begin.

Update, speaking of kids...

Dave got some tragic news.
To help out go here

And then go hug your kids.

Thursday, June 21, 2007

Just call me Bre (spf)....

I admit I am a total procrastinator in lots of cases.

Like food... since Stink-Butt's been deployed sometimes my dinner will be a handful of cookies by the computer.
I'm just lazy like that.

But if there's one thing people soon learn about me is that I have a seriously hugely hairy stick up my ass about my kitchen.

I don't let anyone cook in my kitchen anymore after the millionth person put my fucking knives in the fucking dishwasher.
and if I have to explain to you why knives don't go in the dishwasher you don't get to cook in my kitchen anyway.

So you see that's one thing I'm very "Bre-ish" about.

Another thing is I'm totally anal about is the way my home smells.

I happen to have a little something called synesthesia. I can smell colors. And I have a damn good sense of smell.
So places like Yankee Candle- I just don't go in there. Too many contrasting scents and colors and it gives me a headache.

So when I read that this week's SPF Assignment was your air freshner I got this mental image in my head of peope taking photos of their candles and lots of Febreze bottles, etc.

This is what I have: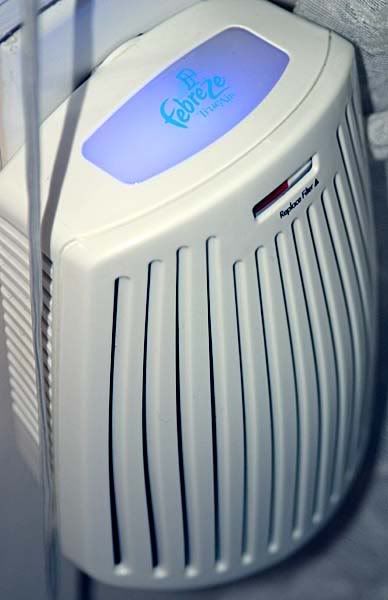 this thing takes in odors and pfffts out clean air.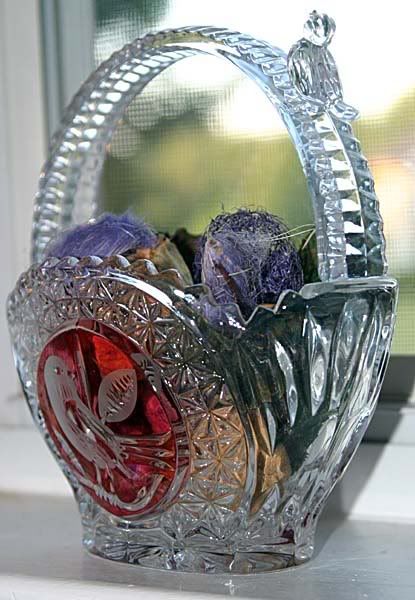 and lavender potpourri. I don't always get lavender. But it's subtle.

I have to be careful not to buy anything which smells contrast not only to my cooking, but to the furniture, to me, to Hulk-Man and Stink-Butt or our cats.

Most people don't need to think about that sort of thing. They pick up a scent they like and have at it, totally unaware of the other level they are putting out into the universe.

So that's my SPF....

Did you play?

Wednesday, June 20, 2007

WCW, Squash, and Whatever Else....

1) For this week's Wild Card Wednesday Mama Duck told us our letter of the week was H.

So- here are some "Hot ass bitches"- my sister, Roxi, and I:




Did you play?

2) Hulk-Man had his 6 month appointment yesterday.
He is 14 lbs, 12 oz fat and 26 3/4 inches long. And I got to start him on baby food! Surprisingly the pediatrician said there was no reason to put him on rice cereal first. Of course I feed him one type of food for 3 days then move on, etc.... So we went to Target and grabbed a high chair and some squash.
Actually I picked up 3 different vegetables and put them in front of him- he chose the squash, lol.
I could't decide I was so excited.... He still isn't too sure of this baby food thing. He kind of acts like a cat with peanutbutter on the roof of their mouth, lol.


Monday, June 18, 2007

It's feel good pain!

If I had to do it over again I would've pushed Hulk-Man out my hoo-hah.

He was breech the whole time I was preggo and to be honest I didn't want to turn him because I was scared (hey, women have been giving birth since the dawn of time yes but I haven't).

I thought the C-Section would be the easy solution and I'd still have the wonderful experience.

Not true- at least for me. Not true at all.

I just felt like everyone else was involved with the birth of Hulk-Man except me.

I was the one who carried his big ole body around in me for 9 months. His bowling ball head ramming my rib cage and his feet kicking my hip bones.... I fed him, kept him safe and waddled around until he was done and ready to come out.

And yet the day came and I was completely numb, they put a big sheet up so I couldn't see anything (yet they let Stink-Butt peer over and take photos).

I asked Stink-Butt when they were going to start and he goes "uhh honey, you've been cut open for a while now...."

And when they held up Hulk-Man for me to see and I heard him cry- that's supposed to be wonderful moment, but it just felt like they hid my real baby under a table and brought out a stranger. lol.

I really think that having a C-Section greatly contributed to the PPD I had the first month or so of Hulk-Man's life.

I know that women expect there to be an instant connection with their newly born child- and it's not there and we're let down. I know that... but experiencing it was different.

So next child we have I definately want to push his or her big ole head out my cooter. I like working for things I take so much pride in- lol!

Saturday, June 16, 2007

Father's Day

My husband has beautiful hands.

They're really one of my favorite parts of his body.

He's constantly drumming his fingers, even when he doesn't know he is. Slight twitches in his knuckles as though he's constantly counting something. He may be for all I know, but from my percpective it's just a twitch.

I love the feel of his wedding ring when he holds my hand.

I love the way he gently and yet directly holds my hip bone when he comes up behind me to nibble my ear.

I love when he rests them on my thigh when we cuddle up and watch TV on the couch.

I love seeing his grown-up sized hands hold our new born son.

My husband is, and always will be, the lovliest man I have ever and will ever meet. And watching him be a father- even miles away seperated by deployment- has made him all the more sexy to me.

I have a good man, and I know it.

It's the little things that show me. I hope when our kids grow up and think about their parents they remember that we were always hand in hand.

Thursday, June 14, 2007

"My anaconda don't want none unless you got buns hon'!..."

This week's Stuff Portrait Friday theme is YOUR BACK.

First here is, quite literally, my back: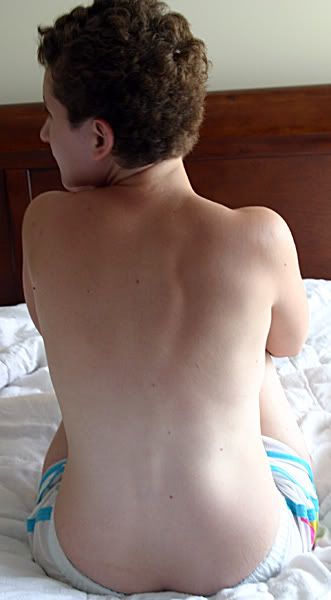 Second- as some of you may know, my darling husband was in a band called Shallow long before he joined the Army and met me and what not.

So here is one of their music videos from way back in like 1997.

side note... He's the drummer....



Did you play??

Tuesday, June 12, 2007

What the fuck is wrong with us?! (wcw)

It's Wednesday- woopee! Time for another edition of Wild Card Wednesday brought to you by fellow flip-flop worshiper and one hot ass mama... Mama Duck.

When I was growing up we lived 45 minutes from Newport Beach (southern California). Of course it took 2+ hours to get there and find a parking spot but that's So Cal for you.

My parents are sometimes very "hey let's just get in the car and go!" And sometimes it works out great. Like the time we just went to Disneyland.

And sometimes... some fucking white-trash / ghetto ass shit comes about.

The proof is in the picture: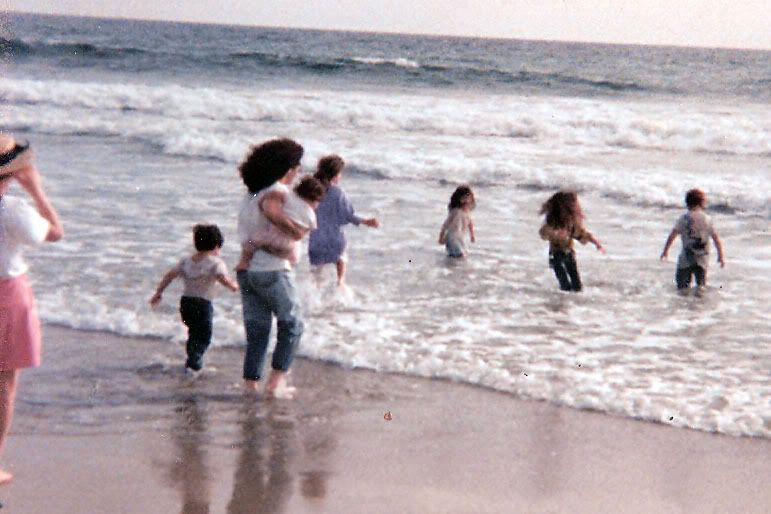 Bathing suits? Nope.

Sunscreen? Nope.

Towels? Nope.

Brushed hair and washed faces? Nope.

But we took off our shoes and went playing in the ocean as we were.

Granted it was one of the funnest times we ever had.
btw- I'm the one in the lavender shirt

Now, I grew up pretty poor. I know what it's like to eat a mayonaise sandwhich for dinner (don't laugh, it taste better than it sounds lmao).
So what probably happened is that our water got turned off and we had to "bathe" somehow.

Voila! Jump in the ocean!

Bwahahahaha!

We stayed at the beach until dark and then went home wet and covered in sand.

I think that if my parents are going to have brain farts to leave us out of their brilliant ideas. Hehe.

--------
side note...
Technorati Profile

Monday, June 11, 2007

YOU think of a title....

- I seriously hate thinking of titles.

- My arms are killing me. I've been doing yoga again lately. I only have 2+ months to get my ass back in shape before Stink-Butt comes home. He's coming home to a MILF even if it kills me! Hehe.

- I put a new thing on my MySpace page. You can leave me voice messages! Isn't that fantabulous!?
Ok, I'm a dork. I need friends. Give me love! I'm desperate! hehe

- Hulk-Man has been babbling a lot lately. I wish I knew how to put video on youtube so I could show everyone. But I'm stupid.

- I'm so boring lately. This post totally shows that.

Saturday, June 09, 2007

I don't kiss ass... I gently tongue it and caress it with my boobies

So lately when I'm giving Hulk-Man his bedtime bottle (which is the only bottle I hold him while he eats- the other feedings he's in his swing) I'll watch Kathy Griffin's stand up thingy.

I have to admit- it's pretty damn funny.

I think if she wasn't Kathy Griffin and just was a regular lady and had a blog I'd totally read her shit.

I'm so gonna be in trouble- Stink-Butt hates her.

I think he's secretly jealous because he wants to be a redhead and have all the gays love him. Mwahahahaha.

Seriously though. I was cracking up about her bit with the Celine Dion Vegas show.

Ok, shut up about how I'm easily amused- I know I am but that's hardly the point.
-----------------

In other news...

Not all females have the same fantasies. I mean we don't all want to bang Brad Pitt, etc. But if there's one thing every housewife has in common is that we would spread our legs and open our mouths wide more often if our husbands would help out around the house. And not because they might get "rewarded" for it later- but because they could see we needed a little help and they love us.

You want to know how to get laid? Help clean... mmm sexy.
----------------

Stink-Butt's neice just had her first child yesterday. He is soooo cute!

I'm a great-aunt. Holy shit I'm old! Oh I feel my bones stiffening! Where're my pills!!??

Thursday, June 07, 2007

"Girls just wanna have fun...."

I'm playing early this week cause I'm awesome like that...

This week's Stuff Portrait Friday theme is bounce.
Silly Kristine... teehee...

Since my sister, Roxi, is staying with me for the summer I brought her in on the run and we had some wild and crazy times on my bed.

wink wink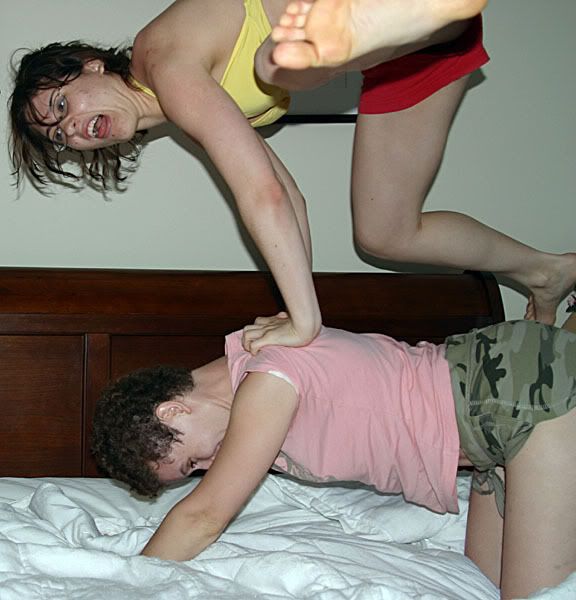 Here we are playing leap frog



...my turn!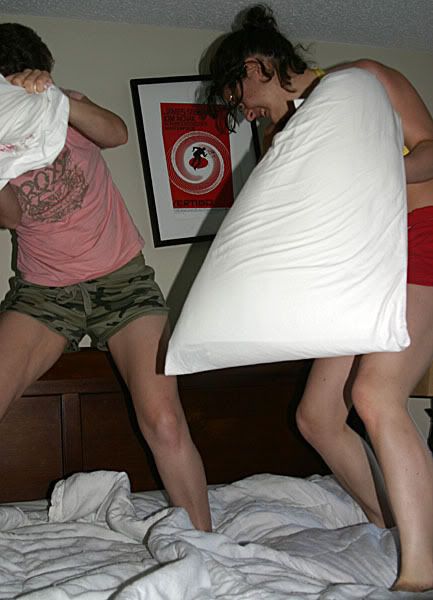 Pillow fight!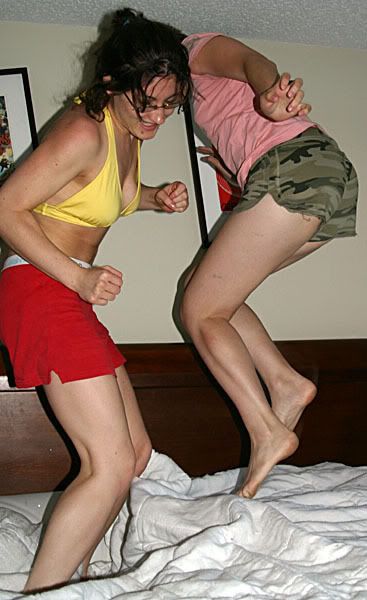 Who doesn't like jumping on the bed? Come on now. That's just good clean fun.

Did you play?

Randomosity

1) Stink-Butt got a staph infection and had to be in the hospital for a few days. He's fine and out now.
My poor honey.
Of course it sucks now because the doctor told him that every time he gets a zit on his lip he should go to the hospital because he's prone to them.
Great.
He's just as much of a hypochondriac as I am so he's gonna be freaking out every time anything appears on his face.

2) My sister, Roxi, is living with me for the summer- working and what-not before she starts college in the fall.
It's nice, maybe the summer months will fly by faster and Stink-Butt will be home before I know it. Teehee.

3) It's sooo fucking humid here! I hate it!!!!!

4) Ok, some one tell me what a lanai is. I heard Mama Duck say it and then I keep hearing it on the Golden Girls.
Roxi watches that show because she's a freak... ok, I have to admit, it's not that bad

5) 45 days until the last Harry Potter book people!!!!!!!!!! Actually 44 now....
OMG! Can you believe it's almost the end?! I'm so excited and soooo sad. What ever shall I do / look foward to now?
Hmm maybe after all the movies are made Mr. Potter will do porn.
lmao! Just kidding.
Sort of.
uhh....

Sunday, June 03, 2007

You've got to be kidding me

I am so unbelievabley sick of these damn "helicopter parents."

I'm a firm believer that you need to let your kids fall down so they can learn how to get back up. If you bubble wrap your kids and everything around them how the hell are they going to learn to survive on their when they're older.

Come on now people!

A week or so ago my sister and I (and Hulk-Man) took my neice to her ballet recital. I was waiting in the car with Hulk-Man while my sister dropped my neice off backstage.

There was a woman parked next to us with her daughter- who I swear was no younger than 9 or so.

They started walking towards the building and the 9 year old started walking like a hair faster than her mom. And her mom fucking FLIPPED OUT.

"What are you doing?! We're in a parking lot!" the mom said her daughter and put her hands on her shoulders as though she was going to be sucked through a black hole if she didn't.

Holy fuck!

And then I went to Target the other day to pick up some baby gates because Hulk-Man is pretty much crawling now and I see this:




I shit you not.

Knee pads!

For a fucking BABY! What the fuck people? What the FUCK?

This is why we have a generation of fucking wimpy kids crying about everything.

But the floor is too hard and hurts my child's knees! wah wah wah!

Yeah well, the world isn't made of fucking pillows so get over it!

Saturday, June 02, 2007

So everyone will stop whining....

Ok ok ok! Here are, by popular demand, new photos of Hulk-Man.


Friday, June 01, 2007

I hate thinking of titles.....

For this week's


Kristine told us to show our brush

I thought I would do "brush fire."

I grew up in southern California in the foothills of the San Bernardino mountains so I've had many encounters with brush fires.

Unfortunately I don't have a photo anywhere of my house growing up, the foothills, etc.

So I decided to show you my actual "brush."

Since I cut my hair like this: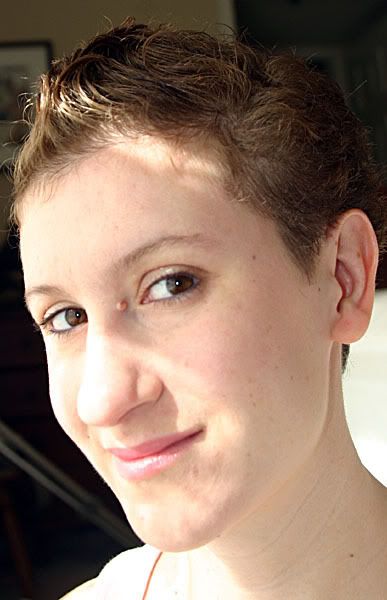 I don't really need to "brush" my hair.
But I have one.

Now as everyone with curly hair knows- you don't have a "brush," you have a detangler or a wide toothed comb. Unless of course frizz is ever in-style.
Ewwww!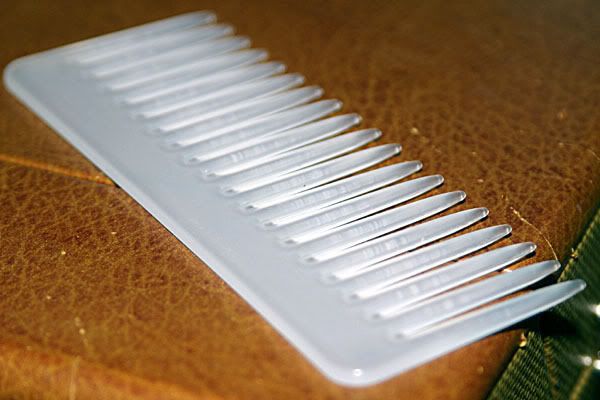 Pretty exciting stuff huh?

did you play?











<