Friday, December 29, 2006

Taking responcibility for our children....

Everyone messes up and accidents happen- we all know this. Childrens' hands are small, they're going to spill their drink. They're absorbant, they're going to repeat (loudly) the curse word you said in public.
So when do you ask a parent to financially take responcibility for their child's actions?

Let me just tell you what happened today. I value my regular readers opinions (all 3 of you! hehe).
Most of my regulars are parents themselves and I value their opinions.

Ok we all went out roller skating today and I was sitting in the side lines with Paul who was in his stroller.
The stroller was out of the way and not blocking anything (hence the out of the way part lol).
A kid fell knocking into the stroller- first I checked to see if Paul was ok, then asked if he was ok (any decent human being would've done the same me thinks).
Then I noticed that he broke it. The wheel was completely broken off.

Not popped off.
Broken off.

We've had the stroller for like only 3 months. I need it to take Paul around. I'm also currently visiting family in a different state.
I'm sure you all know how valuable strollers can be (who wants to and can lug around a baby in their arms? Who can just stay home 24/7? Not me...).

So I expected some sort of offer.

I didn't demand one and I didn't expect the dad to go out and buy a new stroller.
I expected a gesture.

I got one. I thanked him, and told him I knew it was an accident.

So- was I in the wrong?

Personally I don't think I was.

Were it my kid that it happened to I would've offered what I could (understanding that a stroller is expensive and the mode of transportation for babies...) and would've made the kid earn it somehow.

side note- the kid who knocked into the stroller was like 10 or 12

Accidents happen sure- but just because it was an accident doesn't mean all is forgiven and that people can go on their merry way.

Anyhoo- that's just my 2 cents.

Oh- and if it were someone I knew- like say for example Katy came over and Emily knocked a knick-knack down I would've refused anything they tried to offer.

But see- that's why Katy is so awesome. She would've offered.
I just think it decent to make an offer.

hehe- just call lme president of the Katy fan club. LoL.

And hey! Update!
Go vote for me at Celebrating Women

If you don't- I'll put all of Paul's dirty diapers on your front porch.
Mwahahahahaaa!

Thursday, December 28, 2006

right....

Sorry for the lack of posts but my mind has been blank lately.

There's a ton been going on but I don't know how to make a post about any of it just yet.

I'll post when I get back home (at my parents' for th e holidays) I swear.

Not like I had anything interesting to say anyway.
hehe

Thursday, December 21, 2006

Holy crap I need to go cry now

I put Stink-Butt Jr. in his crib and just let him cry so I could take a shower.

Then I fed him the rest of his bottle (he likes to save one last ounce for a snack an hour after feedings lol).

Then I put him in his swing and let him cry while I cleaned the kitchen.

40 minutes.

He knew I was there. I came over and it's not like our apartment is all that big. He's changed, fed, and burped.

He cried off and on for 40 minutes.

My knees are shaking. LoL. I know it sounds so silly.

What else could I do? Have you tried cleaning the kitchen with one hand? It's impossible. This is better for the long run.
I know he's only 17 days old but I've always been a big believer in if you want your children to be independent and do for themselves- then let them. Don't jump in and do it for them. I really do feel that way.

Wednesday, December 20, 2006

Well, today sucked....

We (and by we, I mean me, Stink Butt Jr and my mom) dropped Stink Butt off at the airport today.

I won't see him for 10 more months.

But- then he'll be home for good!

We can make it through this deployment, I know that. It sucks giant, hairy, donkey balls though.

It was jut really hard. I loved having him home. I love the fact that he got to be here for the birth of Stink Butt Jr. and for these passed 2 weeks it's been great. But having to say goodbye again. I almost wish he could just do the deployment and then come home for good. I'm not sure if having an R&R is a good or bad thing.
On the one hand- we really needed to refuel. On the other- let's face it, it's just not enough.
Why couldn't he have gone into the Navy- they only have 6 month deployments. And then we could live on the beach.

Yeah! This is all Stink-Butt's fault! Hehe.

Sigh. I already dropped him off so he could head to a war zone once, I really didn't want to do it again. If there were some way we could've passed the whole goodbye thing....

You guys had better give your husbands big ass kisses goodnight tonight- because you can (well except for Katy).

Anyway- new photos of stink-butt jr. for everyone! Enjoy:


Wednesday, December 13, 2006

I was starving my child this weekend, what did you guys do...?

So apparently I'm not making enough milk.
I was breastfeeding Stink-Butt Jr. and he was sucking so of course I assumed he was eating.
And all the doctors said it was normal for him to lose some weight.

But, of course, I had a bad feeling, so I called the lactation specialist and gave her all the information and they told us to come in for an evaluation.

He lost 23% of his birth weight. Not good....

So they put us on a formula / breastpumping plan and that seems to be working. He's got some saliva!
And he pooped- 3 times!

Hooray for poop!

Why is watching poop come out of a baby's ass so fascinating? lol.

Speaking of bowel movements and whatnot... We took him to the pediatrician (for a follow up) and I peeked in his diaper to see if he was wet.
I think we all know where this is going....

Yup- pee all over my face.

It's official. I have a son. lol.

So everything is fine and I have new photos: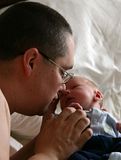 Friday, December 08, 2006

More of an update

Ok, I can give more of an update now. The baby (Stink-Butt Jr) and Stink-Butt are sleeping, the house is quiet....

On the morning of hte 4th my mom and I drove to the hospital and I filled out (more) paperwork and of course mentioned to everyone that Stink-Butt was flying in from Iraq and would be cutting it close- so if they wanted to have a nice leisurely day and take their time to go right ahead. They all understood and told me they'd do what they could to slow things down.
Yeah, like that would be hard... lmao.

So at 9:15 I'm in the pre-op room hooked up to the fetal machine thing-a-mabob when one of the nurses comes in and says "Are you Mrs. Stink-Butt?"
"yeah..."
"your hubby is here!"

And he's out there yacking it up with the doctor for like another hour (ok so it was like a minute... lol). Finally he comes in.. hehe!

It took him like 3 days to get home, he hadn't showered or anything but it was the best feeling ever.
Everyone was so excited about me having the C Section that day- but I felt like I couldn't let myself get excited about it until DH was there. Having him home was first on the list for me.

So he got into his scrubs and they wheeled me into the room where they did the spinal. That was not at all as bad as I thought. I definatley felt it on my bone- it didn't hurt really, it just felt like I had a realy bad backache (but a bearable one).
Then they laid me on the table and let Stink-But come in.

Ok, here starts some parts where they don't tell you these things in books so pay attention.
First off- I am all for C Sections I think there's nothing wrong with them. If I had to get one again I would.
But no one ever tells you that when you have one you feel like everyone else is involved with the birth of your child except you. At least that's how I felt.

I had been cut open for about 10 minutes and had no idea. No one told me. I couldn't see anything, and I couldn't feel anything. And then all of a sudden they say "Ok, here were go" and this horrible beyond expression feeling was there. It was like an elephant sat on my chest (We have photos of the C Section- they're pushing down so far on my chest that my belly button is up by my neck).
And then the elephant stood up. It wasn't like "Oh wow, they're taking my child out..." it was more "holy fuck! Get this elephant off me I can't breathe!"
So much happened so fast that when they held him up straight out of my belly - it wasn't so much disapointment I guess as it was a lack of the wonderous emotions you see on TV.
Everyone thinks the first time you see your child is going to be some wonderful awe inspiring moment and all makes sense in the world.
Uh- no.
There is not an automatic bond. So if you're pregnant and ready to have a baby- just remember that. Not saying it won't come, just don't expect the light to shine from above or anything. And it doesn't make you a bad parent (even though I say that and I'm struggling with the guilt from it). Realistically I know it doesn't make someone a bad parent- because it's natural to feel that way- but I still can't help but feel a little guilty.

So they take him to a table and somehow, somewhere between then lifting him up and taking him to the table Stink-Butt cut his cord. I have no idea when. No one said a thing.
Again- everyone being involved....

They sewed me up while Stink-Butt went to watch the baby get weighed and all that.

And from there.. that was it, we had a kid.

I'll give more of an update later. This post might take like 5 times to complete... lol.

For now, have some more photos:


Thursday, December 07, 2006

All I have time for

All I have time for today is a few photos.

And someone dear lord help! My boobs are fucking killing me.
I'll give more of an update later....

But here he is:
Paul
7lbs 10.8oz
19 1/2 inches
View photos and other crap here.

update
Sorry about that- every thing is topsy-turvy here. Hehehe
the access code for the above webpage is 21400685

Monday, December 04, 2006

wee!

Leaving in about 10 minutes!

I'll be back with a baby and half the tummy I have now!

Ok, so maybe 1/2 is being generous.

I'll be back with a baby and a scar in a few days!








<