Thursday, August 31, 2006

snowballs

Ever have one of those days where it starts with a crappy dream and then the rest of the day every thing is against you and you can seem to catch up?

Nothing's going right today.

My hands don't work. Things I held just seem to slip out of my hands. Like they stopped working.

I'm bumping into walls and other shit. Not just bumping into shit, but causing it to knock down, and then that knocks down other shit... etc.

sigh

I wish I could go for a run (and I only want to go for a run when I've had the absolute most shittiest day on the planet) but I can't because I can hardly walk for more than 5 minutes with out this giant stomach of mine making it too uncomfortable to even stand.

Some one want to bring over a wheelchair and push me really really fast for a really long time?

Wednesday, August 30, 2006

I hate thinking of a title, so this post doesn't have one.

This weeks WBW theme is:
Joining! 4H, girl/boy scouts, Camp Fire Girls, etc. Are you prepared?

Unfortunately I don't have my Brownies picture at my house, but I do have a story about that picture and my troop.

If I would've had the picture here, and put it up you would've seen all these little girls (and one tall, fat girl- like she was growing double as fast as a normal litle girl) and I wouldn've have been in it.

Why?

Because I had strep throat the day of the party and picture. No cake and icecream for me. No party gifts. Nothing.
I felt fine, but that evil woman who lived with me my mom said I was contagious and shoved this nasty-ass pink shit down my throat.

Now, about my "troop."

I hated Brownies. It was an uneventful experience and I got absolutely nothing out of it.

Ok, almost nothing.

But I liked my uniform. In fact I wore it to school once, thinking I looked special.
It was pretty special. I had kids I didn't know, and who didn't know me stop and ask me "hey! Is that your Brownie outfit?!" and I'd be like "yeah, I'm in the Brownies" all proud-like.

But I hated my Brownie troop.
I'm not as good as my mom.

First off, the little girls (all except the giant girl) were mean little bitches, because their moms' were mean-ass bitches. Going to Brownies was not about girls forming a community and doing good for the neighborhood and learning new stuff. No, it was about these moms who were in a clique and a chance for them to gossip and compliment each other on how they're better than everyone else and how their daughters had perfect blonde hair.

I'm not saying anything bad about blondes. I'm talking about these women in particular

My mom doesn't play that game (some traits I hate I got from my mom, that one I'm proud of). The troop leaders were the ones who were in their own little clique.

We did NOTHING. This is what we did... Once we made orange soda (and then drank it), and once we went out to the desert and tied knots out of licorice and made a trail (and being told there were rattle snakes).
The mom's hung out by the cars looking at the outdoors and the activity as if it were dog shit on the end of their perfectly new and expensive shoes.

Of course I grew up in So. Cal I've seen snakes and tarantulas and such, so I didn't care. And who the fuck is scared of a little dirt?
We all lived in So. Cal, so I never understood their problem with some good ole fashioned desert sand.

That's it. My sister's Girl Scout troop did fucking EVERYthing. Everything you think a Girl Scout troop does, they did.

I don't think it was because Brownies were younger- because there's stuff younger kids can do, and going to an auditorium and sitting around while the troop leaders gabbed about their outfits isn't exactly what little kids are capable of.
They could've at least given us a paper and some markers. Geez.

About the giant girl... It was obvious the troop leader moms didn't like her. The other little girls didn't like her either and would make fun of her and never wanted to partner up with her.
But my mama taught me better than that.
So she and I were always partners. I didn't really become her friend- we didn't go to the same school or see each other outside of Brownies. But I knew she was grateful to me when I stood up for her when the other girls picked on her, and grateful to me when volunteered to be her partner and it wasn't like a "last one picked" sort of thing.

You know those TLC Life Lessons statues?
The one that says "Your kids will mimic everything you do."
It's true.

If there's one thing I got out of Brownies it's that those women and their daughters thought they were better than us, but they weren't and still aren't. I'm a better person because my mom made me go to those meetings and taught me how to be nice to everyone, no matter what.

My mother went into those meetings with me to drop me off, and always said hello to everyone, chatted a bit and said goodbye with a smile on her face.

There are SO many things about my mom that I can't stand, things she's done in my past that took me years to forgive, but the good about my mom I view as saintly.

Her acceptance of all people is one of those.

Monday, August 28, 2006

The longest post in all de Vorld!!!

Ok, so Stink-Butt had his 10 days of block leave before deploying so we spent it with his family in KC.
Interesting trip. 10 days with my in-laws. Don't get me wrong, I love my in-laws to death, but just like my own family I needed a break from them every now and again.
Events of the week:

-Played my first actual role-playing game. We didn't play D&D (some WWII game). Fun stuff. I think I still like mmorpg's better but still was loads of fun.

-Stink-Butt's sisters (and sister-in-laws) and mom threw me a small baby shower. Got lots of cute, and oh-so soft things for Paulie. A baby moniter, a baby back-pack carrier thing (you know what I mean), and a swing. And LOTS of hand me down toys and such.
I just realized this week that I'm going to need to rearrange my kitchen. lmao. Sooo dreading that. I have my kitchen just how I want it, now I've got to make room for bottles and such?! This baby needs a job and a place of his own! hehe.

-Saw Beerfest. Um. Yeah. I must admit it had some funny bits in it. But I'm a girl, I don't get all excited because there were boobies being shown, and I don't drink beer and don't have some fantasy of being able to drink more than your fill of awesome beer where girls who would never be into you in normal life are draping themselves on you. But Stink-butt went to see Pirates of the Carribean with me (Johnny Depp as a fucking pirate people! Come on!) so I saw this with him.
Side note- he was not begging me to see this movie, it was a total time killer but it's not like he's gonna complain at the amount of boobies being shown, lol

-We saw... Snakes on a Plane.
You heard me. Mother Fuckin' snakes on a Mother Fuckin' plane. The movie was as awesome as the title suggests.
I get scared easily and don't like gore really- and apparently they showed a snake biting a man's penis (as opposed to a womans...? I'm so stupid sometimes)- showed the penis and the man said something like "get this snake off my dick!"
But I'm a big baby and had my eyes shut.
The fact that there was equal snake bitering in the movie (a snake also bit into a big ass boob) tells you how horribly awesome this movie it. It's snakes on a plane... I don't know how else to describe it.

Also, we were at Barnes and Noble and I saw that Pamela Ribon had a new book out. So of course I squealed like a pig little girl and grabbed it up. I looove her and will read anything she sticks in my face.

I am absolutely devouring her new book like a fat kid with a bag of candy in an alley way ashamed of her weight.

This is going to sound so stupid... but reading this new book is like reading a book that was only meant for me to see. And that sounds all girly and giggly and sort of... "omg! I just KNOW Justin Timberlake is singing to ME" but it's true. I can't help it.

I feel all special as though she's written it just for me, putting in bits and peices in her characters that remind me of myself and Stink-Butt and us as an "us."

Her books make me all girly and giggley and I want to be her friend.

Great. Now I have this vision in my head where she's up late one night Googles her own name and comes across my blog, reads this, and then has to call the cops because I might be a potential stalker.
I'm not though, I swear it.
I just love hr books so much it makes me want to strangle a fucking puppy!

note, I am not a puppy killer either

Update
I posted this here post (yeehaw!) last night, so instead of a new post I'm going to put this week's
now.

Before that though- Mer... oh lord I know what you mean. If I see ONE MORE boob thrown in a movie I'm going to march to movie land and kick in the balls of every movie maker. lol.
What is Hollywood's fascination with thinking it's ok for our husbands to stare at other women? Oh hm, maybe because they sleep with a different person every other second.
I don't do the porn thing either. I think it's rude and completely disrespectful.
Unfortunately our society on a whole won't ever see that. They won't ever understand how them throwing in a few boobies in a movie is disprectful to every wife / girlfriend / SO of the men in their audience.
Of course there are also the people who think my rants about boobies and such are because I'm jealous and/or have low self esteem about it. They're wrong, but that's a whole other post entirely and this one is long enough!

To this week's TMI!

1. Do you use the restroom in public places?
-yes! I'm not gonna pee my pants just to do some shopping. I hate going to the bathroom in public though and wash my hands like 50 times afterwards.

2. What is your favorite kinda porn... girl on girl, 3somes, guy/girl, guy/guy?
-Ok, before I answer this, let me explain something really quick. I don't watch porn on my own and I have stronge feelings about Stink-Butt watching it on his own. I told him from the get-go that I thought us watching porn by ourselves was wrong, and rude, and disrespectful to not only each other but our family as a unit. With that being said- we have, on occasion, watched it *together*. I really don't get turned on by a lot of crap that's in porn. I don't like butt-sex, cum all over a face is gross... etc. A girl kissing a girl is ok, though I don't like girl on girl sex. Just give me plain old fashion man / woman sex. I do like porn though cause the guy usually makes some sort of NOISE.
This is answer is long enough.

3. Do you talk to your neighbors? Have they heard you? You heard them?
-We hate our neighbors. lol. They're rude and loud and one time they were playing their music really fucking loud at like 10:00 at night. We gonn have a baby soon and... you get it. So Stink-Butt goes down there and politely asks them to turn it down. They get all huffy and puffy and fabricate this story about how during the day they hear loud thumping from our place and they've already told the apartment office about it. Funny how they apt office had no recolecion of this.... Ugh!

4. Ever maxed out your credit card? Bounced a check?
I've bounced checks yes. Several. It was bad. There is nothing worse that hearing the phone ring at those times.

5. 3 words to describe your so's "down there".
-Mine
and that's all the word you need. :)

Bonus: Have you ever had an affair?
-NO! I know what it's like to be cheated on and I might get mad at Stink-Butt and might call him a name or 2 in anger (I try not to because there's no point to name calling), I may even burn our dinner now and again... but I will never put him through what some ass fuck put me through.

Did you play?

Thursday, August 17, 2006

Toodle-Loo!

Stephen and I are leaving tomorrow to go visit family. We'll be gone for like 10 days (it's his block leave before heading off to the land of sand).
So I'm gonna post my SPF early.

BTW- omg preggo farts smell SO bad. If you need a fumigator just let me know I'll come and fog up your house for you, bwahahahaha.

Photo #1: Your supplies- I've been painting since I was little. I haven't painted anything in quite a while (no room, no time). For a wedding present Stink-Butt bought me this awesome easel that holds all your brushes and paints and can be folded up and taken anywhere. It friggin rules! Unfortunately I haven't had time to really use it. But this is my true craft (not saying I'm any good, but it's what I know) and these are my supplies:



Photo #2: Your bag- My sister convinced me one time that instead of buying up all the shoes I see (I'm really girly when it comes to shoes and how much I love them) I should buy purses. They're more practical. But I'm a one purse type of gal. These are all my purses but I don't use any of them, lol.



Photo #3: Your mailbox- Sigh, I had to drag my waddling preggo ass all the way to my mail box for this shot. So you guys better like it! Hehehe.



See who else is playing

Side note- I'll post week 24 preggo-pop photos today, but later. Photobucket is down for maintenance. Fuckers... :)

Update
Finally, I've got week 24 preggo-pop photos up! Enjoy:




Side note There's a lot to complain about when it comes to be knocked up. Most of it isn't a big deal and just something to complain about. But for the love of Bob! Give me my brain back! I can't take a decent photo to save my life!
Every week I take like 50 photos (I shit you not) and put up here the best like 3 or 4 of those 50.
I'm pathetic. And ashamed.

Wednesday, August 16, 2006

There's not enough food...

...on the planet to make me full. LOL
I'm STARVING like all the friggin time.
Yet still I'm all picky about the food I eat. Pathetic.
Last night we went to this "Italian" restaurant- I ate my food, but that place makes me mad. They cut corners on things I don't think they should cut corners on. Like the fact that the oil they use for dipping bread in is regular olive oil and nowhere NEAR being extra virgin. You use extra-virgin for bread dipping. That's all there is to it.
And I had linguine with meatballs. Simple enough right? Ok the meatballs tasted like someone got some plain old beef and made it into a ball.
Sigh.
I grew up with Italian food (real Italian food). I wasn't expecting polpette but just plain old beef?
I'm so disapointed and miss going to my grandparents' house for non-stop eating.

Anyhoo... Let's get to this week's


This week's theme is
Water, water everywhere!!! Let's cool off with a picture that has something to do with H2O...washing dishes, water balloon fight, wet t-shirt contest, your choice!



*Another zoo photo. This is me, my sister (in the red hair) and our mom in front of the flamingo area. Look at all that water... woooboy.



*Stephen and I went to the Bahamas a few years ago and went to this aquarium. Starfish, when alive, are awesome.



*I lived on Virginia Beach for a few years. I loved> living there.

Did you play?

UPDATE!!!!!
This was too freaky as shit interesting NOT to share.
Note that there is a penis involved so open at your own risk:
this way to "oh my holy shit!"

Tuesday, August 15, 2006

Little Ms. Cranky Pants

That's my new name. I declare it.

Carrying this baby around in me has been one of the most rewarding and wonderful experiences of my life. There are things going on inside me I wish I could share with Stink-Butt and have him experience too because of it's awesomeness.
With that being said though- it's a little strange.
I feel like a Turducken. lmao.. no I'm serious.
For those of you who don't know what a turducken is (and I didn't know until semi-recently), it's a chicken inside of a duck inside of a turkey.
I have another person inside me. As cool as that is, sometimes I want to run screaming out of the room. Pregnancy is very... Sci-Fi channelish. It's freaky!

The "side-effects" of being preggo make me into one cranky-ass mother fucker.
no no no Stink-Butt would be the mother fucker. Get it? BWHAHAHAHAAA oh, I crack me up
I don't like asking for help 99% of the time. I don't know why, but I feel that to ask for help you're admitting you can't do something and that you've failed. With this pregnancy I haven't really been able to *do* anything. I can hardly tie my own shoes. With Stink-Butt's deployment rapidly approaching I know he won't be around to just automatically help me up off the couch, tie my shoes, etc. I'll have to ask for help.
I should ask for help- I'll be kicking myself in the butt if I don't. I should especially ask for help after the baby's born (for his sanity and mine).
It's my responcibility to raise this baby and keep him safe until Stink-Butt gets home... asking for help already makes me feel like somewhat of a failure, but I'm more terrified than I can express that I'll fuck him up and there will be no one to blame but me and I will have failed that way too.

However, as nervous as I am now about everything... I can be nervous at this moment because Stink-Butt hasn't left yet. I'm anticipating and thinking about it too much. I know once he's gone I'll automatically know what I need to do and do it. I'm good like that.
It's not really fair to him though, he's probably thinking he's gonna leave and I'm gonna fall apart. Hehe. Not exactly something a deployed soldier needs to be thinking about.
As scared as I am, I am that much sure (so that made no sense, so what? lol) that I will not only "get through it" but do so with a strength I never though possible of me.

Enough jibber-jabber let's get to this week's


1. Have you ever had sex at someone else's house during a party? Details?
-No, not at a party. We've had sex at other people's houses, but not during a party.

2. Ever tried to replay the famous scene from From Here to Eternity? How was it?
-No, not really. I've done... "stuff"... on the beach. Let me tell you it is not a pretty sight, nor is it comfortable. That movie is stupid. If they really did that it would be the most un-sexiest thing on the planet.

3. Do you like pain during sex?
-I don't like the pain when I'm getting a little dry... lmao. But pain like smacking, and such. YES.

4. On a scale from 1-10, how promiscuous were you during your college years (whether you went or not)?
-like a... I dunno. I only went to college for 2 years lol. But I'm guess college age would be, what, 18-22? Ok, we'll say 18-22. Really like a 4 or a 6 depending on the early or latter part of those years.

5. At what age do you think men and women reach their sexual peak? Do you think you have hit yours yet?
-I think a man reaches his sexual peak the second he realizes that it's not just about him and his sexual needs. Some men never reach that peak. Sad. And I think women reach their's when we realize that a man will cum no matter what (unless of course you like bite it off or something) and we dont' need to lay there worrying about making him orgasm and focus more on our pleasure (something women have a hard time doing).

Bonus (as in optional): Do any of your ex's have naked photos or movies of you still?
-I don't know about still. If they do, I don't care. Ok I care a little bit. I mean, if they still have them that's kind of weird considering I'm happily married now and the thought of some other man still looking at naked photos of me is a little freaky. So I just like to think to myself that they threw them all out.

Monday, August 14, 2006

Again, I'm too lazy to think of a title

1) No Sims-Monday this Monday. I just haven't felt like playing. I'm sorry you guys.

2) Ok, I'm constatly reading blogs where women have these cute little pet names for their husbands. Like, dear husband (DH), sugar daddy, etc.
But those are too cute for Stephen, I think his new nick-name should be stink-butt.
hehehe.

3) This is going to sound really bad... but I can't wait for stink-but to be deployed.
Ooh, that stink-but thing has a nice ring to it. I like it lol
If it were up to me he'd wouldn't go at all, of course, but I'm waiting for him to leave and then I'll be waiting for him to come home. It's too much waiting and not very good on my nerves.
The sooner he leaves the sooner he can come home and we can just be a family.
I'm enjoying all the time we have together now, of course, but I want him to be *home* and I'm sick of being in this in-between stage.

4) before I get into #4- just a "this is my blog" reminder....
I hate and hate is too soft a word- WalMart.
HATE IT!!!!!!!!!!!!!!!!!!!!!!!!!!!!!!!!!!!!!!!!!!!
2 seconds in that place would make anyone want to take a gun to that place.
don't start getting all stupid, I'm not going to ok?
And it's not just the WalMart here- it's every fucking WalMart in every fucking city in every fucking state.
I dont' hate the idea of WalMart... that's not it. If it were just a building with crap at low prices in it I'd be fine.
It's the fucking morons that shop there.

First off- who designed this store? The aisles are like 2 feet too small for all the fat asses that shop ther, and did the designers / architects not think about how no one knows how to shop and people can't put their carts in the right places while they look at something? No, they need to leave it sitting diagonally (lol Diagon Alley) in the aisle, and then plant themselves in the middle of the aisle while they take their sweet time looking at the shit on the shelves.

Second- if one more person brings their bratty ass screaming non-stop little fuck of a child in there one more time I will take the child myself, spank them and say "behave or you will be sent to the car! You're not gonna get what you want and everything you see so get over it and stop this fucking screeching!"

Thirdly- if you insist on wearing open-toed shoes in public for fucksake WASH YOUR FEET!!!!!!!!!!!!!!

fourthly- to the morons inside the WalMart in a certain town in Tennessee. My sisters and brothers and I are not weird. We dont' dress weird (according to us)- so quit staring at us like we're fucking aliens (in every sense of the word). So my sister isn't blonde and a cheerleader like everyone in that fucking town- start watching the news or open a book once in a while and maybe you'll know that.
And the fact that you and your poser friends hang out at WalMart is sad and pathetic.
ok, I'm done defending my sisters and brothers

Fifthly- I fucking hate Walmart! HATE IT!!!! And I don't know what I hate more, everyone in that damn place or me for shopping going there.
hehe

Friday, August 11, 2006

You'd think we were like 2 million pounds...

...with the way we rushed towards food last night.

At the last minute Stephen and I decided to go to Medieval Times last night. The show is great, we're big dorks so we love stuff like that, but the real reason to gi is the FOOD!
Omg- SO fucking good!

Anyhoo...
Let's get to this week's




Photo #1: A song title- "Waitin' For Superman" by the Flaming Lips.
Stephen just looks contemplative here. I dunno- this photo just seemed to fit the song title.
Here are the lyrics:


Asked you a question
I didn't need you to reply
Is it gettin' heavy?
But they'll realize
Is it gettin' heavy?
Well I thought it was already as heavy
As can be
Is it overwhelming
To use a crane to crush a fly?
It's a good time for Superman
To lift the sun into the sky
'Cause it's gettin' heavy
Well I thought it was already as heavy
As can be
Tell everybody
Waitin' for Superman
That they should try to hold on
Best they can
He hasn't dropped them
Forgot them
Or anything
It's just too heavy for Superman to lift
Is it gettin' heavy?
Well I thought it was already as heavy as can be





Photo #2: A movie title- "Beyond the Valley of the Dolls.
This is a doll I've had since I was born. She is beyond messed up looking, lol. Notice how the nipple on her "bottle" had been chewed off? Yeah, I did that when I was like 3. I was convinced my dolls were alive and wanted to see if there was really milk in there. LoL

-


Photo #3: A book title- "About A Boy" by Nick Hornby.
Nick Hornby is one of my all time favorite authors, I've read all his books. I *heart* him. Anyhoo- I was kind of lazy on this one. Here's a sonogram of our baby boy.



bonus pictures
Week 23 preggo-pop photos!




Did you play?

Thursday, August 10, 2006

Ugh

I feel like shit.

First off my back and ass hurts like a mother fucker. I need to find a mobile bathtub because taking a bath seems to be the only thing that helps. While I'm in the tub... once I get out it's all over.

And then I had a physically demanding dream last night. You know those dreams where you're thrashing about? Yeah one of those. I dreamt that Stephen and I went to visit our friend Ron and he had a friend there who looked a lot like Benicio del Torro (sp?) in Sin City and then he and I and my mom were at school and got out. And Stephen went to buy Hero Clix from this guy who was selling them outside the school. My mom was parked on the side of the school but had gone in to get my sister Roxanne and the Benincio guy decided to rape me. And he was like in the car with us afterwards- not holding us hostage or anything. And everyone knew about it. So I go into the school to tell the principal... and I'm doing everything except call the police.
And then this other part of the dream... I can't remember if it's before or after the raping... Stephen and I are in this waiting room and people are being seated in the waiting room like a restaurant, but it's a waiting room. And I'm sitting to the right of Stephen and this ginormous man is seated next to me and he's so big he like traps me and I can't breathe. So we get up and move the chairs around and sit somewhere else. Then this skinny, dirty, un-shaven icky man sits next to me and starts like breathing down my shirt asking for kisses and what-not. And Stephen's like "get the fuck off my wife.." and all that.

Ugh, I feel like I just ran a marathon.

Update
my hands smell like a red-head....

update #2
Hubby leaves in about a month, and will be gone for more than a year.
banging head on table
It's like when you're in a dark movie theater and you know some one is going to pop out of somewhere and it'll be loud and music will give you a jolt. You know it's coming and you can't escape. From now until he leaves I'll be feeling like that.

A part of me wishes he were gone so he can just come home already.

Wednesday, August 09, 2006

Ugh...

*Why am I up an hour before the crack of dawn when I should be getting all the sleep I can now???? Ugh.

*This demon spawn baby won't stop making me crave foods I simply can't have. Like food I can only get in CA, Disneyworld, my mom's house and my grandpa's garden.
It's pretty pathetic when you're staring into the fridge desperately trying to find something you can pass off as a guava.
Regular grocery stores needs to sell guavas.

*Damn this post is already boring as fuck.

*Jessica Simpson has some buck teeth....

*Ok speaking of celebrities and all their dumbassery... Lindsey Lohan wants to go to Iraq to visit the troops. Which is great, I'm not saying there's anything bad about that. They can't look at porn over there and all she has to offer the world are low cut shirts and a boob job.
But she wants to (ok allegedly) take hand-gun classes before she goes.
Sooo... have I been missing something? Are there all these celebrities going over, visiting the troops, and being caught in the line of fire? What does she think is going to happen over there? She's gonna drop from a helicopter (wearing a stylish camo dress with Jimmy Choo's) and one of the soldier's is gonna be like "LOHAN! GO GO GO!" and she's gonna run to the embassy, pistol armed and ready and aimed?????

Just keep on doing... whatever it is you do Ms. Lohan. You don't need a handgun to visit the troops.
Actually, Stephen is all excited (though hiding his excitement) about the possibility of meeting her. She'd have to go through him (possibley).
He wants her so much. Hehe- hey if I were going Iraq and Harry Potter was coming I wouldn't be able to hide my excitement. mmm sexy wizard.
I just think it's funny and waste no chance making fun of Stephen. Hehehe.

*Ugh- these preggo dreams are getting more and more annoying. I've had dreams about a woman licking a toilet lid (that I did not realize was a dream until recently), rats crawling up my walls, etc. But the main theme of my preggo dreams is sex. Unfortunately it doesn't always involve me. Damnit!
I had a dream that hubby lifted his bed and had this porn collection in this lovely case that had lights in it. But the porn in it was ... weird. Like there was a guy who had a penis shaped nose. There was a porn made based on Eddie Murphy's version of Dr. Doolittle. And I was like "when the hell did you buy all this?!?!?!?"
lmao.
I'm still laughing at that guy who had a penis shaped nose. Actually I think it was Alf... but more human like.

*Anyway.... let's get to this week's


This week's theme is:
Completely Random Picture That Has Fit Into No Other Theme Week! Pull out those pin-the-tail-on-the-donkey pictures or the one with your Aunt Edna wearing a lamp shade this week!
Ok, you asked for it...



-Before getting to the obvious... that's me in the quilt-like vest and yellow shirt with my mom and two of my sisters.
Now... what am I looking at like a moron? The studio lights. I remember that day. The retard photographer told me to look through those lights, and look behind them. So I was like "what's behind them?!" and got mesmerized by the lights. And then he said "look over here!" and everyone else heard him but it registered too late with me. He snapped the photo with me looking like I was hit in the head with a shovel.
I'm still drawn to pretty lights and go into a trance... lmao.



-That's my mom with the frying pan and my aunt Gina at the stove.
I don't think I need to explain this one....

Did you play?

Tuesday, August 08, 2006

Oh she got me, I have no mind of my own....

Why I watch so much TV that pisses me off I still don't know. I can't help it though- I'm lazy and nosey, reality shows are therefore perfect and will be on the air forever because of retards like me.

EVERY single time we watch Wife Swap I get pissed at every single person on that show. It never fails.
The works-outside-the-home mom was a bitch, the other mom was a doormat, the bitch's husband was a whiney little fuck and the other husband was a dick.
There's a reason I chose that girl for my header when Karen made it for me, because that's how I look when I'm pissed. Arms crossed and a scowl on my face. and my hair is that perfect too... um, yeah...."

Anyway. So after that we watched Hell's Kitchen (because I LOVE reality shows having to do with culinary skills and Stephen loves fiesty British men...lol).
First off, I am completely convinced that Victoria slept with Chef Ramsey. She should've been off the show LONG ago. She canNOT work the line- and some how there she is??

Ok, but on the commercial for Hell's Kitchen we turned it to the Colbert Report.
Here is comes ladies. The cherry on top of a wonderful evening of TV watching.
There was this woman being interviewed on the show (I cannot remember her name- Gertrude something) who SAID that women who CHOOSE to work in the home... just because we made that choice doesn't mean it's the right one and that we aren't TRULY feminists.

Okayyy... first of all a stay at home mom works the equivalent (sp?) of 2 FULL-time jobs (more work than I'm sure you've ever done I'm sure). And you're right, we don't get paid and should, that's the only thing I agree with you on. And I (I can't speak for all the other sahm I know) made the CHOICE to stay home and be a sahm because I think it's the most noble job you can do, and my *job*. No hubby and I do not think it is my job because I'm the female / wife / mother.
I stay home because I don't want MY children to be latch-key children. That OUR choice. As parents Stephen and I are not 2 seperate individuals arguing every step of the way on the tiniest little detail of raising our child. We are united as parents and share common goals for our family.
Does that mean I've lost who I am as a person because I have kids and believe in a strong parenting unit? No, it does not. I am very aware of who I am and am conscience NOT to morph into "my child's mother."
And the act of making that choice to stay home should not be looked at like "oh poor girl, she's so far gone- still stuck in the 50s...."

No... I'd be too far gone and would need a slap in the face if Stephen came home from work I just assumed I wasn't working all day too. When he comes home he doesn't expect dinner on the table, he doesn't expect the house to be spot-fucking-less (he knows I'm trying the best I can and I waddle my pregnant ass around cleaning what I can)... he doesn't have these pre-set ideas of what a female should do, and when we were dating and talking about marriage we DID talk about who would stay home. He was (and is) all for being a sahd and would have no problems with it. But me staying home, he knew, was my choice. And constantly asked me if I was sure I wanted to make that choice, knowing in some ways it was a sacrifice.

Being a feminist should not be about one gender on top, dominating. Roles as male and female should be equal. I'm not about lowering myself to the level I'm protesting.
But apparently you are- and you've lowered yourself so far down you can't see exactly how hypocritical you are.

I am secure in the fact that I know I'm a true feminist and you are just on this Earth not to make it better but as someone reversing everything real feminists fought so hard for. Thanks for making our job all the more harder, bitch.

Update
Damnit, I was so into what that woman said, I completley forgot it was Tuesday! hehe




1. Which ONE do you wish you had more of in bed... romance, experimentation or foreplay?
-Hmm... I choose foreplay

2. How often do you have "make up sex" after an arguement?
-not that often. It used to be more so but not so much now.

3. Have you ever been "caught" masturbating?
-by my mother of course. Who hasn't been caught by their mom?

4. On a scale from 1-10, how comfy are you being naked?
-10

5. The three words that best describe your most recent partner in bed are ____, ____, and ____.
-oh wow finally! (hehe)

Bonus (as in optional): Have you ever called out the wrong name in bed?
-Nope! I don't call out names in bed, I think it's cheesey, lol.

2nd Update
Because I can't ever shut up about anything I'm putting in a 2nd update.
File this post under It's MY blog, I'll say what I want. Neener neener neener
btw I had this peice of bread stuck in my tooth for like an hour and finally got it out! Hooray!

Feminism:
1. Belief in the social, political, and economic equality of the sexes.
2. The movement organized around this belief.

I am, according to the dictionary, a feminist. I have always considered myself a feminist. Feminism is NOT about making one gender dominate over the other (though some so-called feminists would like that, I am not that sort of feminist).

No one, male nor female, should think that a woman who chooses to be a SAHM is less of woman, less of a feminist, less of a person because she chose to stay home.
My mother was a SAHM for most of my childhood and later worked outside the home. Both choices were hers. Yes, choices.
Every choice comes with a sacrifice. I grew up dirt-fuck poor, and still it was my mother's *choice.*

I'm not particularly good at tolerated other people's ignorance. That woman on the Colbert report bashed a lot of females out there. True, a pertentage of SAHMs out there are doormats and think it's their job as the female to stay home and bla bla bla (ugh, someone smack them!). But I'm speaking for ME... ok I wish I knew what to say but I'm so fucking pissed right now that if I don't stop, this incoherent rambling will never end and I'll people now commenting, saying "what the fuck are you talking about?!"

Don't tell me I'm not a feminist
Don't tell me I've made the wrong choices
Don't tell me I'm doormat, stuck in the 50s with a domineering husband
Don't tell me I will be a real woman / feminist when I work outside the home and put my kids in day care
Don't tell me it wasn't my choice

If you're not fulfilled and feel unappreciated working being a SAHM, make the choice to find work outside. But don't assume I've given up on ME and who I am as a person because I'm a SAHM.

Fuck you, woman on the Colbert Report, and the narrow-minded horse you rode in on.

Monday, August 07, 2006

I'm so itchy!!!!!!!!!!!!!!!

* Ok, I'm gonna have to do the Sims update later (maybe today, maybe tomorrow). I didn't get that much of a chance to play this week. So I made everyone and moved everyone in (except for Clint and Katy- I'm still furnishing their house).
I'll have the first installment of our little blog soap opera soon (with pictures too).

* We have ants. Not a few here and there- the entire fucking colony has come up and made our computer / Paul's room their new headquarters.
I mean it- we are being attacked by ants people. We have 2 (TWO!) fucking bad-ass traps out. The mother of all ant traps (Terro)- and it's attracted the entire fucking colony.
I'm doing my best to keep them at bay near the traps (with my trusty Dyson), but there's so many of them.
Now I keep having visions of the baby being devoured by ants. Great. Stephen leaves in about a month and the baby will be here in less than 4 and who's here to welcome him into the world? The entire nation of fucking ants.
Maybe they'll make him their leader, pick him up, drag his chunky-butt back down through the ant hole and raise him as their own.
Either that or they'll find somethign really interesting in his diaper and attack him.

It would be nice to be the mother of the ant king though.

hehe.

* holy shit the beginning of December (my due date) is like 4 months away.
Ok... I'm a little freaked out here people.

Friday, August 04, 2006

SPF-updated

have to go to PepBoys only have time for SPF

Will explain all the pics later:

Ok, I'm back- more photos and better explaination

1) Your Spices: My spices are so spicey their labels cannot be shown in public. lmao. Ok ok ok, truth of the matter is that I didn't turn them before I took the photo and was scared I wouldn't be able to take a in focus good photo. One of the reasons we got this apartment? That lazy-susan shelving where I keep my spices and baking supplies. Oohhoo.



2) Spice up a picture: Just photo shopped a picture of me (water color set at 8 if you must know). Pretty bland spicey huh?



3) A photo in B&W: They're photos and they're in black and white. I win! haHA!

-


Did you play?
See other SPFs here

Bonus photos!
Week 22 pictures:




cries> can you believe my photos are (somewhat) in focus this week? Has my mind returned?!
Probably not.

Thursday, August 03, 2006

Why'd you have to be so cute, it's impossible to ignore you....

Ok, I've been listening to Frou Frou like non-stop for the passed 2 days.
I *heart* them. Well, I love Imogen Heap's voice.

Does anyone else notice that 90% of my posts are started with the word "ok?"
I'm retarded.

Oh- I had an idea. Ok, so I do Sims Monday where I bore everyone to death with tales of my Sims and such. So I thought I'm going to make a town just for "us."
The only people living in the town will be friends and regular readers of this blog.

Katy, I already have your family information. But...
Erik, Sheri and Suzan, Mer, Mama D, and Lizzie I need the following information:

-first names (I'll make up a last name for you unless you want to tell me your last name) of you and each person in your household.

-Tell me if each person is an "old person" (we're talking like 65+), an adult, a teenager, a child, or a baby/toddler.

-Tell me which each person in your house strives for most:
*family
*sex
*knowledge
*money
*friends

-Tell me if each person in your house is (on average):
*more on the sloppy or the neat side
*more on the shy or the outgoing side
*more on the lazy or active side
*more on the serious or playful side
*more on the grouchy or nice side.

Ok, this is how it's going to work.
This is going to be like our own little soap opera. Things may happen that would never happen in real life (Sheri may sleep with Erik and Mer might turn into a zombie...) This is not to chronical our true every day life ('cause that'd be boring!). This is to turn us into Sims and see what we do.
Every Monday I'll give the report on what we did (I'll try and say what each of us did, but I can't guarantee that) and the rest of the people person who reads this blog will get to read about our little escapades too. Ooh.

You don't have to, of course, but if you want to- send me the information (via either comment box or email) and I'll get started on our little "community."

Note- if you are a regular reader of this blog and have a shrine to me and all my blogging awesomeness and want to be included in the community, send me all the above mentioned information and I'll see what I can do.

Wednesday, August 02, 2006

um yeah... so...

I'm updating because I like complaining
I was flipping through blogs today and came across a photo of a not-older-than-14 boy obviously staring at a woman with ginormous boobs bursting out of a too-small-for-her-dress (and they were so fake btw).

Ok, before I start my rant let me give you the speech:
No I am not jealous of females with big (and sometimes fake) boobs. I like my boobs. Get off my fucking ass about it. Quit telling me I have low self-esteem and quit assuming that I'd buy a pair if I could afford it. Fuck you.
I know how to keep people coming back don't I? lol

Back to the rant. On the one hand, the kid is fucking 12-14, if there's one age where males are ONLY thinking with their penises it's that age. Not like I don't think men don't think with their penises on occasion- but come on, a 12-14 year old boy.... Anyway. I'm not annoyed at the fact that he was staring. I'm pissed at the female.
Why else would you buy fake boobs other than to have people stare at them? Seriously, can you think of another reason? If you know of one please tell me. And "feeling better about themselves" is not a suitable answer as they will only feel better about themselves when people start noticing them more because of their boobs (and if you need gratification that way I feel sorry for you).
So her claim to fame is not only that she has fake boobs (and wears clothes that make them fall out of the clothes to show them off) but her claim to fame is that she makes little boys (and lets face it, every man in that room) look at her chest. Congrats- you sooo deserve the Nobel Peace Prize. snort
As a female I know I live in the greatest country in the world. If you're American and female you need to thank your lucky stars you live here. What fucking pisses me off is the COMPLETE lack of gratitude females have in this country for that fact. Just because we can, and have the right to, wear those clothes, and buy boobs and what-not (and it's great we have that freedom)- having such a lack of self-worth is a slap in the face to all the freedoms we females have. We do live in the greatest country in the world, yet females hate themselves so much they would stoop to altering their figure just for a glance from a 12 year old? Isn't that lack of self-esteem a slap in the face to the fact that we have all these freedoms? Think about it- do we have to cover every inch of our bodies? Is it ok if our husband beats us because we showed an ankle? No, it's not ok here, and we don't stand for it either. So quit your whining and think about how other women in other countries have it and fucking get over yourself. In this country we don't need a man to be happy or successful so quit fucking turning it into that with your whining-ass low self-esteem having self.
thus endeth the rant

Ok, let's get to this week's


This week's theme (brought to us today by Hope) is:
Hope thinks we should share some cheesy photo booth shots...heads cuts off, making silly faces, picking your nose, picking your friend's nose, mooning, what went on in that booth?

Ok, this first picture is of me and Katy at the zoo in Colorado. This is the closest picture I could find to being a "photo booth" photo. Katy's man Clint took this photo with my cell phone. It's nice and fuzzy (but only because it was taken with a cell phone. Clint is a wonderful photographer).
BTW- that is so a regular sized chair, our asses really ARE small enough to sit like that in a regular chair.
cough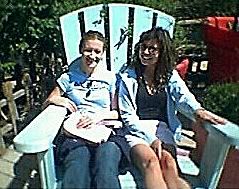 This next photo is a "booth" photo. That my mom, and my sister Diana and me at a restaurant... in a booth. All crammed in. That counts, right?
Ok wait wait wait- I just noticed my mom's face! lmao! She's smiling but she looks like someone has a gun to her back and she's desperately trying to tell us with her eyes. LMAO. I never noticed that! What the hell is wrong with my family!?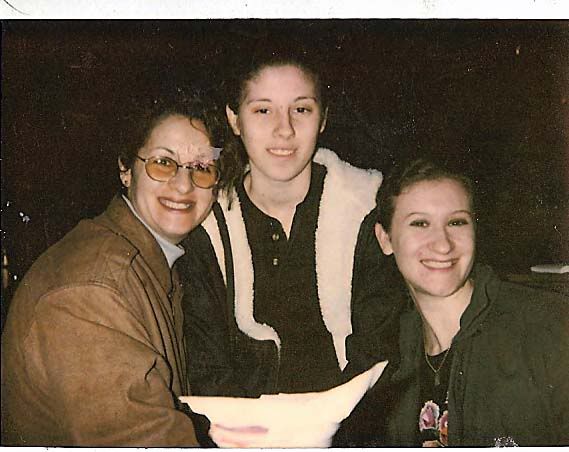 Did you play?

Tuesday, August 01, 2006

ummm....yeah

I cannot think of a single thing to bore you guys to death talk about today.

Oh, I wish I thought to take a photo of this with my cell phone! I saw a serious FUGLY yesterday.
This woman was wearing a nurses scrubs on top, and on her bottom were khaki pants. But wait, there's more- elastic waist band AND a 3 inch (I shit you not) elastic band on the ankles! Oh my god.
Now, you guys know that I do not give a shit about fashion when it comes to names and prices and that sort of thing. I could care less if a bag is, I dunno, Marc Jacobs or something. But I'm pretty adament about dressing for your body shape, size and age.
And every single woman SHOULD know to never EVER ever EVER wear tapered pants. Why they still make them is beyond me. Every woman thinks her ass is big enough, we don't need the illusion that it's bigger than it is. And if you have the flat-ass, still you don't wear those pants. There are styles to give nice bump and elongate the legs and shows off your ass-ets in a way that is flattering to YOU. And those pants are not flattering to ANYone. Ok people? Can we finally get it through our heads?

Oooh! I almost forgot!!!!!!!!!!!! Ok, most of you know of my slight crush on Harry Potter. It's small, and insignificant... (and by that I mean I want him). Anyway, so Daniel Radcliff, who plays Harry Potter, will be in a play in London. Naked. On stage.
I don't have a crush on Daniel Radcliff, I have a crush on Harry Potter. So I'm looking at it like- hmmm... Harry Potter's in a play in London... naked. Why don't I live there?!?!?!?!?!!!
no no no, I should not be thinking these things. He's a boy. A powerful wizard boy....

Anyhoo Let's get to this week's


1. Is there any type of sexual act you're embarrassed to ask for? (If so, what? Hee...)
-No, everything I want I pretty much ask for. At least I've gotten better about asking. There's nothing I want that Stephen doesn't know about.

2. Have you ever dumped someone purely because of bad sexual performance?
-No, but that factored into the fact that we should NOT be together. He was selfish in bed. Really selfish.

3. Name something you would say no to if asked to do in bed.
-Swallowing

4. The three words that best describe you in bed are ____, ____, and ____.
-Umm... I don't know. No seriously, I really don't.

5. Have you ever been so emotionally moved by a sexual experience (in a good way), that you cried?
-Hmm, I guess... I hadn't seen Stephen in like a month and a half and I started crying. Not because of the sex itself, just because he was home and we were having sex.

Bonus (as in optional): What could your partner bring to bed that would most turn you on?
-Himself. And maybe if his junk could make light saber noises, omg do you know how sexy that would be?! Of course he'd be more prone to smack my cheek with it. (oh come on, you know your husband has smacked you somewhere with his penis)
Man I'm a dork... light saber noises?! shakes head








<